Noyes House, a mid-century modern stone and glass home built by the architect and designer Eliot Noyes for his family in New Canaan, Connecticut, is known as a place to live in intimate proximity to nature. Designed as two wings separated by a central courtyard, it forces residents to brave the elements when moving between its sleeping and living areas. Over the years, the house has also been a place to live closely with art: that courtyard once held a large sculpture by the Noyes family friend Alexander Calder, and tapestries by Henri Matisse were displayed indoors.
The Noyes family still owns the house but its members no longer reside there, and some of the artworks the architect's children grew up with are now in the Museum of Modern Art (where Noyes had worked as the museum's first Director of Industrial Design). But this fall the home is once again filled with art, in an unusual temporary exhibition that is also opening the building to the public for the first time. Presented by the art and design fair Object & Thing, in collaboration with the galleries Blum & Poe and Mendes Wood DM, the show allows visitors to experience the house and some of its original furnishings along with contemporary creations by Lucas Arruda, Lynda Benglis, Mark Grotjahn, and others.
Appointments are Saturdays only (through November 28) and can be reserved online beginning September 15; for those who can't visit, the website of Object & Thing will have a video tour by the photographer Michael Biondo, known for his work on mid-century modern architecture throughout New England.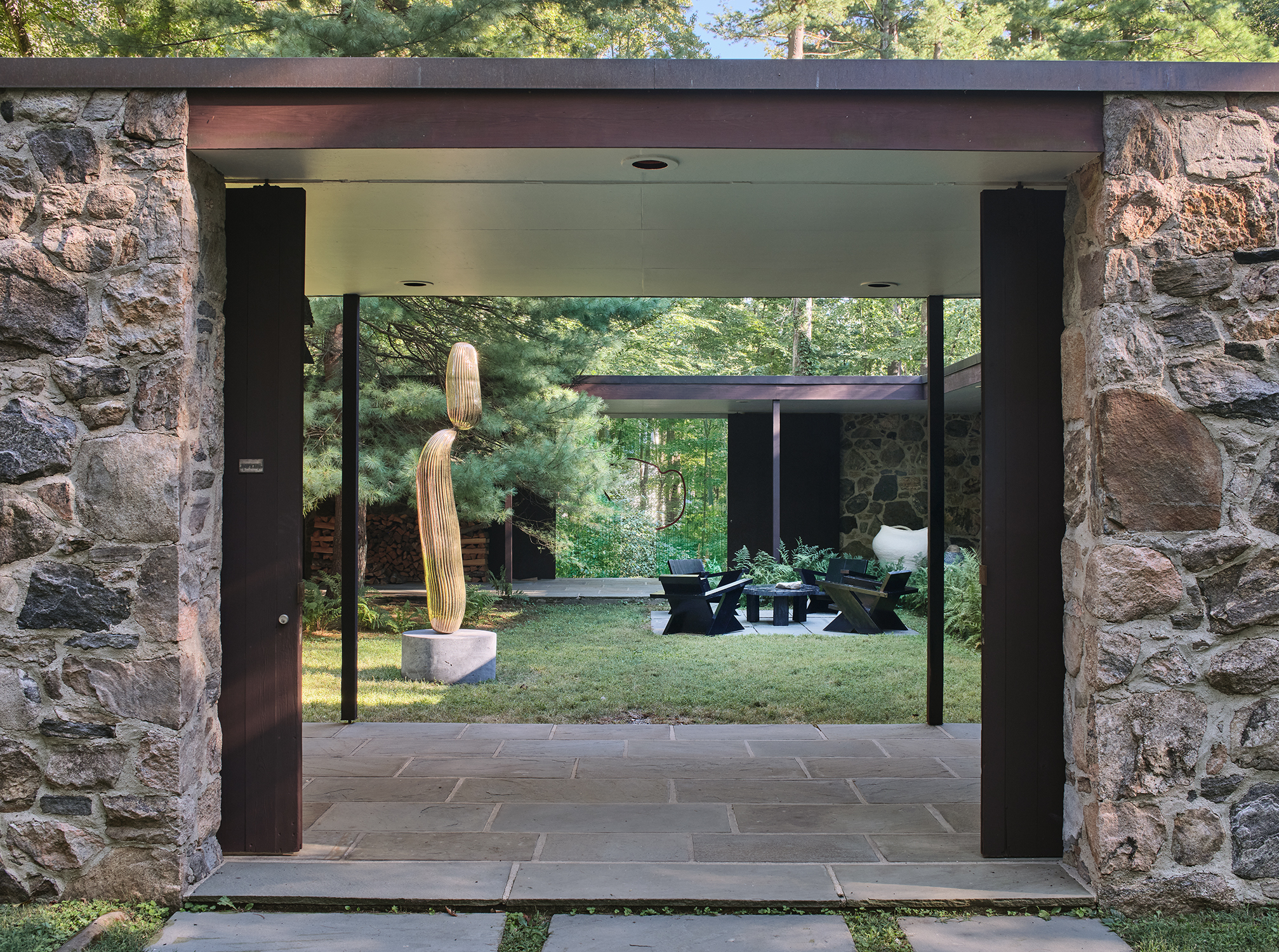 This mini-fair, a bright spot on a fall event calendar that has been wiped almost clean by COVID, came to life when Object & Thing founder Abby Bangser and her husband Matt Bangser, a partner at Blum & Poe, met Frederick Noyes (the architect's son) through their mutual friend Christy MacLear, who had been the director of Philip Johnson's nearby architectural masterpiece The Glass House. The Bangsers had recently relocated from Los Angeles to a modern house in New Canaan by the mid-century architect Hugh Smallen and had become interested in the architectural history of the area. They now sit on an advisory committee exploring the preservation of Noyes House; a big step in that process occurred last year, when the family signed an easement with the Connecticut Trust for Historic Preservation.
During Noyes's lifetime the family art collection was eclectic, casually displayed, and frequently rotated, as Frederick Noyes recalled in a press statement: "As I grew up, new artworks were continuously introduced, unfettered by period or style, and existing pieces rearranged as life changed." Photographs from a 1963 feature in Life magazine show clusters of small sculptures and folk art objects alongside Eames chairs and Calder mobiles.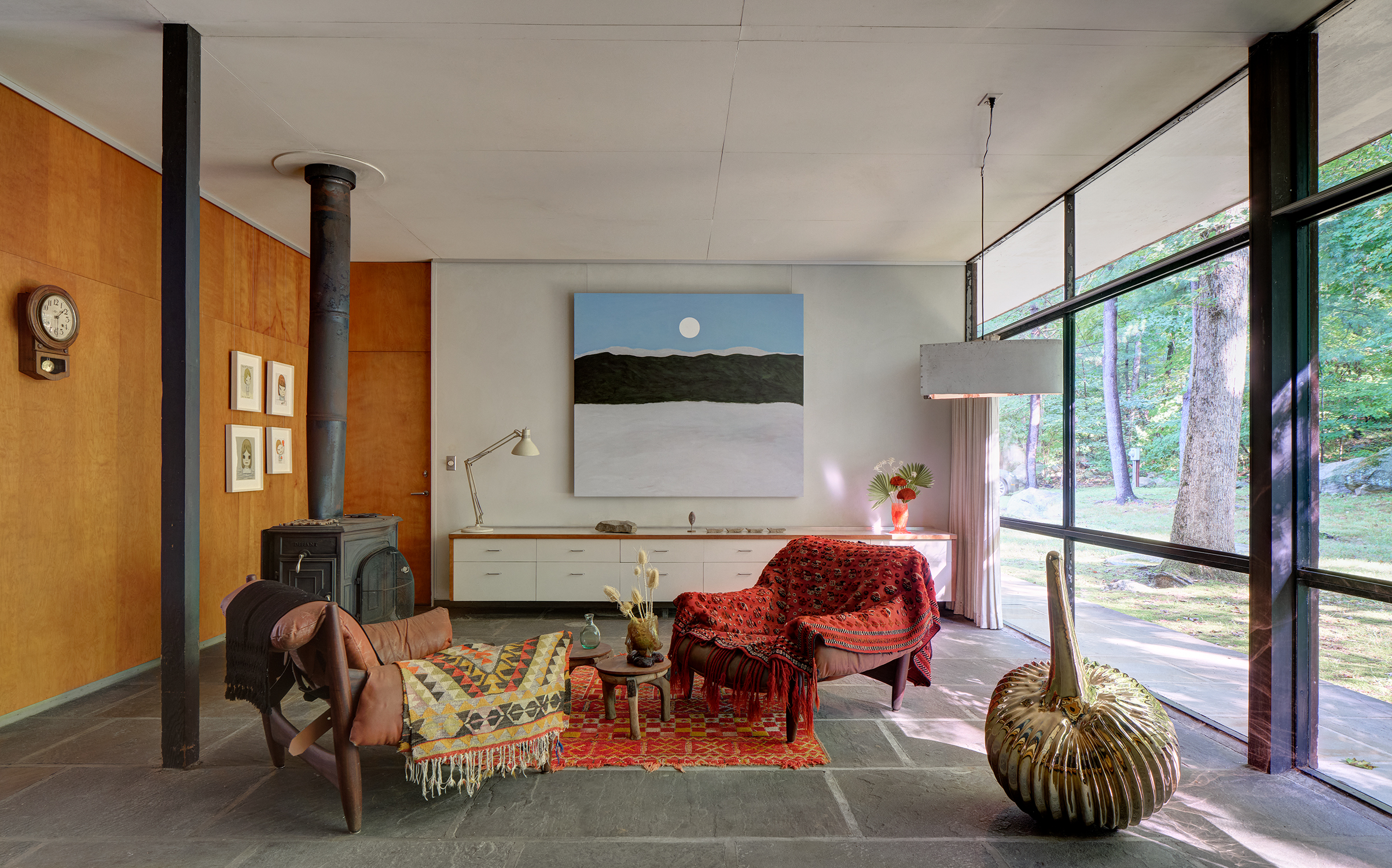 "The spirit of how the Noyes family lived with art is integral to this exhibition," says Abby Bangser. "We did not empty out the house and make it into a white cube gallery—we installed around the furnishings." Among the original contents of the home that are still in place are several wooden carousel animals, as well as leather chairs by the Brazilian designer Sergio Rodrigues. The Matisse tapestries are no longer there, but new fiber works by Sheila Hicks and Faye Toogood stand in for them. And in the courtyard, replacing Calder's playful Black Beast II, is a large site-specific sculpture by Alma Allen.
Bangser and her collaborators also tried to make the house feel lived-in, dusting off the bookshelves and placing flower arrangements in the Gaetano Pesce vases. "Everything has life and is used as though a family, or the family, is there," she says.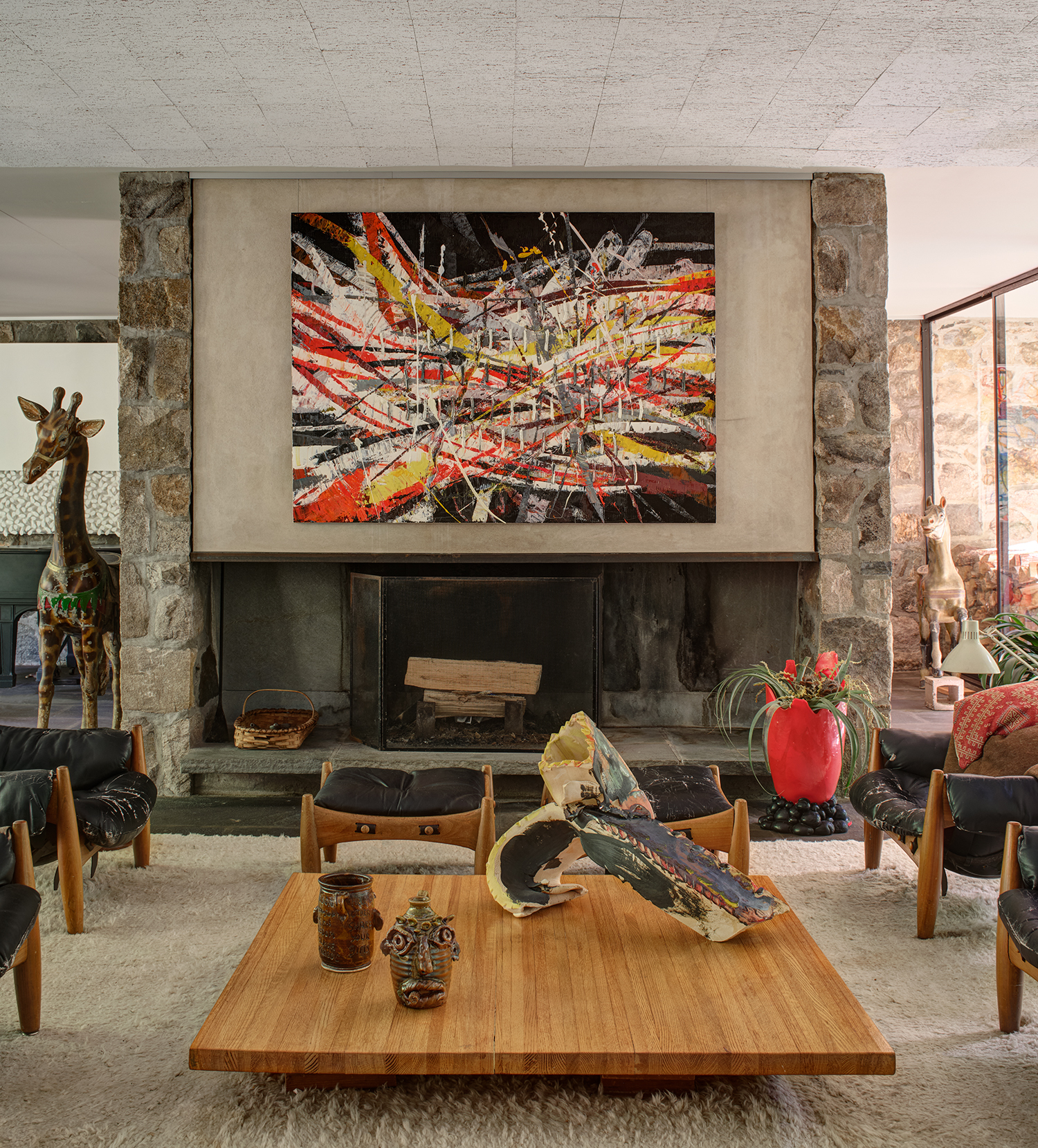 "We wanted to represent a cross-section of artists in our program whose work would respond to the warmth and domesticity of the Noyes House," Blum & Poe's Matt Bangser wrote in an email. "Several artists including Alma Allen, in the courtyard, and Mark Grotjahn, over the fireplace, made works in response to the site." So did artists from the gallery Mendes Wood DM, which has staged exhibitions in other important modernist architectural settings such as an Oscar Niemeyer building in downtown São Paulo.
The exhibition is not only a rare chance to see a bold example of mid-century modern architecture, but also an occasion to think about the evolution of art fairs. Until we have a COVID vaccine, boutique events like this one—with just a couple of galleries taking over a space that is a destination in its own right—may be the way forward.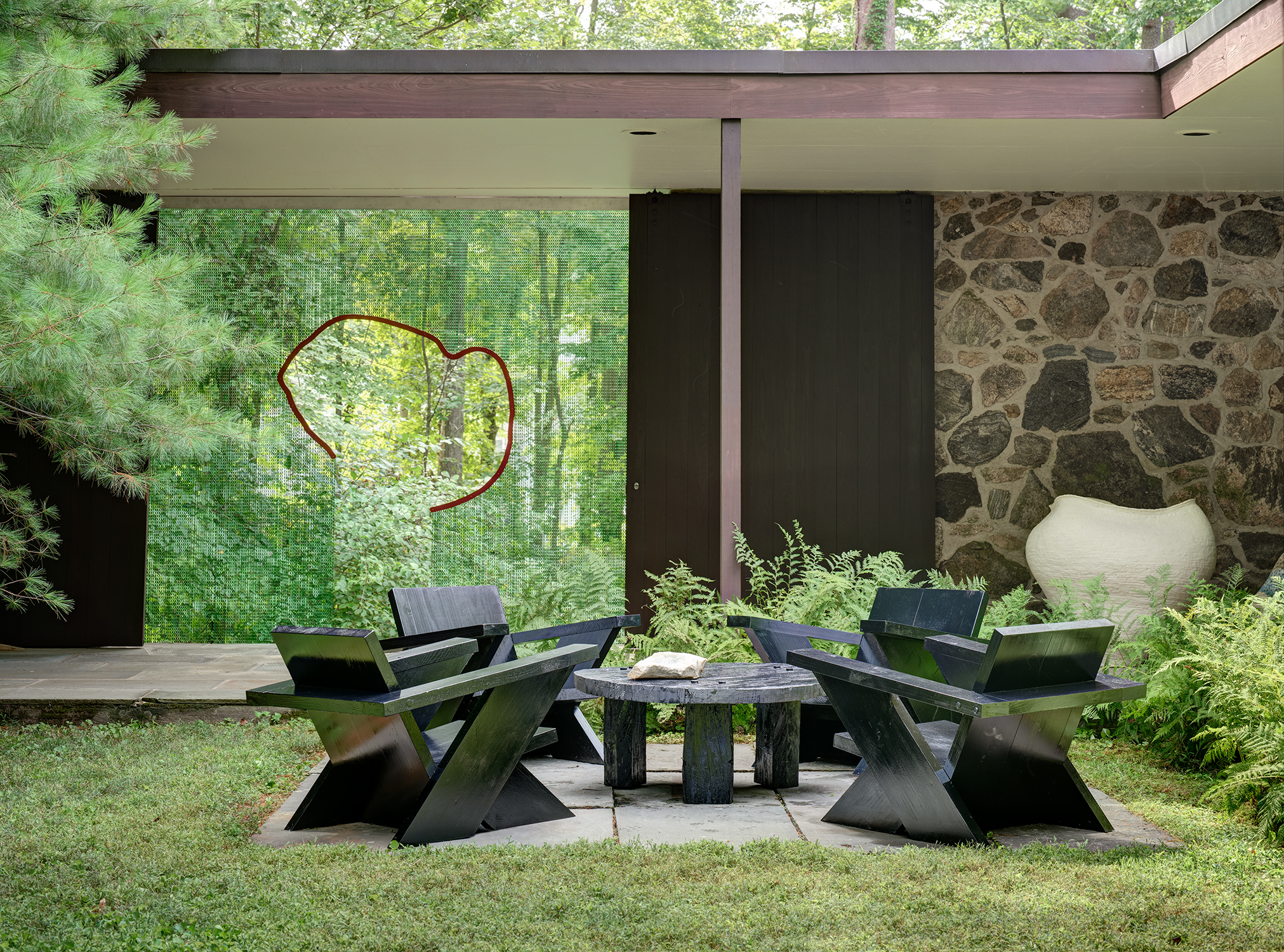 Object & Thing was already thinking along these lines when the pandemic hit, as Abby Bangser (who previously worked as Artistic Director of the Americas at Frieze) notes. Her fair, which had prior editions in Brooklyn in 2019 and at Independent New York last March, operates on a consignment model, unlike larger fairs that charge booth fees. "The larger fairs, even before COVID, were very expensive and they're always a risk for the galleries to do," she says. "They don't know if they're going to sell enough, they have lots of shipping bills, and then there's that big booth fee on top of it. Object & Thing was invented as a way to show objects that weren't really getting seen in those fairs."
Matthew Wood of Mendes Wood DM also sees this collaboration as an example of a more "dispersed and multipolar" art world that was already in the works before COVID, one that has more to do with aesthetics than financial pressures. "The single-minded fascination with the white cube is waning," he wrote in an email. "The eye has to travel."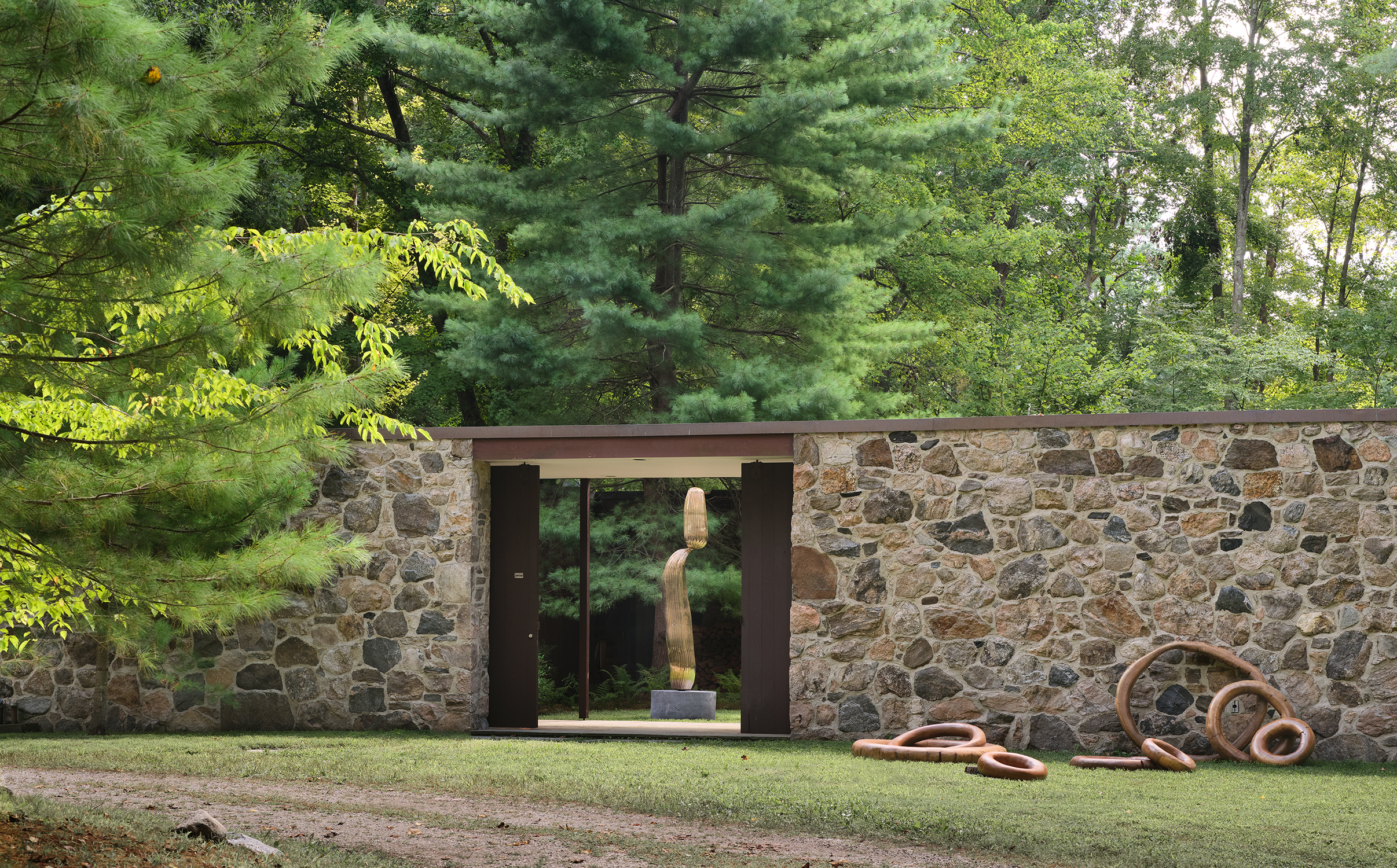 All photographs: At The Noyes House: Blum & Poe, Mendes Wood DM and Object & Thing. The Noyes House, New Canaan, Connecticut. Photo by Michael Biondo. Artworks pictured (all descriptions are left to right):
1) Alma Allen, Not Yet Titled (2020); Daniel Steegmann Mangrané, Untitled (2020); Green River Project LLC, Pine Outdoor Coffee Table and Pine-Board Deck Chairs (2020); Kazunori Hamana, Untitled (2019).
2) Yoshitomo Nara, four drawings (2019); Patricia Leite, Entre Nuvens (2020); Gaetano Pesce, Table Top Vase (2020); Green River Project LLC, Airline Pendant (2020); Gaetano Pesce, Drip Vase (2020); Alma Allen, Not Yet Titled (2020).
3) Mark Grotjahn, Untitled (Capri 53.16) (2020); Gaetano Pesce, Large Red Pebble Vase (2016); Coffee table: Jim McDowell, Madison Washington (2017) and Love Trumps Hate (2019); Lynda Benglis, AMAXA (2013).
4) Daniel Steegmann Mangrané, Untitled (2020); Green River Project LLC, Pine Outdoor Coffee Table, Pine-Board Deck Chairs, and Stone Vessel (2020); Kazunori Hamana, Untitled (2019).
5) Alma Allen, Not Yet Titled (2020); Hugo França, Rings (2007).