This article has been condensed and edited from Artful's invitation-only event with Ali Banisadr on June 16, 2020, conducted via videoconference and hosted by our Chief Curator Matthew Israel. To learn more about our program of digital events, "Artful Anywhere," sign up for our newsletter.
In his large-scale oil paintings, Ali Banisadr finds affinities with artists including Hieronymus Bosch, Max Ernst, and Francis Bacon. His works balance abstraction and figuration, and are typically split into two parts: a field of color fills the top half of the painting, while the bottom half is a writhing mass of small figures that can evoke battles or protests. Some of the clashes he depicts are based on personal memories of conflict: Banisadr grew up in Tehran during the Iranian Revolution and the Iran-Iraq war, and moved to the United States at age twelve. He currently lives and works in Clinton Hill, Brooklyn.
This September, he will have a solo show of his paintings at the Benaki Museum in Athens. In October another solo exhibition, "Ali Banisadr / MATRIX 185" at the Wadsworth Atheneum in Hartford will include new paintings along with his selections from the museum's collection.
Below, Banisadr details the various stages of his painting process, from finding inspiration in the works of other artists to associating colors with sounds.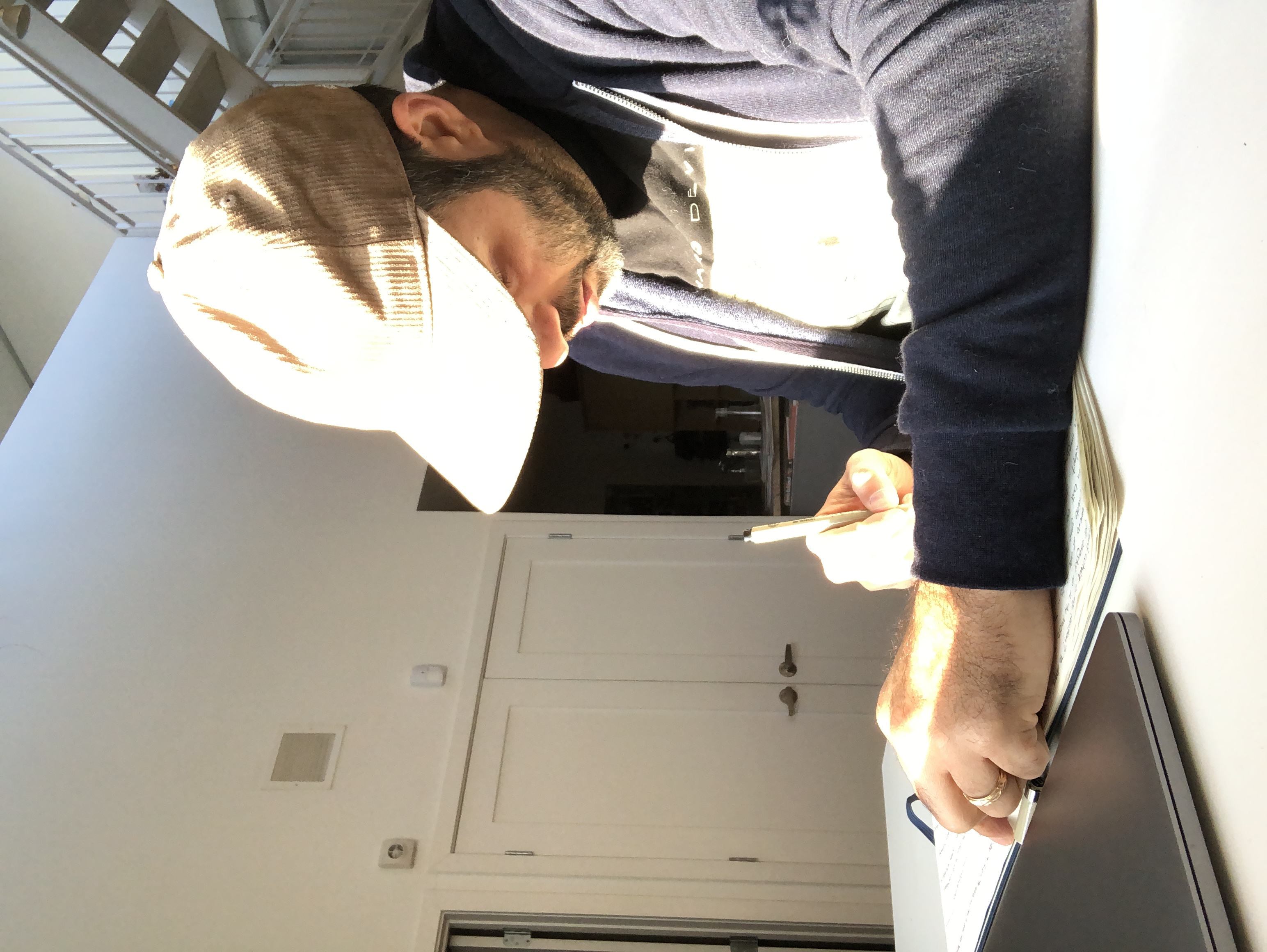 "I usually sit by this window in the morning, as soon as I wake up. It's facing East, so you have the sun coming through. I write down dreams, ideas, notes, and whatever I was working out the night before, so I don't forget it."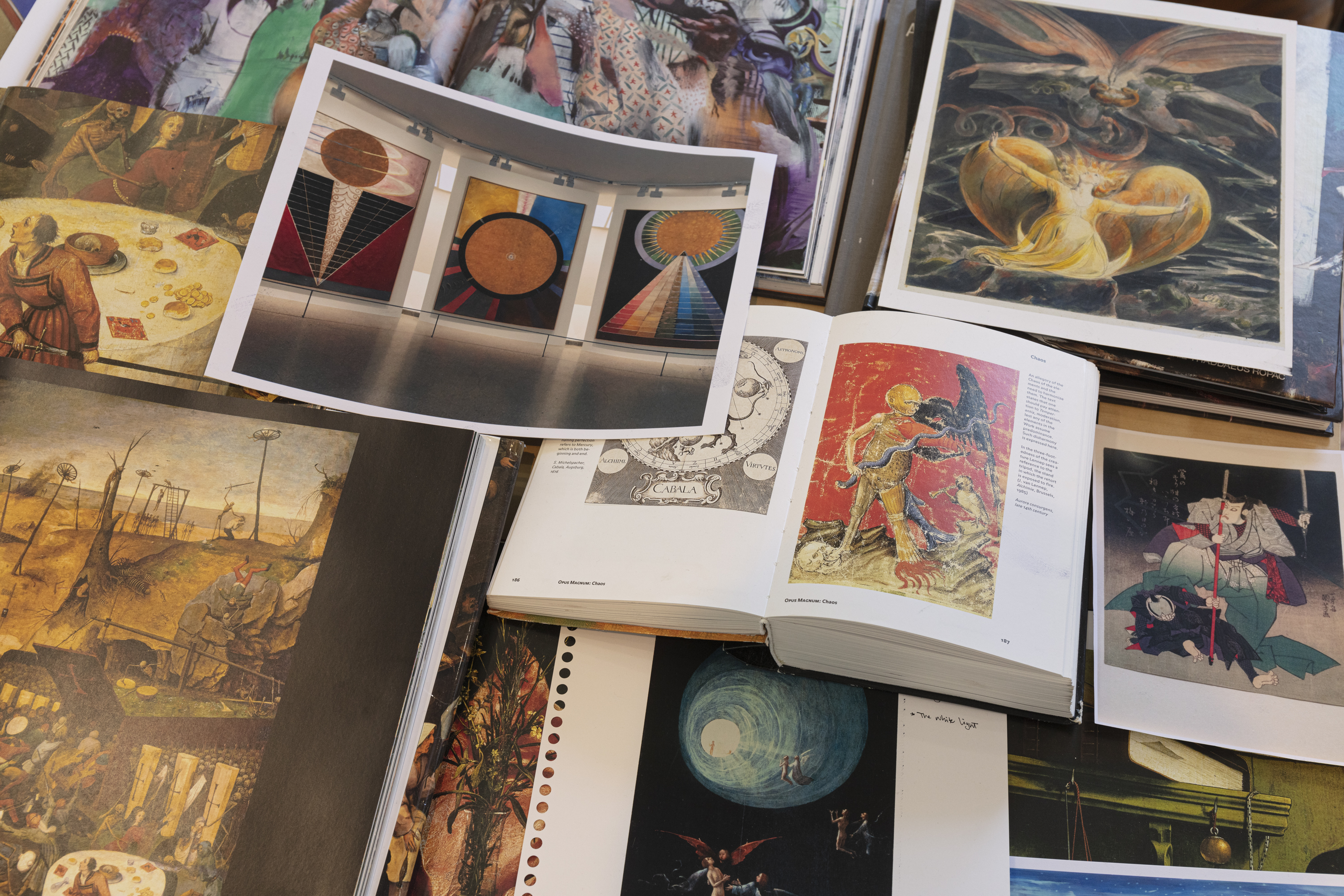 "I have a big table of all kinds of readings and images, where I do some brainstorming. Once I begin a new painting, one thing leads to the next—I'll be reading something, and I'll think about a certain color, and then I'll research the color, and that will lead to artists associated with that color, and so on. I'm in the studio all day, but that doesn't mean I'm painting all day—there's so much that you do around the painting. You're reading, writing, listening to things, experimenting with material, sitting and looking. You're trying to get an understanding of what the painting wants from you."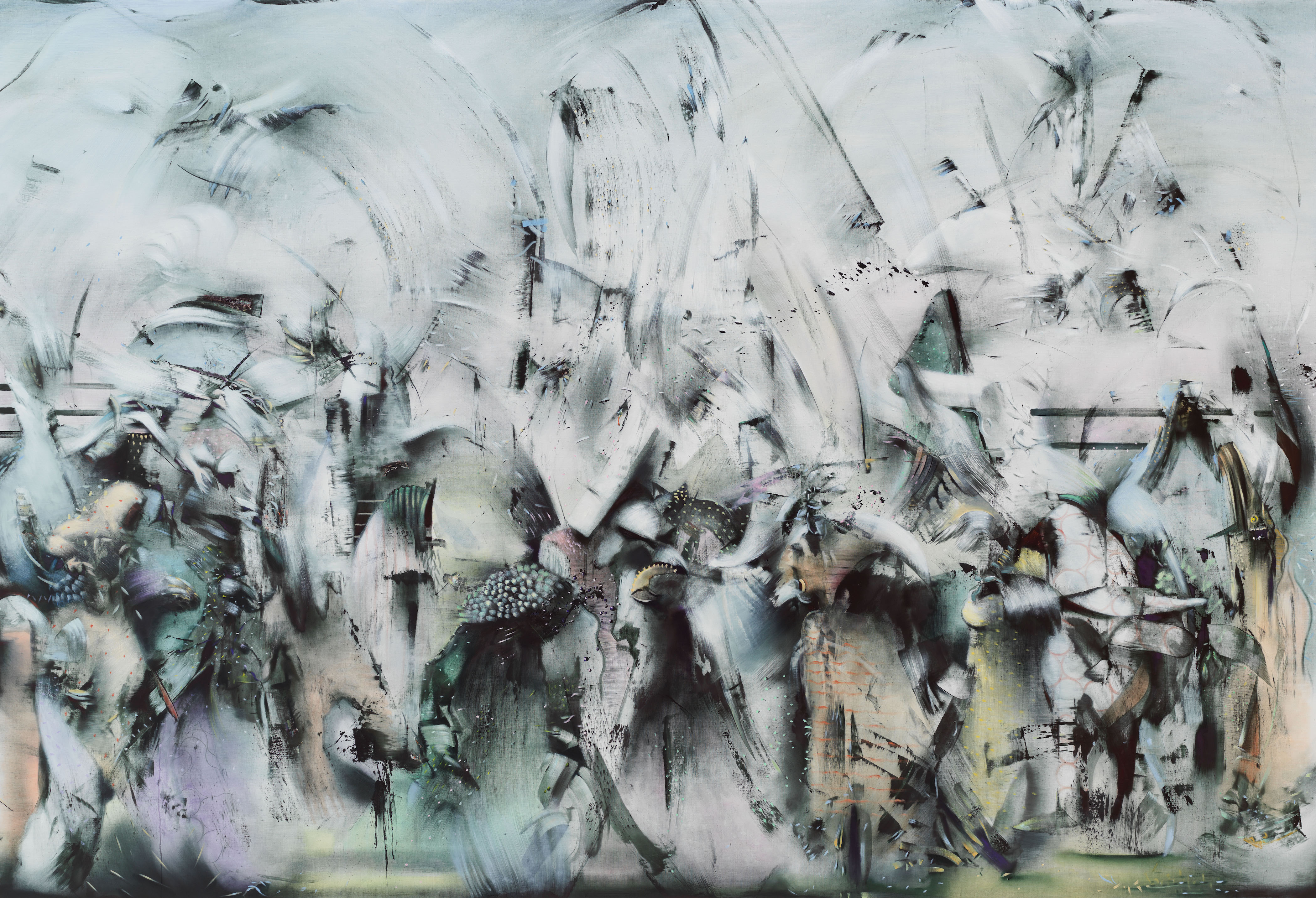 "At the beginning my paintings are very abstract—they're spiderwebs. I create this spiderweb and then my subconscious starts to communicate with it and see things within it, as you might see in stains or clouds. We start a dialogue and it goes from there. The figures come later, from this fragmentation."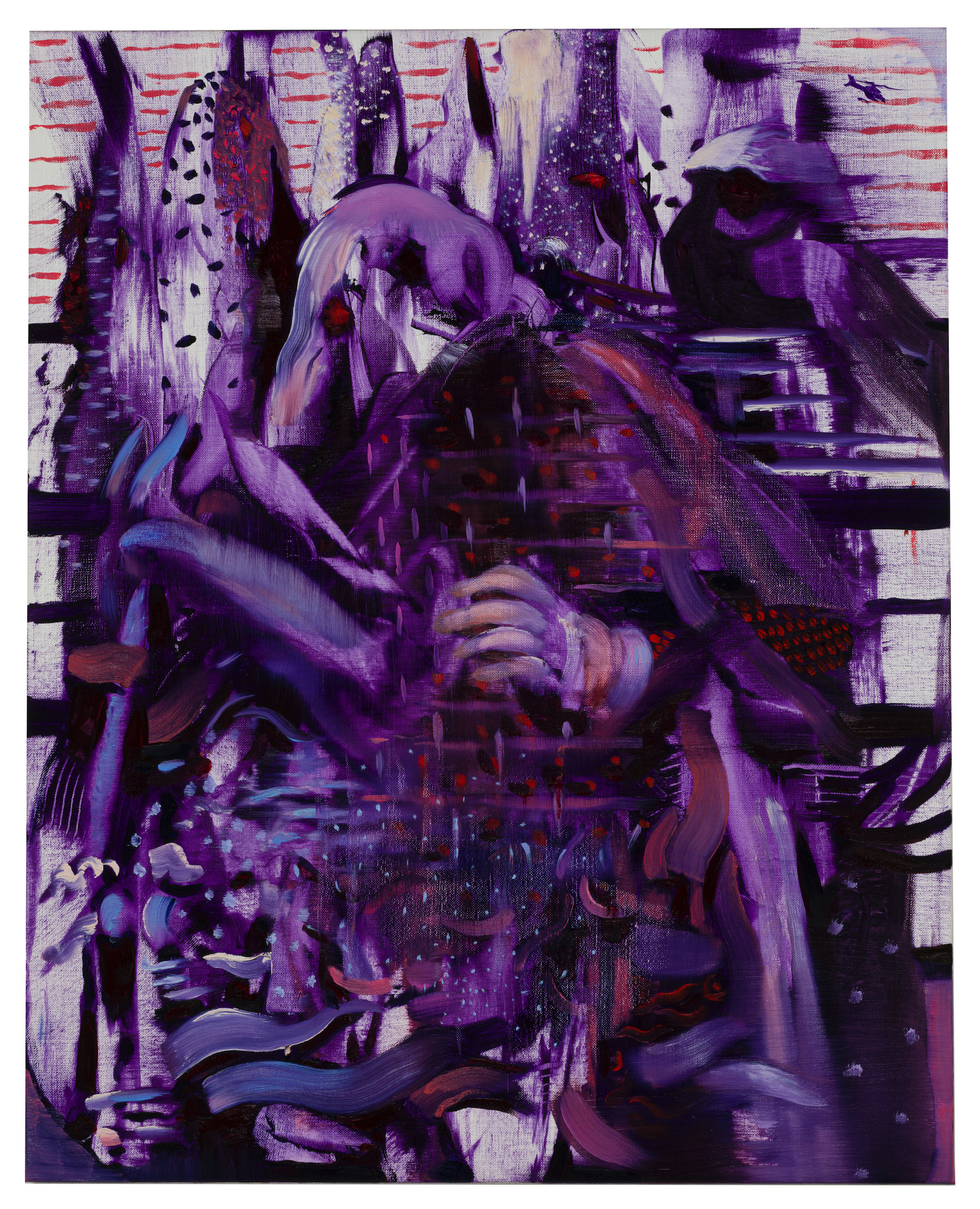 "I don't plan anything—I just let things develop on their own. The only thing I do know from the beginning is a mood. Here's a painting I just finished, with a masked figure. I didn't plan for this masked figure to be here, or for it to look like a protest. But you feel the energy of all that around you, and somehow it ends up coming into the painting."
"When I hear sounds, they turn into imagery or color and vice versa. When I look at colors or shapes, they turn into sounds—a heavy sound, or a sound of a machine, or sound of feathers, or chimes. The figures also have sounds, and that's how I know how to bring them out—I'll be looking at a fragmented piece in the painting, and I'll hear breathing, or steps, or movement. I create the composition based on those sounds. They lead into each other, so they kind of become an orchestra. At the beginning, the painting is like a really loud orchestra playing out of tune. My job is to tune it."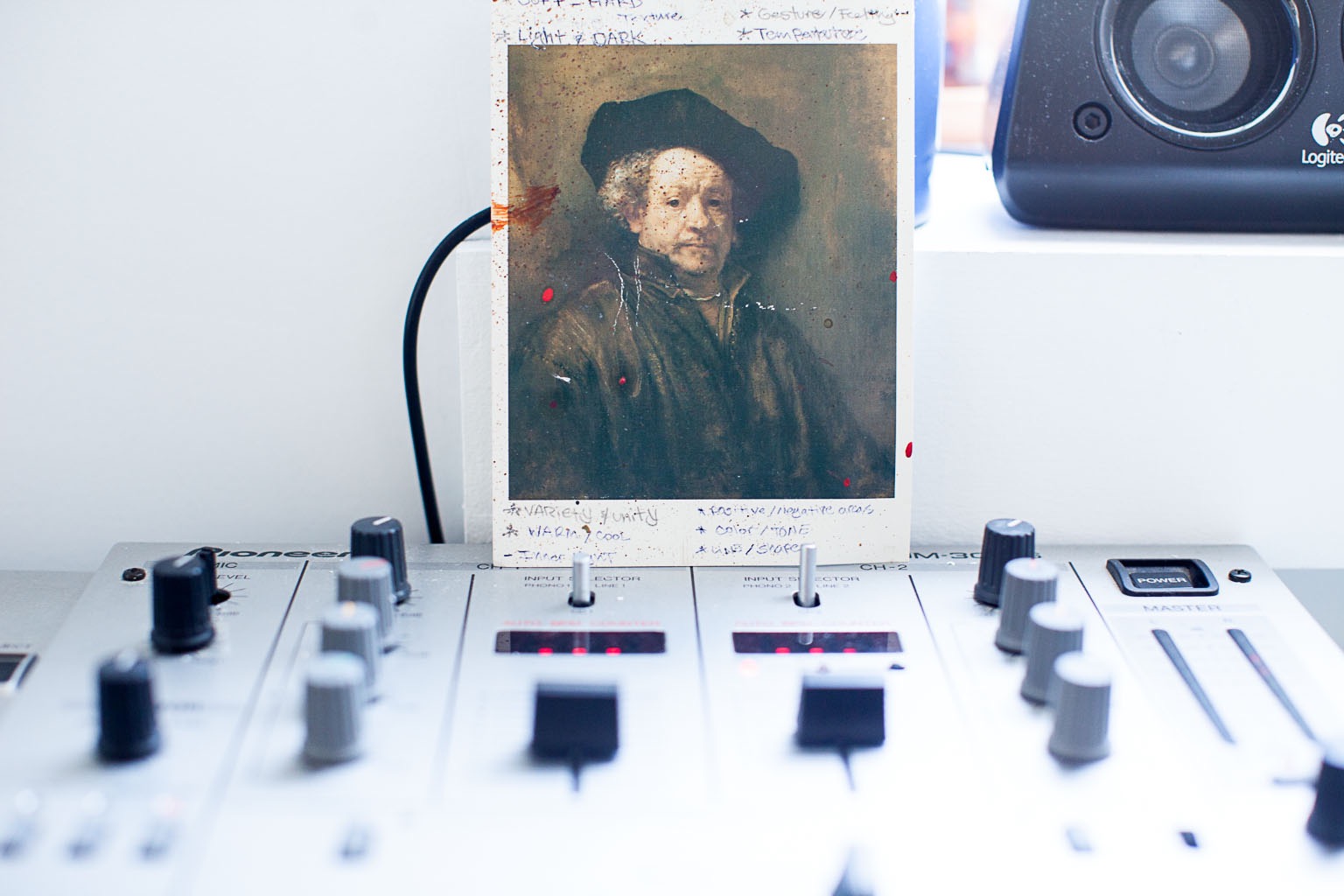 "In order for the painting to go forward you need an answer, and the answer could be anywhere. I try to look everywhere for solutions to my work and make connections between things that are not necessarily supposed to be connected. I like to go to the Met and get lost, going from the Ancient Egyptian wing to Persian miniatures, to looking at Tintoretto and Velazquez. There are certain artists who always speak to me: Bosch, Bruegel, Persian miniaturists, because they're like world-builders. They built these worlds, and then they put you in them with a bird's eye view—you're looking at humanity from above and just observing."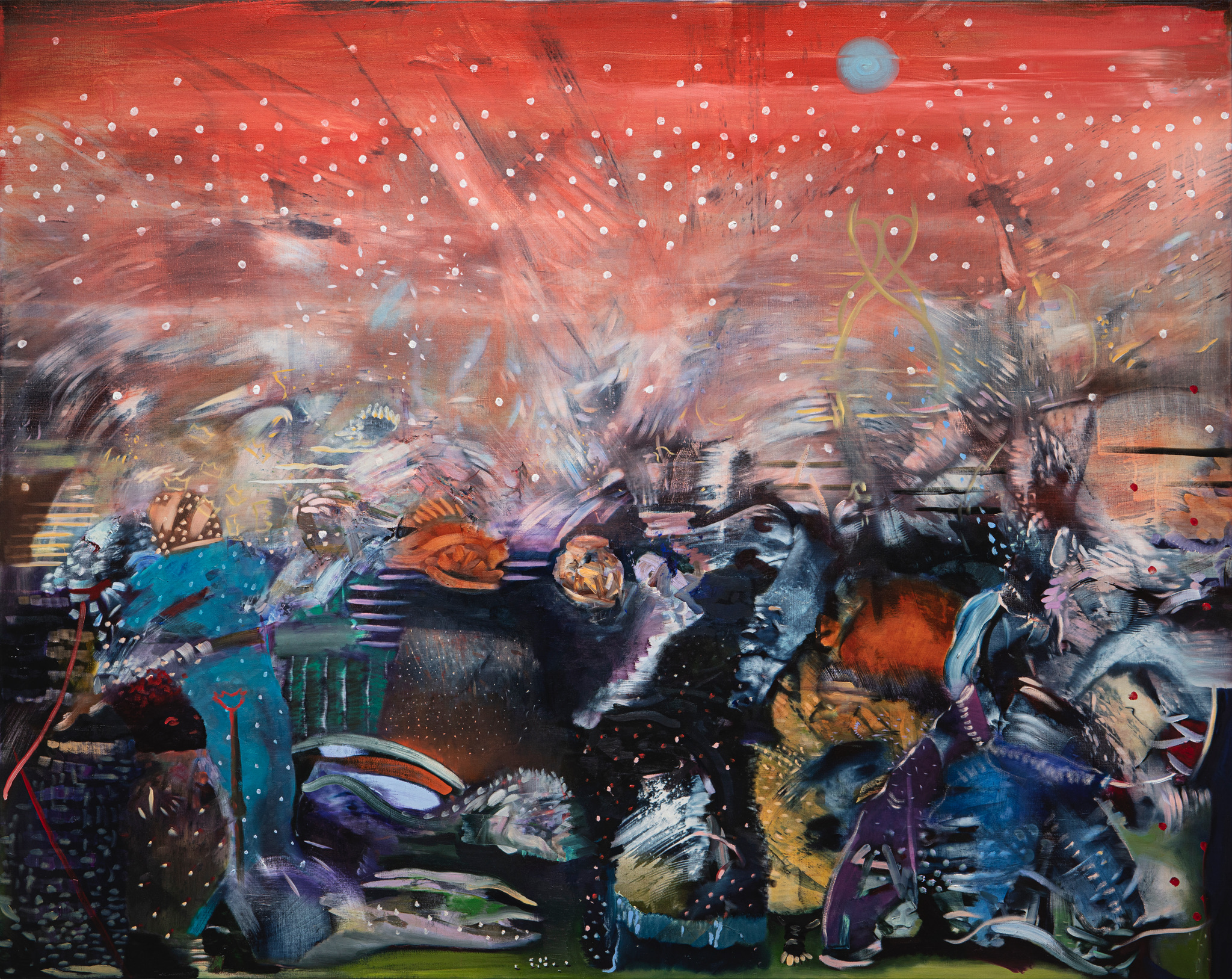 "Colors, for me, have a certain mood and smell and place. More and more, the paintings have a dominant color that's really taking over, as in this painting Red. When I made it, I felt like something was about to happen. I've always been drawn to the idea that consciousness is floating around, that it's not the property of our brain but the property of the universe. We're antennas, and we catch things in the air."