This article has been condensed and edited from Artful's invitation-only event with Matt Carey-Williams on June 25, 2020, conducted via videoconference and hosted by art advisor Lucy Rosenburgh. To learn more about our program of digital events, "Artful Anywhere," sign up for our newsletter.
"To be a collector, you just need three things," says Matt Carey-Williams. "You need eyes, you need brains, and you need guts." Having held high-level positions at Sotheby's and Phillips auction houses and worked at top galleries including Gagosian, White Cube, and Victoria Miro (where he is currently the Senior Director and Head of Sales), he has come to know more than a few gutsy collectors. He is also among their ranks, combing art fairs and auctions in concert with his husband Donnie Roark (a Vice President of the National Basketball Association's EMEA region) to add to their personal collection of contemporary art. As part of Artful's series of virtual events "Artful Anywhere," Carey-Williams gave a tour of the works in the couple's charming Sandy Lane, Wiltshire country house (a set of connected thatched-roof cottages that date back four centuries) and shared some essential advice for new collectors.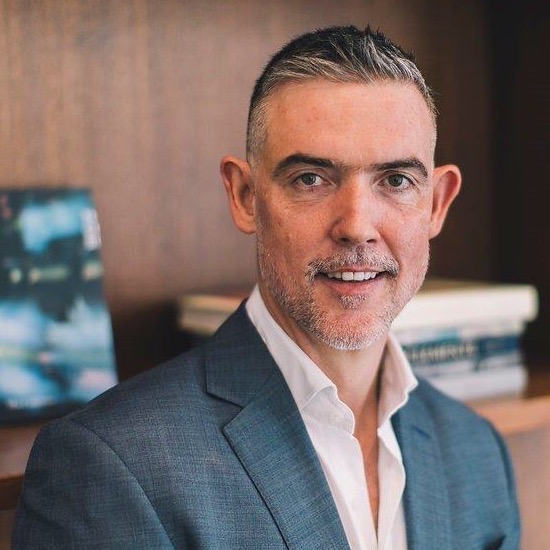 "During the first eight years of my career, I really learned how to handle a work—optically, physically, but also emotionally. I learned what it meant to covet something and then have it on your wall. I joined Sotheby's straight from school, as a junior cataloguer in contemporary art. The cerebral way of looking at art and all the '-isms' and '-ologies' that come with it, the clever stuff that gets you your grades, suddenly just dissipated and I was left with the object, and the condition, and whether or not it looks good on this wall or that wall.
As a collector, that's the first relationship you have with an object. You kind of test it a little bit—does it work here, does it work there? Is it the best thing by that particular artist? That way of scrutinizing an object is what I learned at an auction house. And it changed slightly when I went to work at galleries, because when you're at an auction house it's very much driven by two things—your relationship with the person who owns the work, and the work itself. The person who owns the work in the gallery is generally the artist that made it, and that's a different conversation.
When I buy something from an artist I've worked with, it's much more meaningful to me. When you're working with an artist you've had a relationship with for a long time, it's both easier and more complicated to dissect the work. You understand the work deeply. But artists often don't want to talk about their work because they've done it, it's passed through them. You're free to come up with your own theories on it.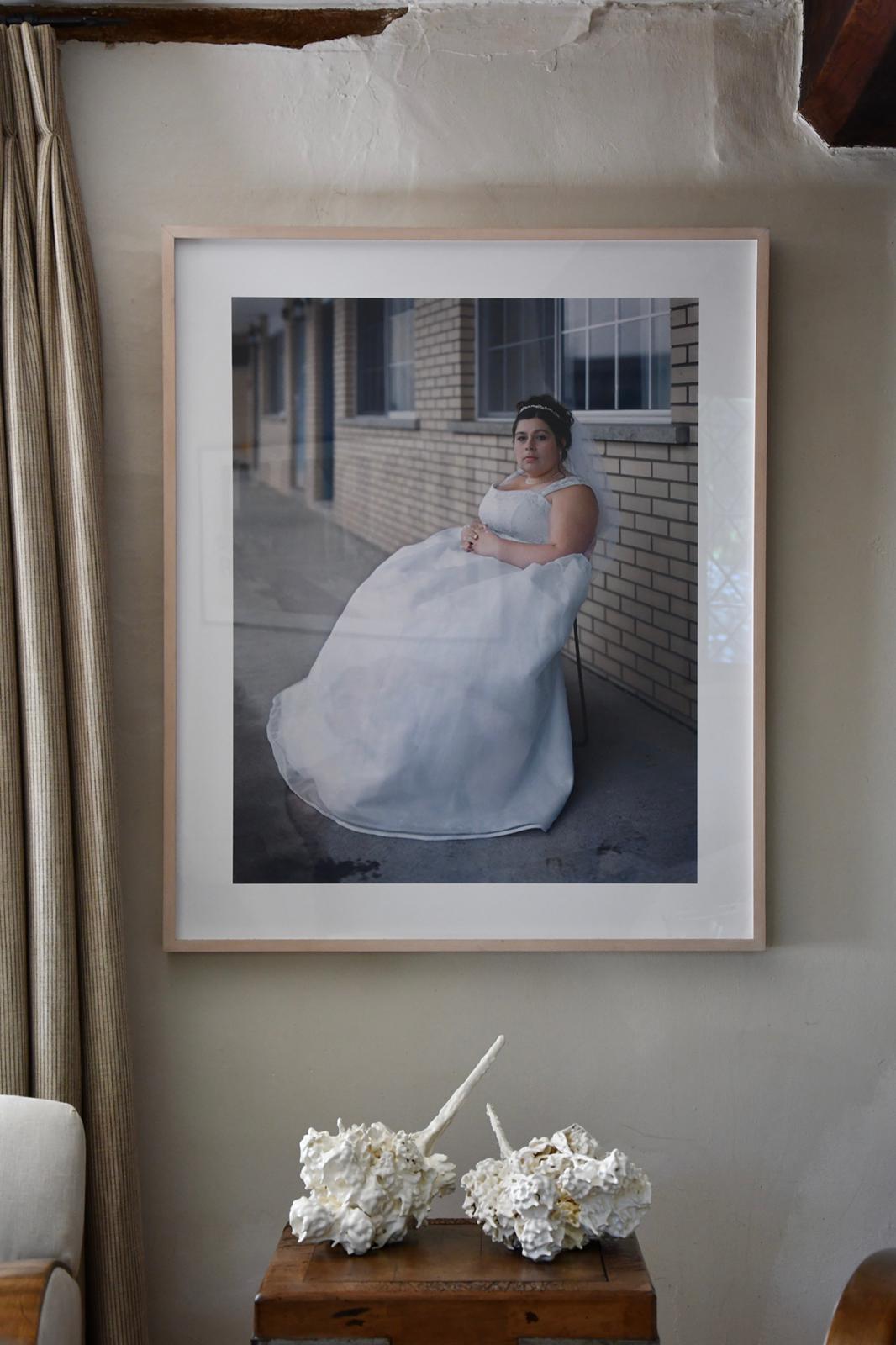 Melissa (2005), a photograph by Alec Soth from his series "Niagara"; Carey-Williams worked with the artist while at Gagosian.
I met my now-husband eighteen years ago, and we started to collect together when I moved into his apartment. We made a decision that we would do this together, buying work that spoke to both of us and that said something about us. The dialogue that we had with the work emblematized the growing nature of our relationship. We started going to small fairs together. I, of course, was privy to many opportunities to buy things at various price points. But we left a budget for each object, and we did not go above that budget. It was important to me to make sure that the collection wasn't this financial burden, that it was something that we loved and enjoyed.
There have been years where we bought a lot, not because we had a lot of money but because a lot of opportunities came along and we liked what we saw. And then there have been years where we haven't bought anything, we've just gone to a lot of galleries together. It's nice to collect with your partner—it's a discussion that you have equal measure in. Even though I'm a professional in this world, it's nice to bring that home and say, 'I saw this today, what do you think?'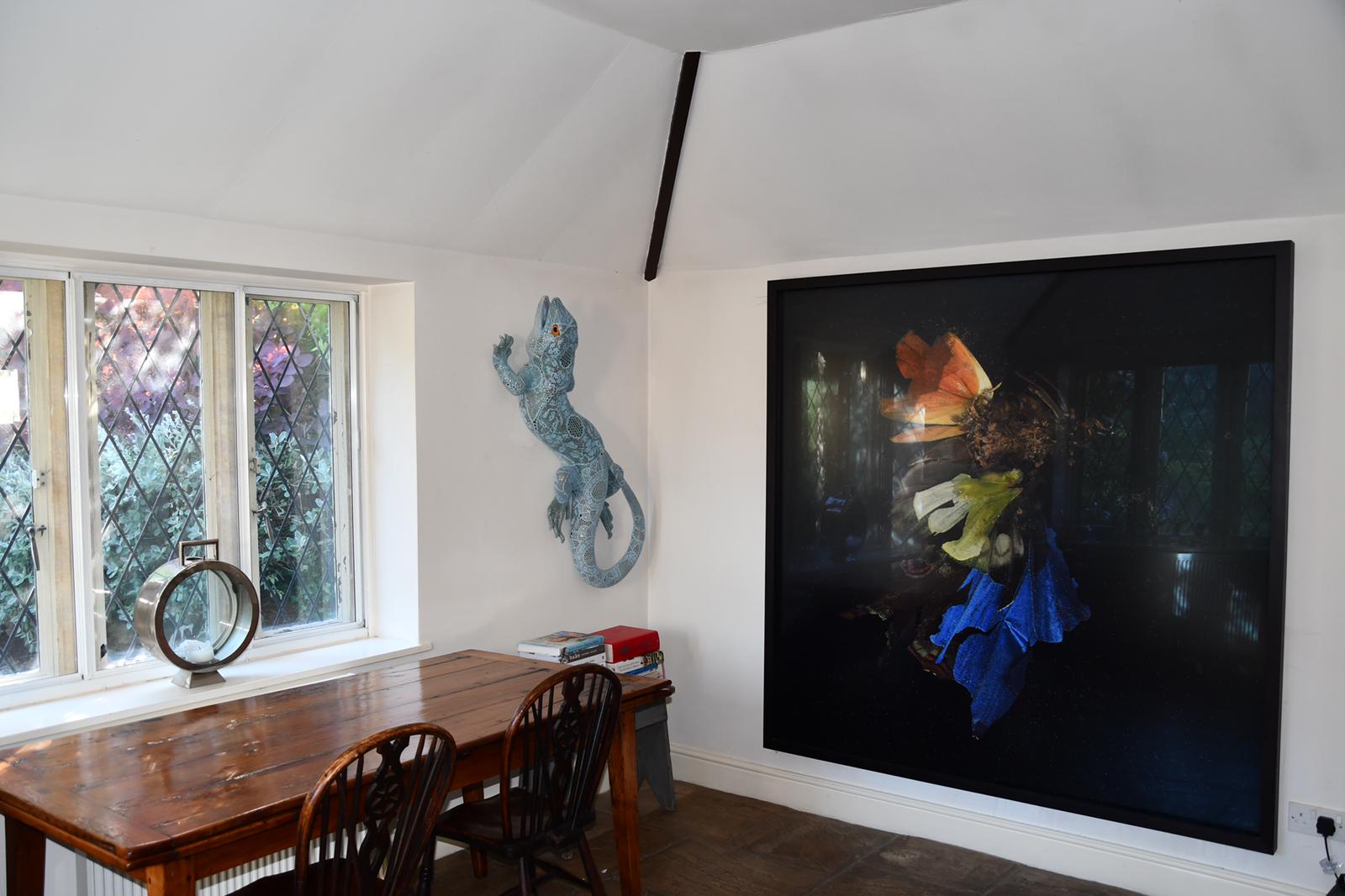 A reptilian sculpture by Joana Vasconcelos hangs next to a large-scale photograph, Insecticide (2009), by Mat Collishaw.
I've only sold two things from our collection in my life. One was sold privately, to someone who made me an offer I couldn't refuse. The other one was because we had two similar pieces and we felt that we were justified in selling one of them. Although we made quite a bit of money it was not the right thing to do, so I learned my lesson that way.
The only time I ever really think about the market is if I'm considering spending a fair bit of money on an object. Then I will do my homework—is the price at auction going up? Are the primary prices rising? But in general I don't think about the market. I think about the artist, about the object, about what that object means to me. The market exists in its own sphere. It's this sort of nebula that everything floats around in. If you are buying $150 million Picassos, you're expanding that universe. But if you're spending $3000 on something, you shouldn't think about the market because it's such a small part of the overall value of the market. It shouldn't guide or navigate your collecting. Your collecting should be navigated by your eye and your heart and what you love.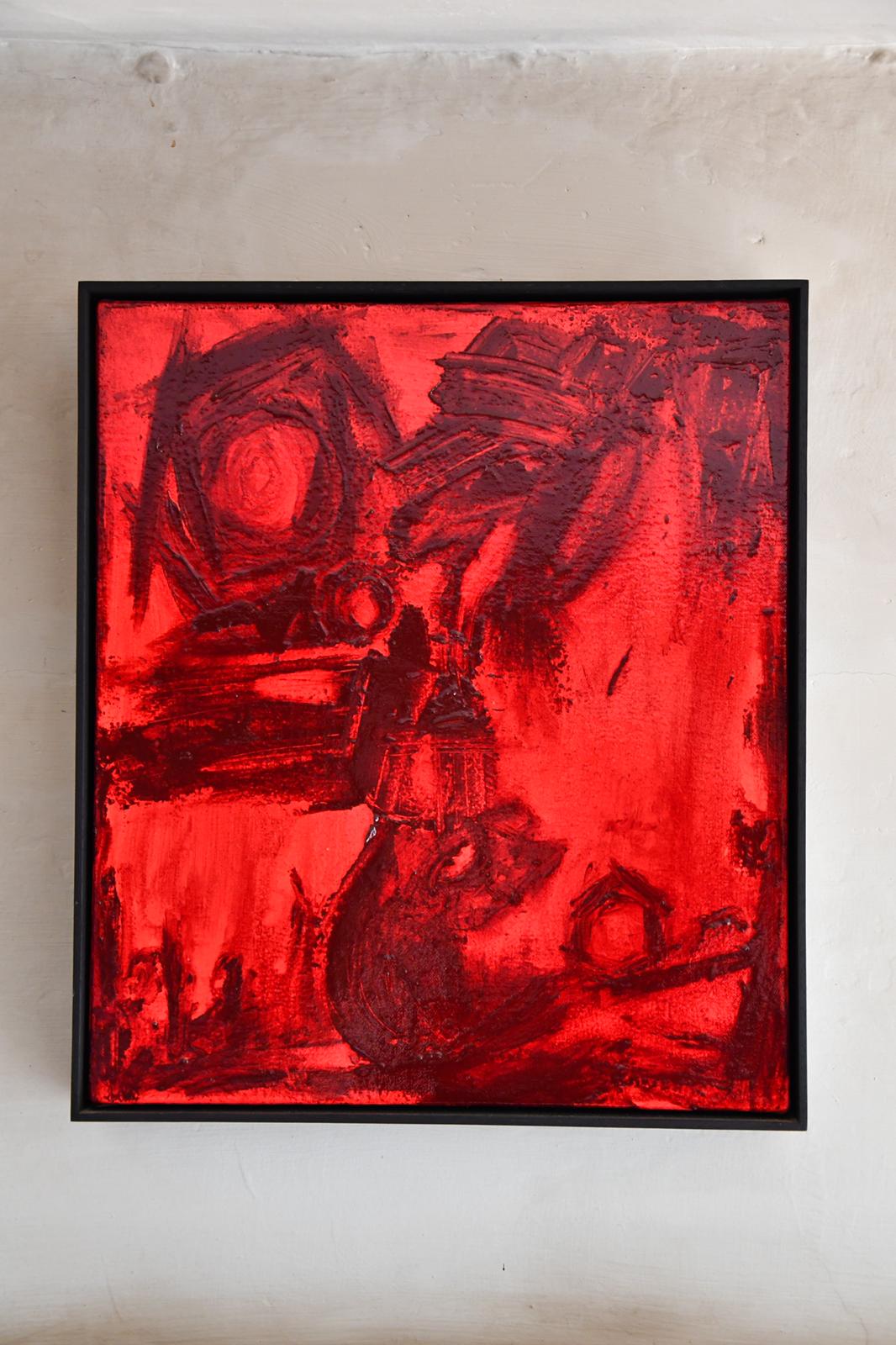 The painting Tussie Mussie (2007) by Rachel Howard hangs above the living room fireplace.
I've seen thousands of people's collections where they have really amazing, museum-class objects. But there are so many collections where it's the classic $100 million collection on the wall, and the same fifteen artists. I mean, I love Twombly and I love Picasso and I love Warhol and I love Rauschenberg and Johns, but once you've seen that collection together you've seen five different homes. And the collectors always live about half a mile from each other, in the same districts. In a way, you can't take a measure on that person. Your collection should speak about you, in the way that what you wear speaks about you.
My advice with art fairs is to really do your prep before. You have to be prepared to make a decision there and then, especially on an opening day when it's very challenging to make decisions quickly. Most gallerists are reluctant to give reserve periods of more than an hour on an opening day. So you have to take a deep breath, and believe in your preparation. If you're working with an advisor, you've seen things beforehand on PDFs and you're able to whittle down the things you really want to see. If you don't have an advisor, then get your sneakers on and see as many of the booths as you possibly can. If something speaks to you, you've got to be able to say, 'That's brilliant, let's take it.' And then, do your bit as a collector to get yourself the best possible deal on the spot. Remember, when you're in an art fair, galleries are there not to show you things, but to sell you things. They're always willing to listen to you say, 'What's the discount? Ten percent? How about fifteen percent?' Then you can have that conversation.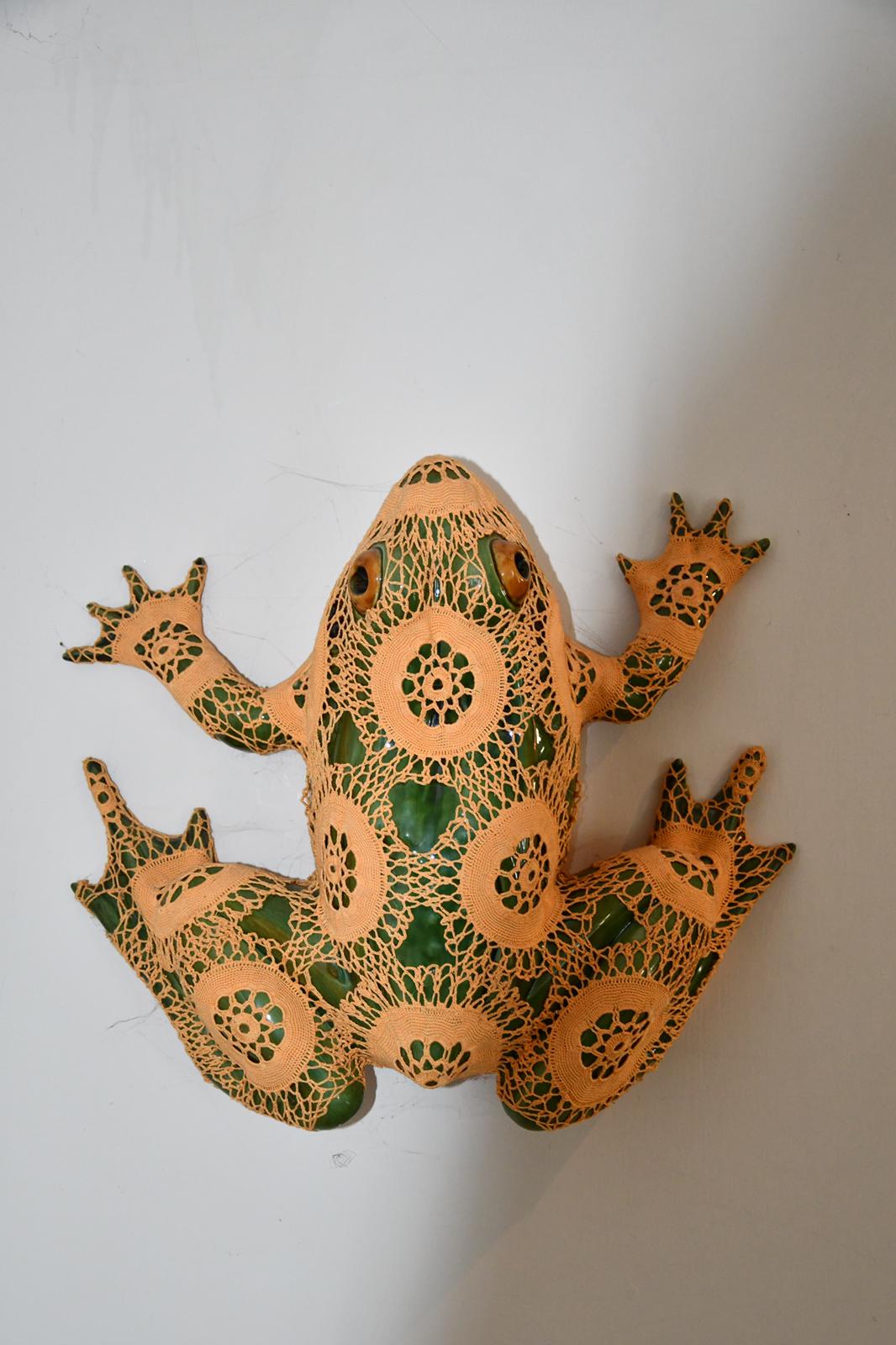 Eros (2010), a sculpture by Joana Vasconcelos.
A lot of people, when they start collecting, forget about kitchens and bathrooms and spare rooms. You can have a lot of fun buying things and placing them in spaces where you wouldn't ordinarily do so. I didn't think I would have a piece of conceptual art above my oven, but I do! Art's a serious business and collecting is a serious business, but you have to find moments to let the joy in. To not be afraid to take a risk on something that's not too dour or stoic or intellectual. Sometimes you just want something really fun on the wall. I have a very English sense of humor. My husband is American. We have a slightly dark, tongue-in-cheek attitude toward our collection.
I have thousands and thousands of books. My rule is, I buy the catalog for every single museum exhibition I go to. It's a good way to educate yourself a little bit more and it might inspire you to think about objects and artists you wouldn't have thought of before. The other great source of learning is auction catalogs, which I spent most of my twenties and thirties writing. They will soon become a thing of the past as we move into this twenty-first century digital realm. But if you can get your hands on old auction catalogs there's a lot to learn from them, because they're written to educate but they're also written in a way that makes you want to buy. They're not that critical in that respect but they bring out the best of an artist, from Pollock and Rothko right down to the younger artists of today.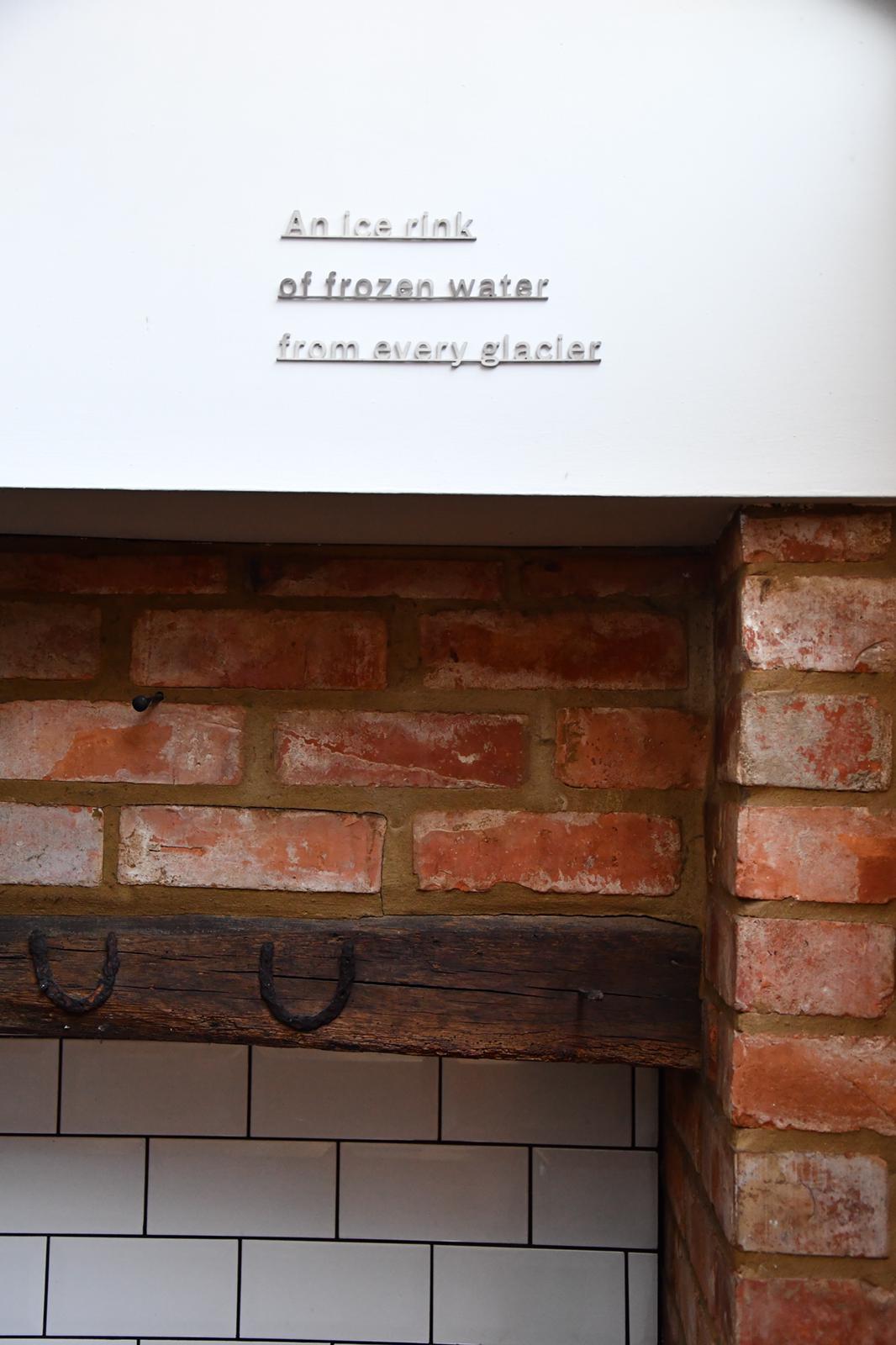 An untitled conceptual artwork from 2014 by Katie Paterson, in the kitchen.
I think what we've seen the last couple of years, the big moment in contemporary art in terms of the market and in terms of practice, has been a surge of interest in artists of color. Many artists, such as Mark Bradford, Njideka Akunyili Crosby, and Kerry James Marshall, saw their markets grow and their prices (at auction and at galleries) rise exponentially. This commercial acceleration was tied to a curatorial and critical re-examination of the canon, with certain museum directors, such as Thelma Golden of the Studio Museum in Harlem, leading the way for this important reassessment of what has been for the longest time a canon of male, white privilege. Figuration has, for so long, been the bastion of the canon. The most traditional of disciplines is now being employed by the most radical artists so as to make strong statements about the continued struggle to exist in a world which has, for too long, subjugated the Black voice.
Recently I have seen a number of LGBTQ artists come to the fore, all of them working as figurative painters as well. There is a fresh abandon that underpins the homoerotic throb of Doron Langberg's paintings. Likewise there is an itchy anxiety that fizzes through the nocturnes and narratives of Salman Toor's group portraits. I hope we see more of this with more queer artists and artists of color coming to the stage to be seen and heard."