Each week, Artful spotlights an art experience or destination that speaks to us right now.
An art fair, especially a virtual one, may not seem like the most obvious place to wade into the current international conversation about the relevance of historical monuments. Yet visitors to Art Basel's online viewing rooms, which make their public debut June 19th, have a couple such opportunities. Kehinde Wiley's Rumors of War, a large editioned sculpture of a current-day Black male figure on horseback made in response to the Confederate monuments of Richmond, Virginia, is the showstopper of Sean Kelly's presentation. Lehmann Maupin has Do Ho Suh's Public Figures, an empty stone pedestal borne aloft by a small, diverse group of cast-bronze bodies.
Meanwhile, several works by Kara Walker, whose massive sugar-coated sphinx of 2014 and more recent reinterpretation of London's Victoria Memorial Fountain are essential contributions to any discussion of controversial historic statues, are the focus at Sikkema Jenkins and Co.. Visitors can click around the gallery's viewing room to explore a couple of works made in preparation for the fountain installation, Fons Americanus, which filled Tate Modern's Turbine Hall from the fall of 2019 until the museum's COVID shutdown earlier this year and has since been dismantled. A 24-foot drawing details, in four narrative panels, the wrenching journey of slaves crossing the Atlantic on a storm-tossed ship. A bronze maquette shows the central feature of Walker's Tate installation, the large fountain ringed by allegorical figures. In a video produced for the Tate exhibition and included in the Art Basel viewing room, Walker talks about her interest in creating "a space for reflection, joy even, amid the miasma of conflicts, racial, economic, and cultural, which still lodge themselves in our collective gullet."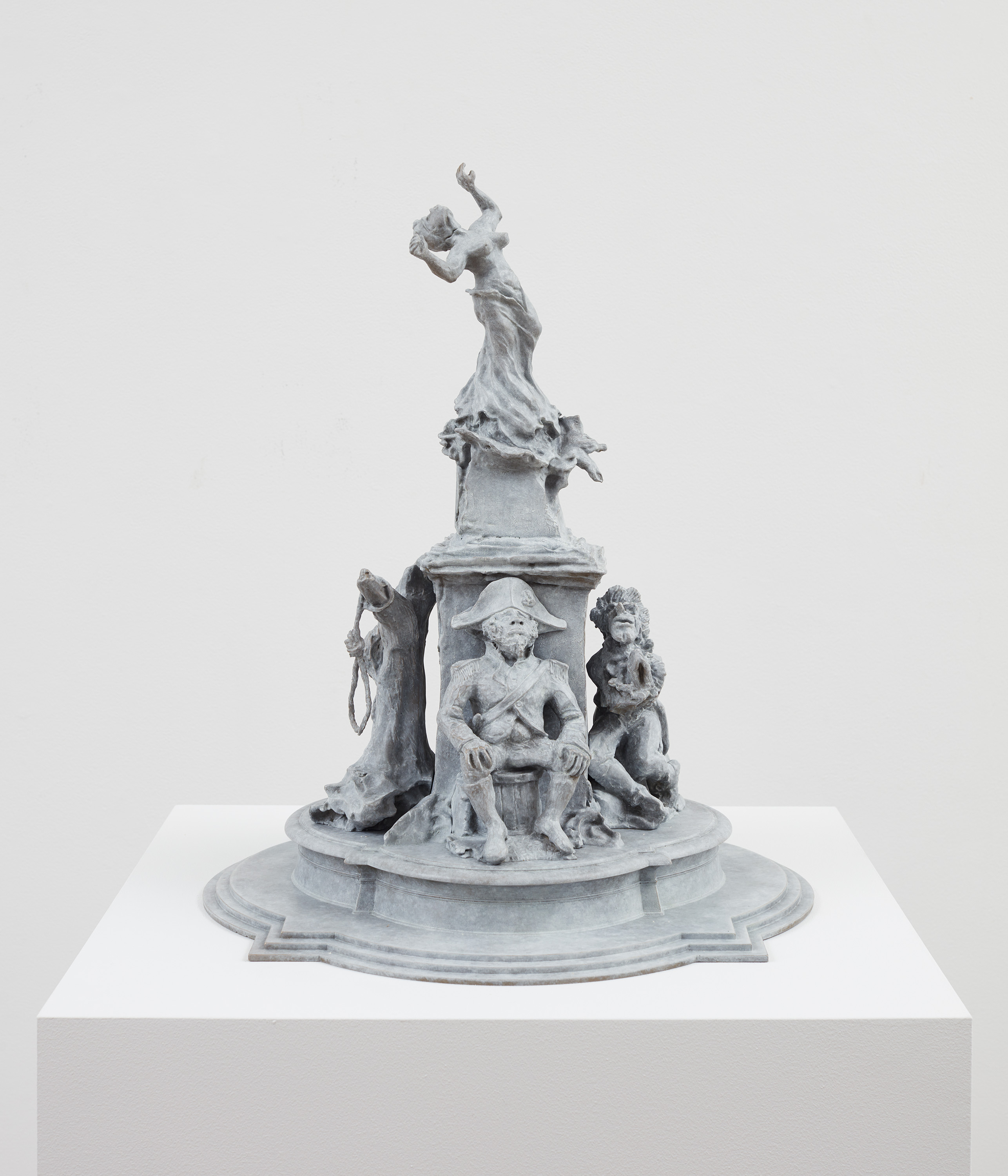 Kara Walker, Fons Americanus, 2019. Bronze, 20 x 16 x 16 inches (50.8 x 40.6 x 40.6 cm). © Kara Walker. Photo: Jason Wyche, courtesy of Sikkema Jenkins & Co., New York.