As more and more of the art world has migrated online during the pandemic, artists have had new opportunities to experiment with artificial intelligence technology (or AI). Two leading contemporary artists have been exploring AI from different angles in their recent exhibitions: one focused on the upheavals of 2020, the other on the not-too-distant future. Both artists, Trevor Paglen and Pierre Huyghe, have been working with the topic for years and thinking deeply about its technical and philosophical repercussions.
Paglen's recent exhibition "Bloom," at Pace Gallery in London, which closed early due to the UK's Covid shutdown, included several projects that investigate the way AI systems are formed—namely, by amassing large databases of images that are then used to "train" machines—and the commercial and political uses of these systems. Paglen has assembled grids of photographs based on such machine-learning databases, including one used by the State Farm insurance company to identify drivers who may be distracted.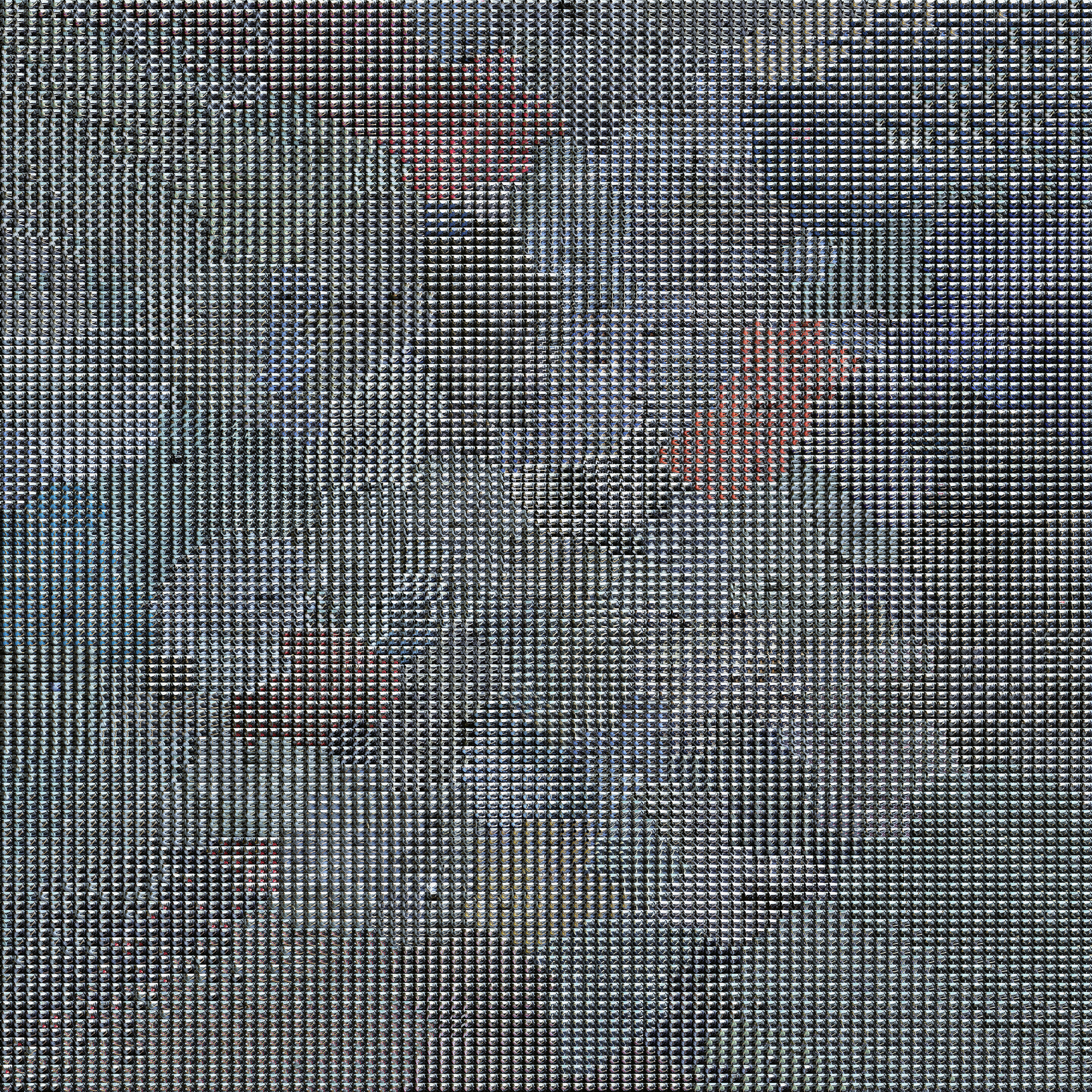 Another component of the exhibition was an interactive live-stream titled Octopus, allowing anyone with a webcam to see the exhibition space from different camera angles and, at the same time, broadcast themselves to monitors in the gallery. In a video-conference panel in late October hosted by the gallery, Paglen said about this piece: "I was thinking about Zoom calls and geography and architecture…what is the space of Covid? It's actually really domestic. But we're looking through these little portals to other places in the world, and what would an exhibition be like that assumed this understanding of space?"
If the idea of a gallery visit as Zoom meeting is off-putting, it helps to know that Paglen has a long history of making art that is critical of surveillance technologies; he has photographed classified military sites, spy satellites, and the undersea cables that are part of the physical infrastructure of the internet.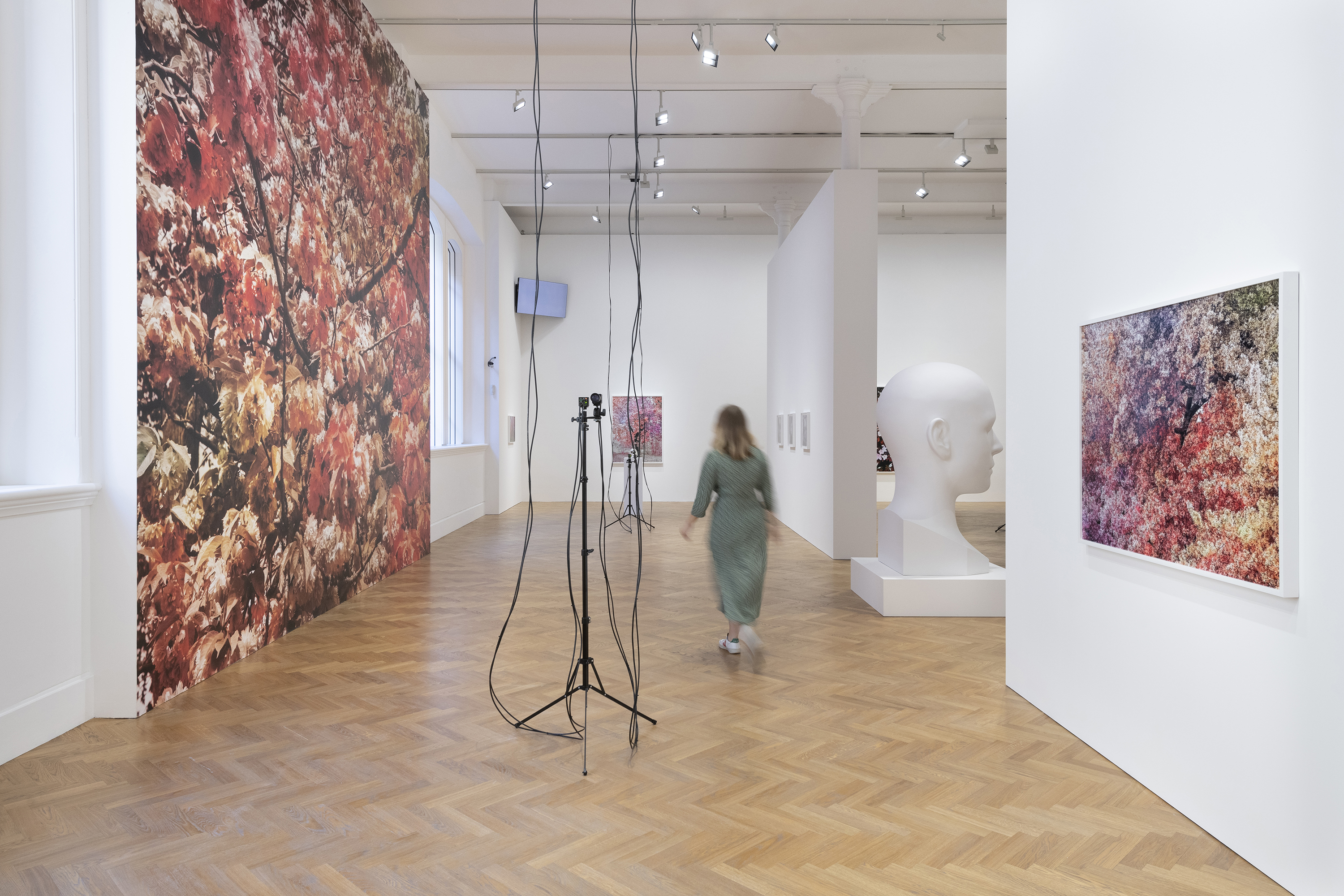 His photographs typically serve up such paranoia-inducing content in soothingly familiar forms; his images of military "black sites" in the desert, for instance, look at first like other landscape photographs of the American West. The large-scale floral photographs that give "Bloom" its title appear decorative and innocuous. They are, it turns out, the work of an algorithm. A description on the Pace website tells us that "The colors and shapes in the images represent similar areas that the AI has detected in learning from other images of flowers," meaning that we are not really seeing an existing bunch of blossoms—rather, the algorithm is learning about flowers and we are merely witnesses to its development.
As Paglen said in Pace's webinar, "The new body of work is coming out of a moment of questioning what it means to make meanings right now. We have the pandemic rewriting the meaning of our everyday environments, whether that's the image of a plane in the sky or the feeling of being in an enclosed space….We're seeing technology platforms, social media but also machine learning models, trying to ascribe meanings autonomously to the pictures that we put online. And we're having the Black Lives Matter protests and huge collective projects of trying to reimagine what words like public safety might mean, or what health care might mean… When I was making this body of work I was really questioning whether it was possible to make art at all under these kinds of conditions."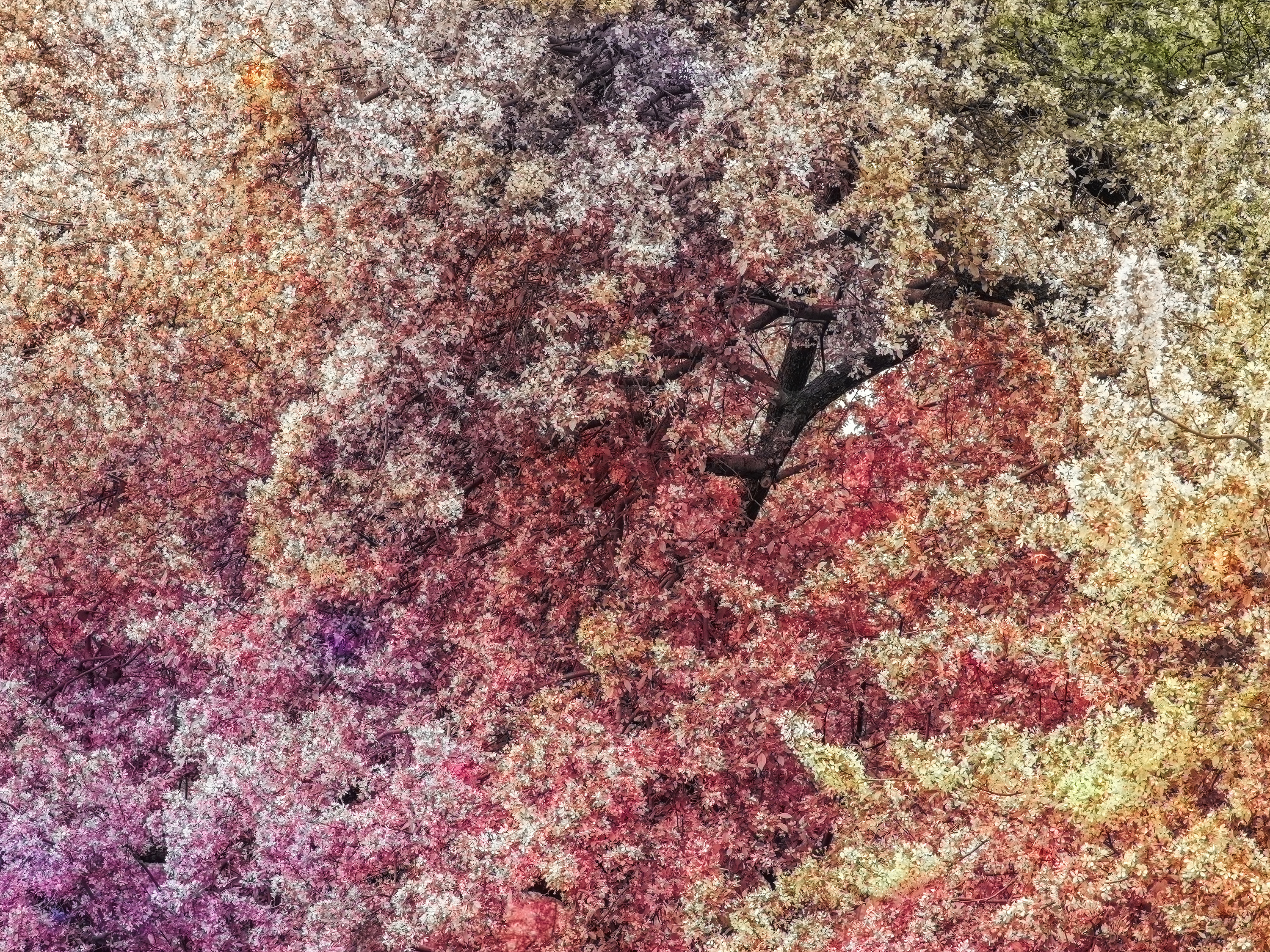 Huyghe, like Paglen, is interested in how AI affects image-making and image-processing. His work, however, has more of a science-fiction streak and an emphasis on human neurobiology, or, in some cases, the grey areas between human and machine intelligence.
His digital exhibition at Hauser & Wirth, "Of Ideal," continues a series of work made in collaboration with the Japanese researcher Yukiasu Kamitani, who has been studying whether it is possible to train machines to "see" our thoughts and dreams by way of MRI scans. For Huyghe and Kamitani's joint experiment, volunteers were told to look at or imagine specific images while receiving MRI scans; the images and scans were fed into a neural network, and the network was ultimately challenged to extrapolate backwards from the MRI data—re-creating the original pictures or thoughts.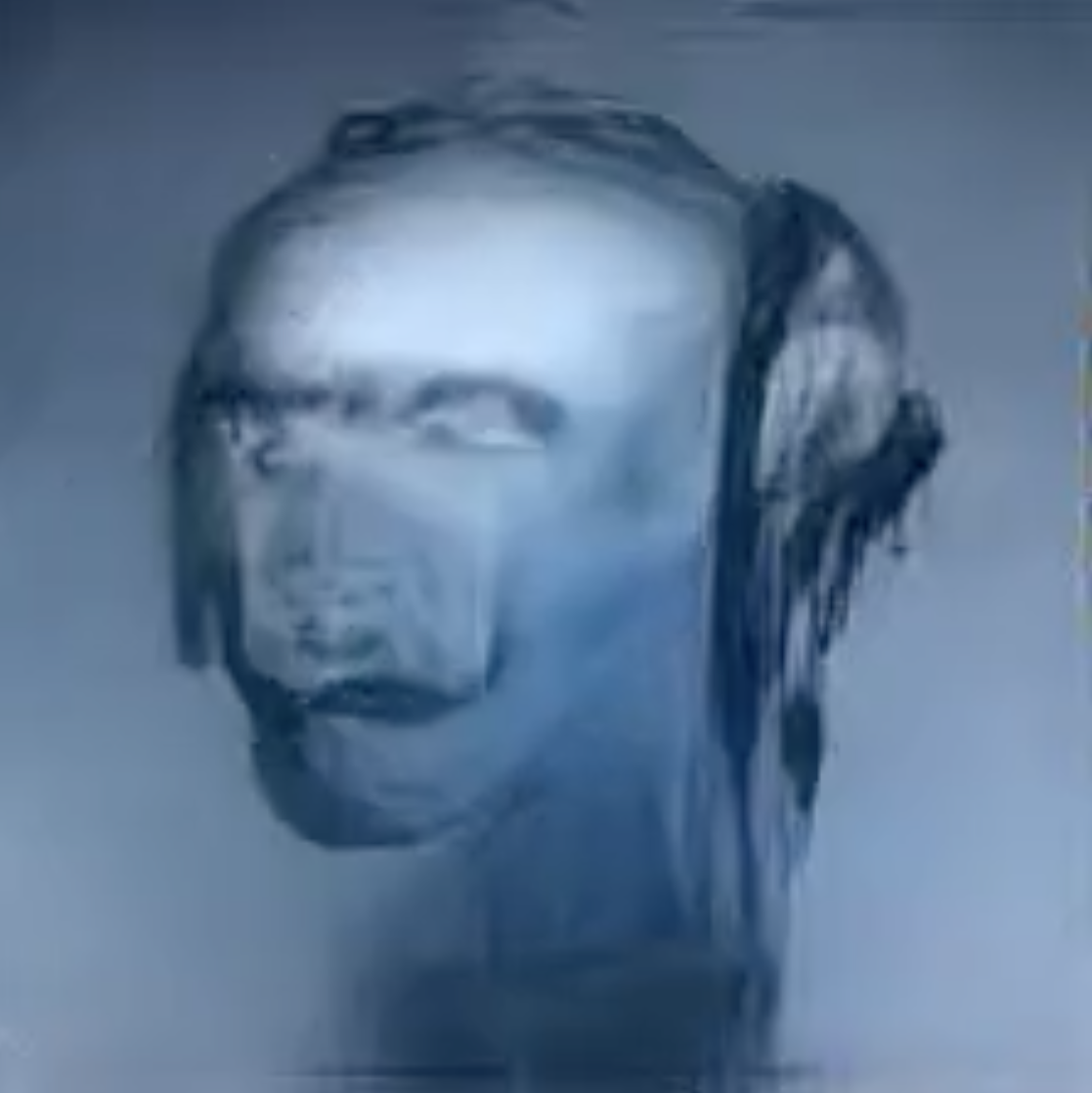 At the Serpentine Gallery in 2018, Huyghe exhibited videos that showed a flickering procession of vaguely figurative, half-formed images—the work of the neural network, as it attempted to visualize what the volunteers had been looking at or thinking about. Three such videos are now online at the Hauser & Wirth website, along with stills that allow for a closer inspection of these fragmentary pictures with their skeletal bodies and melting faces.
Huyghe's project seems to anticipate a future in which machines can see into our minds and the work of the artist may become, if not obsolete, then at least much less mysterious. Will we need anyone to make pictures at all, if the images in our heads can be transmitted and recognized so easily?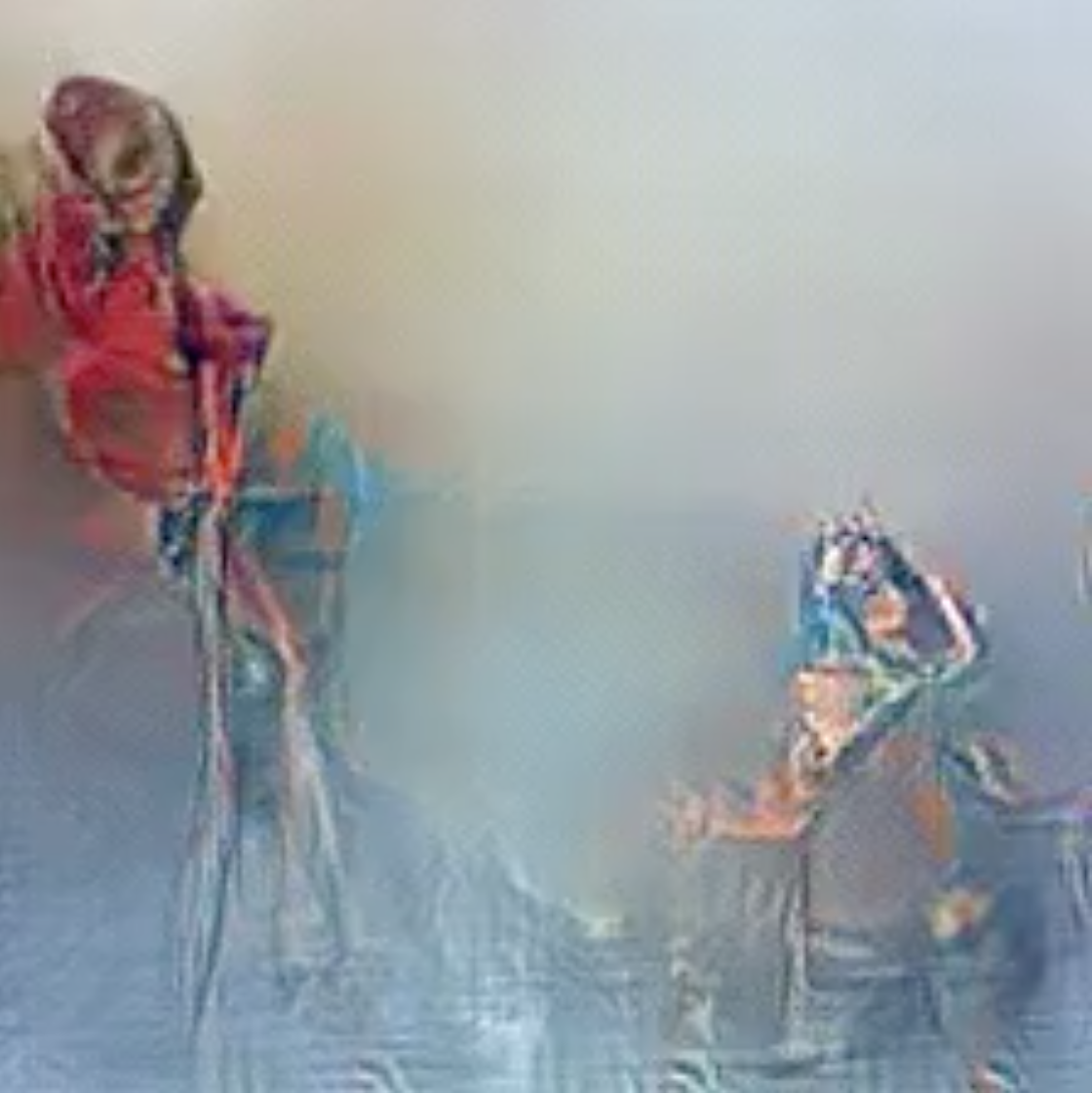 In an interview with the Serpentine director Hans Ulrich Obrist conducted at the time of the museum's exhibition and posted on the website for "Of Ideal," Huyghe described his work as a kind of "lettre volée," or intercepted message. The idea is that he, as the artist, is intervening in a direct communication between a human brain and an AI. "By making it public, I trigger again the visual where I am trying to get rid of it," he said.
The issues raised in his show and Paglen's are fascinating and not easily resolved, especially as we hunker down in our homes for the long pandemic winter and algorithms have ever more influence over what we see and hear there. As Paglen said in his panel, "My relationship to space is changing week by week, and I don't know where this goes."
Captions:
1) Trevor Paglen, Distracted Drivers, 2020. © Trevor Paglen, courtesy the artist and Pace Gallery.
2) Installation view of "Trevor Paglen: Bloom," Pace Gallery, 6 Burlington Gardens, London, September 10 – November 10, 2020. © Trevor Paglen, courtesy the artist and Pace Gallery Photo: Damian Griffiths, courtesy Pace Gallery.
3) Trevor Paglen, Bloom (#9b746d), 2020. Dye sublimation print, 102.9 cm × 137.2 cm (40-1/2" × 54"). © Trevor Paglen, courtesy the artist and Pace Gallery.
4) Pierre Huyghe, Of Ideal, 2019-ongoing. Courtesy of the artist, TARO NASU, Marian Goodman Gallery and Hauser & Wirth. © Kamitani Lab / Kyoto.
5) Pierre Huyghe, Of Ideal, 2019-ongoing. Courtesy of the artist, TARO NASU, Marian Goodman Gallery and Hauser & Wirth. © Kamitani Lab / Kyoto.