"My secret heart is a wanderer," the artist Betye Saar wrote in her 1993 poem "My Secret Heart." It's a revealing line; although the 94 year-old artist is best known for her assemblages that speak to the history of racism in America, international travel has been an essential but underrecognized ritual and reference point for her art. A new show at the Morgan Library and Museum, "Betye Saar: Call and Response," sheds some light on this part of Saar's practice, including some of her intriguing travel sketchbooks alongside her better-known sculptures incorporating found objects (such as Supreme Quality, which includes a washboard and a figurine exemplifying the crude stereotype known as Aunt Jemima).
The show, which debuted at the Los Angeles County Museum of Art and will travel to the Mississippi Museum of Art in Jackson next spring and the Nasher Sculpture Center in Dallas in the fall, is part of a larger and ongoing effort to acknowledge Saar's works on paper. An exhibition at the Museum of Modern Art last year explored the relationship between the artist's assemblage Black Girl's Window (1969) and her printmaking. Meanwhile, a curator at the Isabella Stewart Gardner Museum, Diana Greenwald, is in the early stages of organizing a show dedicated specifically to Saar's travel sketchbooks.
"She has this searching eye, a roving eye," says Rachel Federman, the Morgan curator who organized the New York presentation of "Call and Response." Saar's sketchbooks, she says, "are a kind of surrogate for her assemblage practice when she's traveling. She loves to travel and collect visual experiences and experiences of other traditions."
The pages on display at the Morgan do evince this process of collecting, often featuring labels, wrappers, or other paper ephemera pasted onto colorful watercolor backgrounds. As in Saar's sculptures, certain motifs jump out: a lion, for instance, which according to the museum texts is a stand-in for the artist and reflects her astrological symbol (a Leo). The big cat appears in a sketchbook from Brazil, as well as one from California (where it stands, amusingly, atop a scrap of packaging from Tiger Balm.)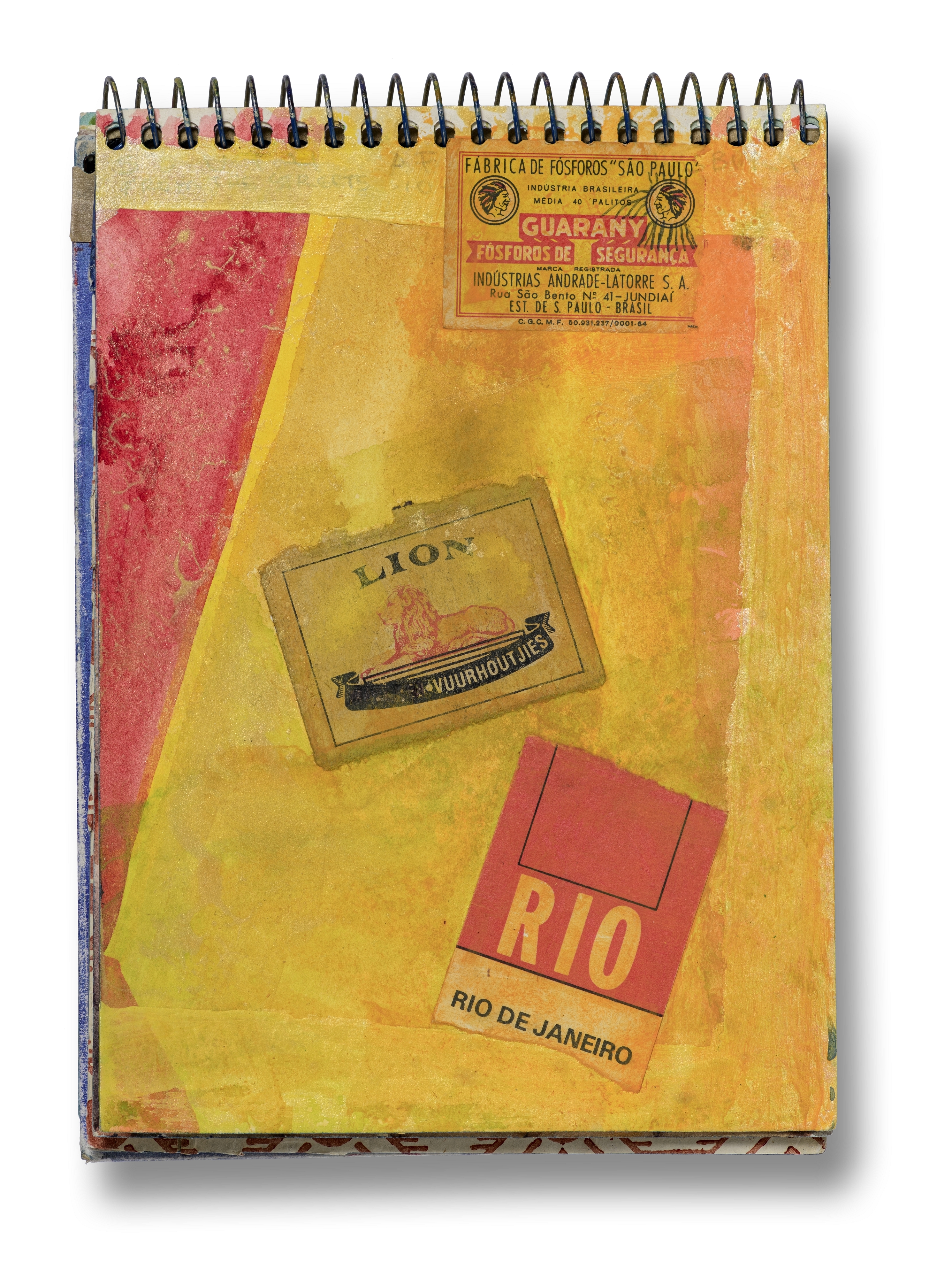 "The way she uses collage in these sketchbooks is that she picks up a small found object, a trading card or stamp or label, and then she builds color around it," says Greenwald. "When you look at her assemblage, she's not chopping up lots of different objects. It's always additive. I think that's also true in her sketchbooks."
According to an anecdote in the "Call and Response" catalog, Saar's interest in travel was sparked in part by a 1970 visit to Chicago's Field Museum of Natural History in the company of her friend and fellow artist David Hammons. As she recalls, "That's when my work turned from European mysticism to third-world mysticism. Before, I was using symbols that were more Eurocentric. But when I went to the Field Museum, in the basement they had all this work from Africa, Oceania, and even China and Japan—everything that wasn't European, which was displayed nicely upstairs."
As Federman says, Saar "credits that moment with shifting her consciousness abroad and specifically to Africa, to the Caribbean. She's really interested in how objects from those cultures are vested with a kind of power, through certain combinations of materials." A period of frequent travel followed Saar's Field Museum outing, with trips to Morocco, Egypt, Nigeria, Senegal, Haiti, Mexico, and Brazil, among other places. She was a repeat visitor to Mexico and to Haiti, as multiple sketchbooks from these destinations confirm.
The travel sketchbooks appear distinct from everything else in "Call and Response." They are clearly more polished than the working sketches in ballpoint pen, also on display, that map out Saar's sculptures; each page of the travel books is filled with color and appears to be a fully realized artwork. Unlike her assemblages, however, which draw on familiar cultural and historical images such as Black Power fists and the figure of Buddha, the travel sketches feel mysterious and even coded. Often, the viewer is left wondering what the patterns and collaged items meant to Saar, or which specific experiences may have inspired them.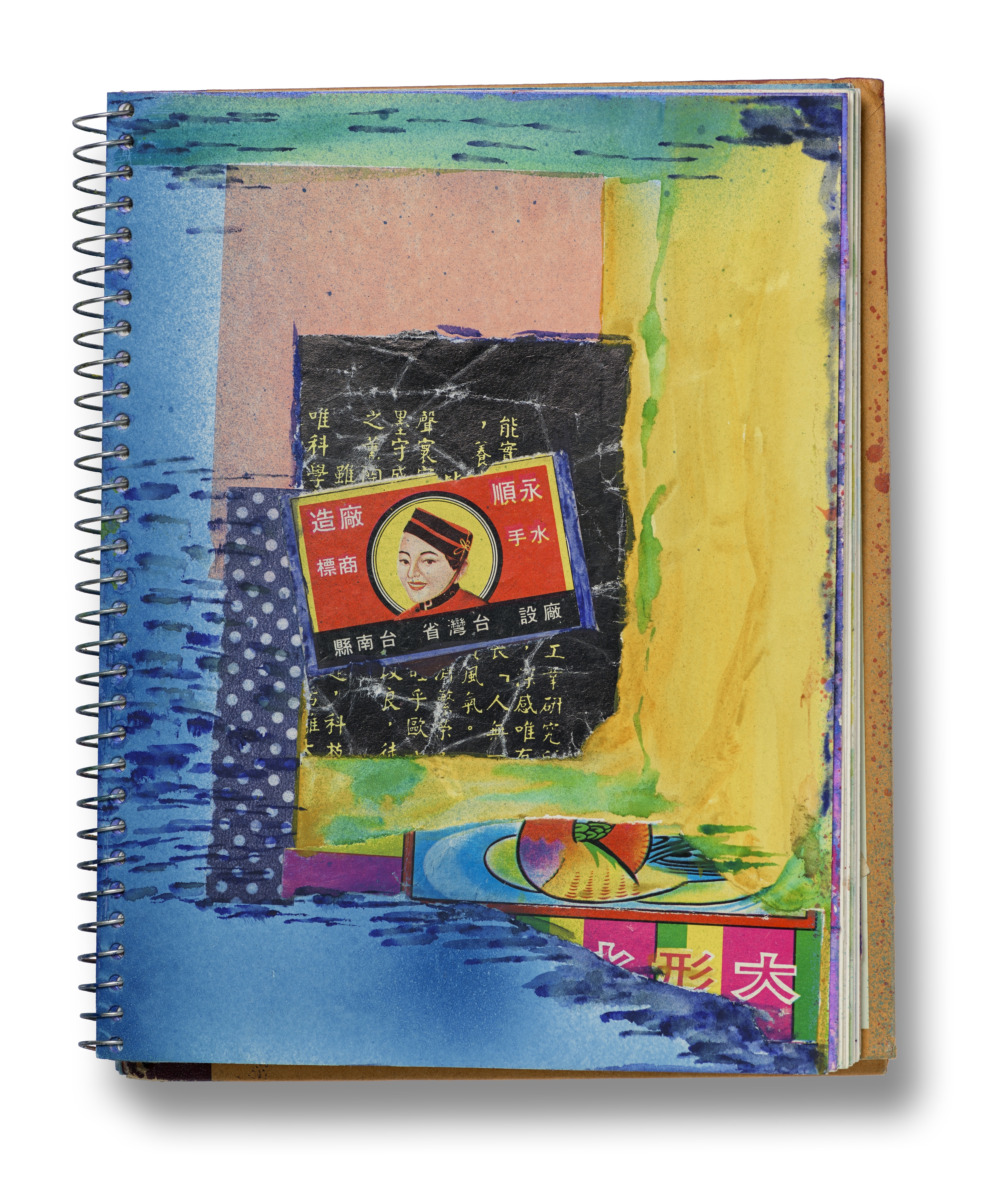 As Federman says, "It's this incredibly sophisticated form of scrapbooking—these are finished artworks but she also is pasting in these little private souvenirs, and when she looks at them they probably remind her of specific moments and memories."
Yet Saar's travel sketchbooks aren't just backward-looking documents, as a typical vacation scrapbook might be; rather, the artist returns to them again and again for inspiration. "She just created a new work called Legends of the Blue, which references Egyptian themes and has a relationship to a trip she took decades ago," says Greenwald. "The sketchbooks help keep that travel vital for her."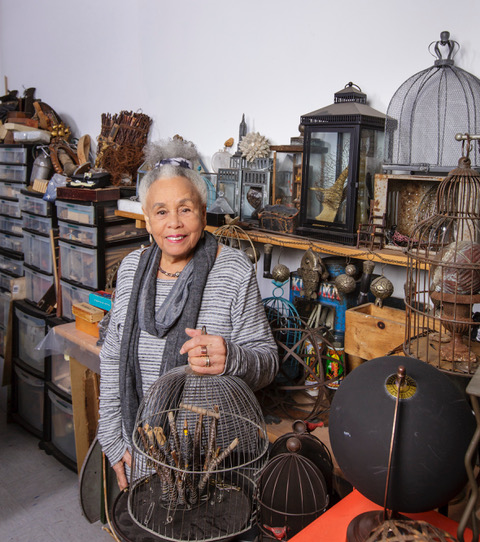 Captions:
1) Betye Saar, Supreme Quality, 1998. Washboard with stenciled lettering, soap bar with printed paper label, metal figurine with toy guns, tin washtub, fabric, clock, and wood stand. 41 3/4 x 22 1/4 x 11 7/8 inches. Courtesy of the artist and Roberts Projects, Los Angeles.
2) Betye Saar, Page from Brazil sketchbook, 1994. Watercolor and collage, 7 1/4 x 5 inches. Collection of Betye Saar, courtesy of the artist and Roberts Projects, Los Angeles.
3) Betye Saar, Page from Brazil/Los Angeles sketchbook, 1983/1988. Collage and gouache, 6 1/4 x 4 inches. Collection of Betye Saar, courtesy of the artist and Roberts Projects, Los Angeles.
4) Betye Saar, Page from Taiwan sketchbook, 1988. Watercolor and collage, 7 1/2 x 6 inches. Collection of Betye Saar, courtesy of the artist and Roberts Projects, Los Angeles.
5) Betye Saar. Photo by David Sprague, courtesy the artist and Roberts Projects, Los Angeles. © Betye Saar.