Born and raised in the famously frigid city of Winnipeg, Manitoba, where the temperature stays below zero degrees Celsius for half the year, the artist Marcel Dzama is known for Surrealist drawings made in an earthy palette and populated by Northern flora and fauna. Cartoonlike figures of bears, snowmen, and bison, interacting with masked and uniformed humans, inhabit russet and umber landscapes.
Perhaps this is why, when Louis Vuitton offered to send Dzama and his family on a long vacation for the latest volume of the company's "Travel Book" series of contemporary artist-illustrated journals and asked him to name the destination, he was drawn to the sun-bleached deserts and casbahs and jewel-toned interiors of Morocco (which have inspired artists and writers from Eugene Délacroix to the Beat poets). The resulting collaboration, which will be published in late spring and is being celebrated with an online exhibition on the website of David Zwirner gallery (through June 28) and a show at Zwirner's Paris gallery opening July 2, is something of an escape from his signature aesthetic of permanent winter.

As Dzama, his wife, and their then 5-year-old son spent a month driving around the country, with stops in the cities of Tangiers, Fez, and Marrakech as well as the Rif mountains and the Agafay Desert, the Canadian artist found himself following in the footsteps of Délacroix and Henri Matisse (whose extended stays in Morocco exaggerated their vibrant, fantastical, and unabashedly Orientalist impulses). This, too, was a detour for Dzama, who is normally more influenced by the acerbic and cerebral art of Goya and Duchamp.

"I was experimenting more and more with brighter colors," he recalls. "I found myself using a lot more blues and yellows. Usually I have a very muted palette." Turquoise leaves reminiscent of Matisse's cutouts float through the backgrounds of several drawings, and two works are even titled as homages to the master. Elsewhere, carpet and tile patterns expand to fill entire pages; like many visitors to Morocco, Dzama admits to a carpet-buying spree: "We bought more than what would work in our house. Every square foot is filled with a Moroccan carpet now."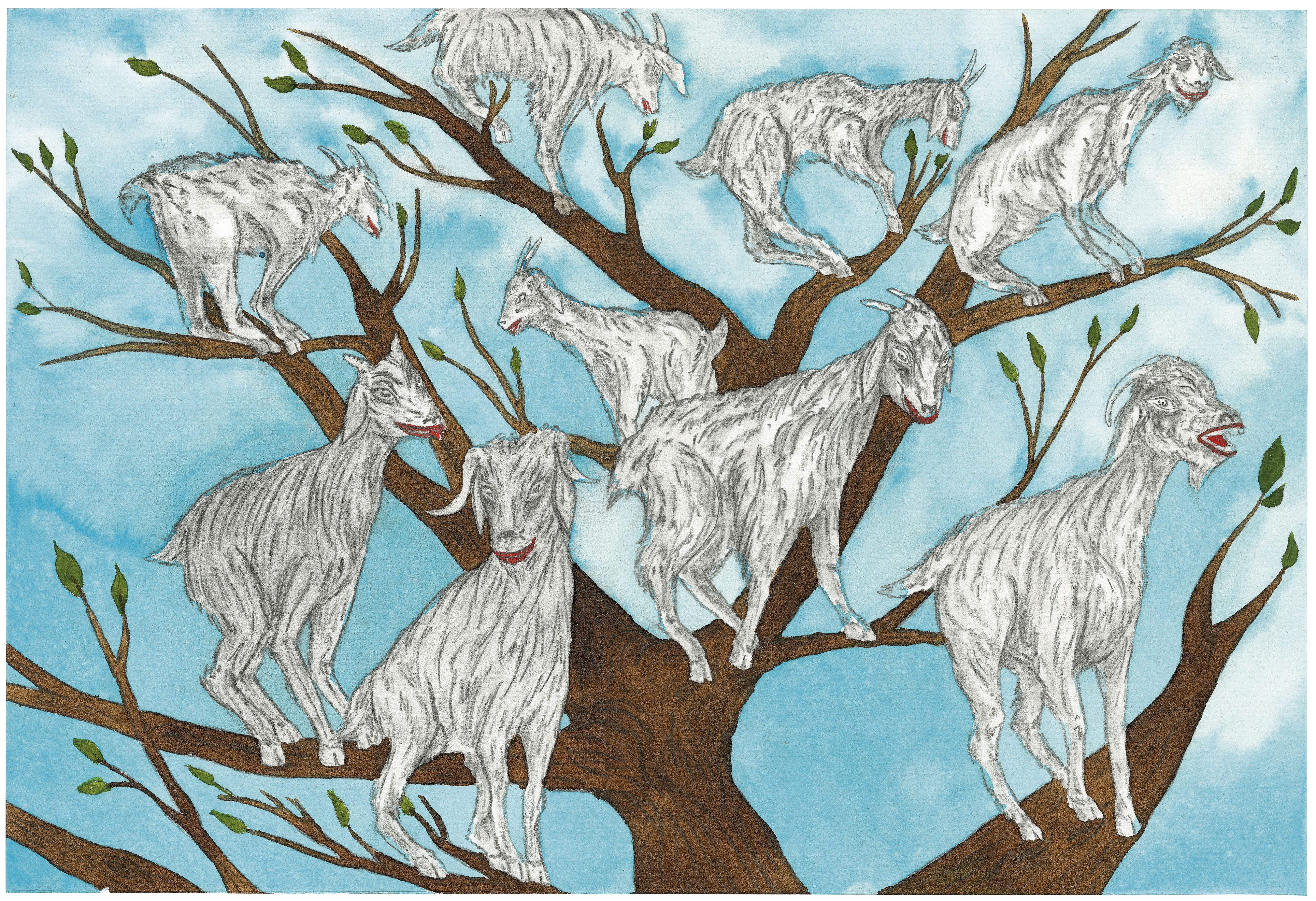 The book's lush landscapes of palm and argan trees are also new to his oeuvre. "I've stuck to more of a Canadian group of trees, pines and maple leafs. I don't think I'd even drawn a tropical plant before this trip," he says. Palm fronds shimmer, mirage-like, in several watercolors of the desert at night; in other drawings, feeding goats cling to argan branches along the road from Essouaira to Agafay.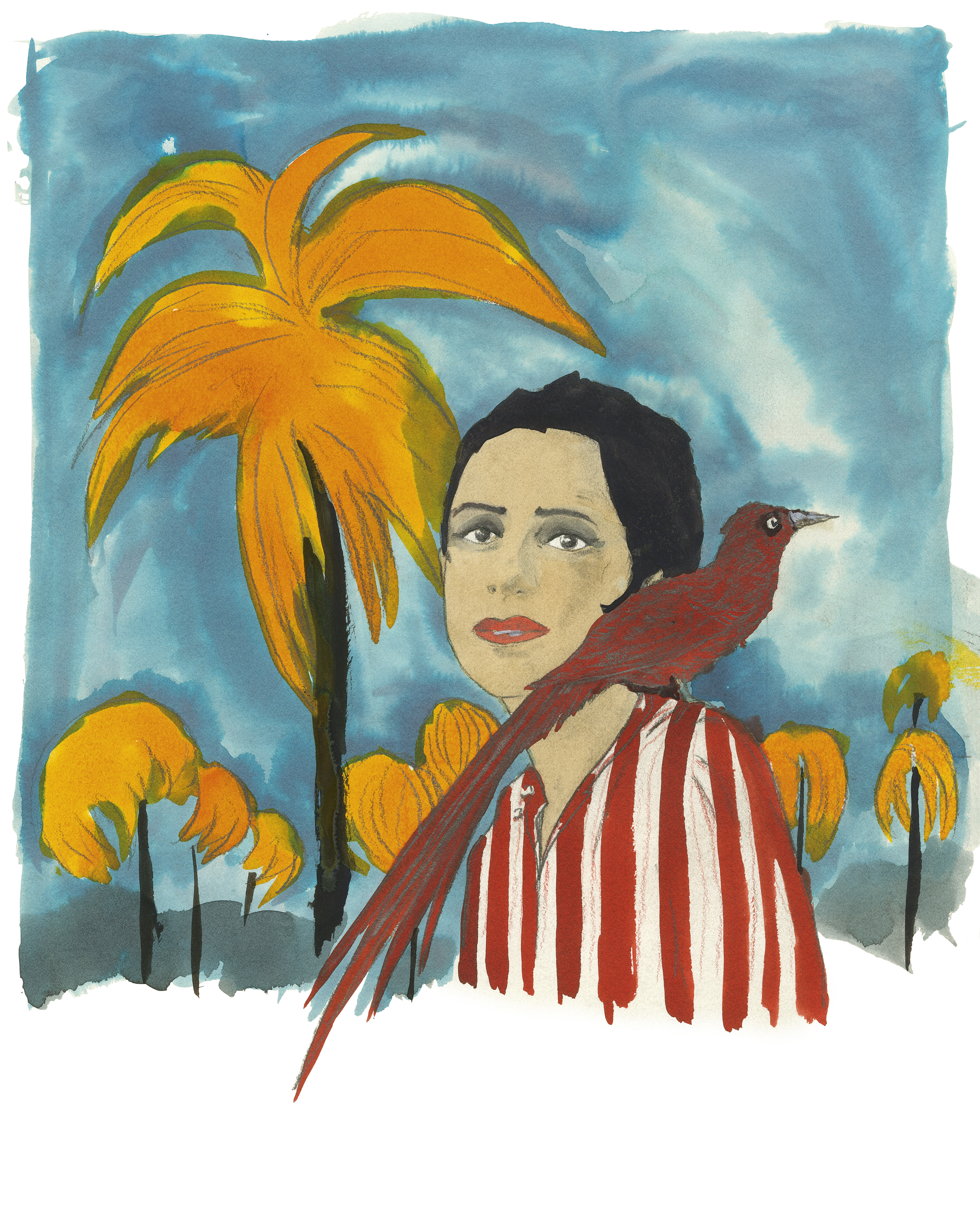 And although Dzama's animal universe has previously included octopi, bats, and other species not particularly native to Canada, his Moroccan drawings make room for snakes, monkeys, and birds with brilliant plumage. They also feature many, many stray cats, thanks in part to Dzama's son Willem, who took a special interest in them. They pop up in market stalls, at a laundromat, and on the laps of various locals. "I bought him a camera for the trip, and at the end the chip was full of cat pictures," Dzama says.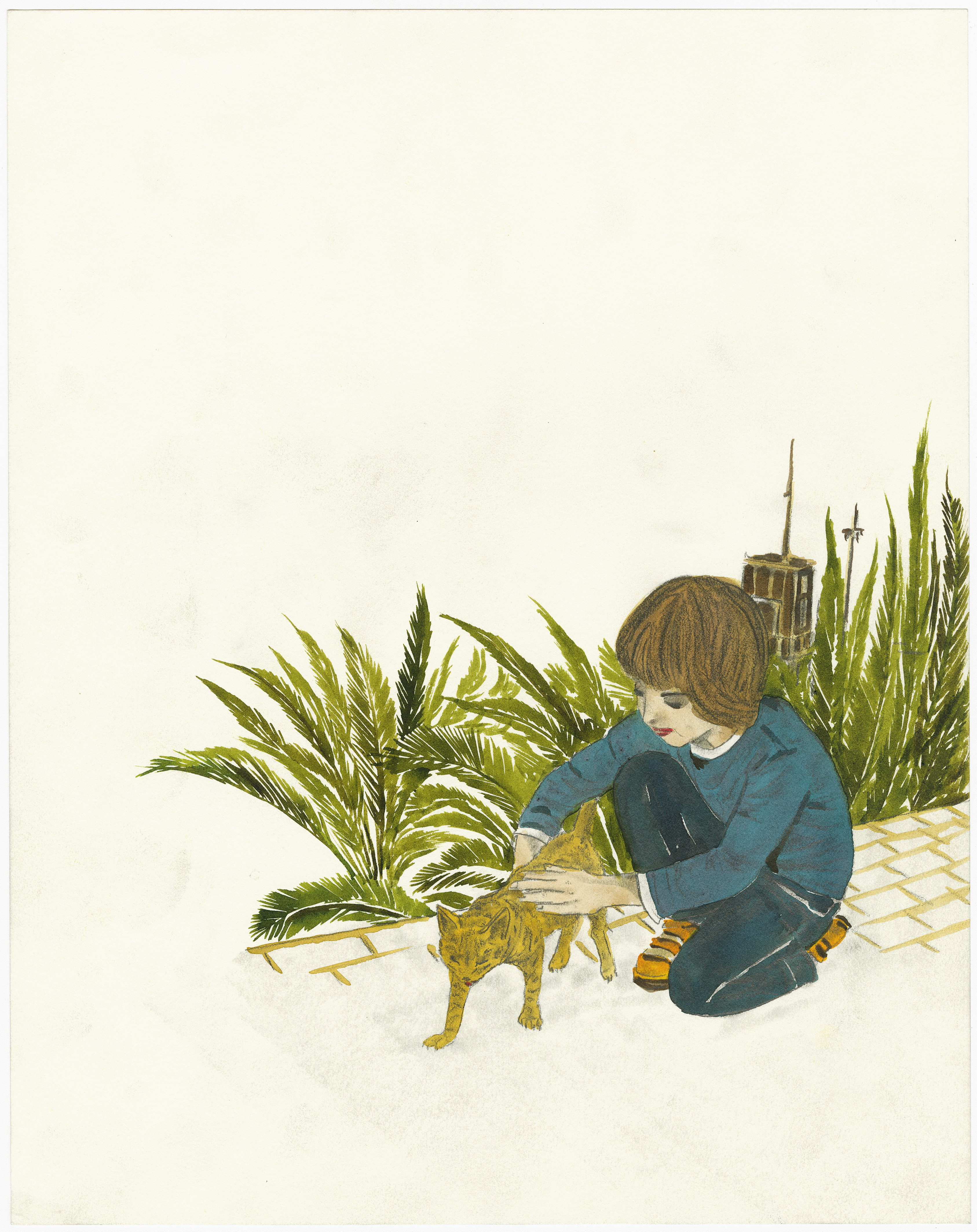 Working from photographs—his own, as well as his son's—was part of his process. He also carried a small sketchbook of watercolor paper, "a little bit bigger than a postcard," which he used to record his impressions of a scene. "I would do a fast sketch of what I was seeing, just to get the feel of a garden or the casbah, and then finish it off when I came back home."

At times, working on some of these unfinished drawings back at home in Boerum Hill, Brooklyn, Dzama allowed his imagination to fill in the details. This explains the mischievous figures in masks and capes who seem to have dropped in from earlier Dzamas, inserting themselves in between snake charmers and street merchants in more traditional Moroccan dress. "I didn't finish the book until almost a year after we went, so by the end of it my memory was disappearing and it became more a Surrealist vision of the trip," he says.

Along with the Travel Book images from Morocco, the online exhibition at Zwirner (titled "Marcel Dzama: Pink Moon") includes more recent travel drawings made on a family trip to Tulum, Mexico last January. These works mix views of swimmers and sunbathers around the pool of the Hotel Esencia, where the family was staying, with more dreamlike imagery (a woman with a third eye on her forehead; a hybrid bear-human in a polka-dot cape). If the spirit of Matisse presided over Dzama's Moroccan excursion, the Mexican Surrealists haunt these drawings. Dzama was inspired, he says, by the Brooklyn Museum's recent Frida Kahlo show and a biography of Duchamp by the Mexican poet Octavio Paz.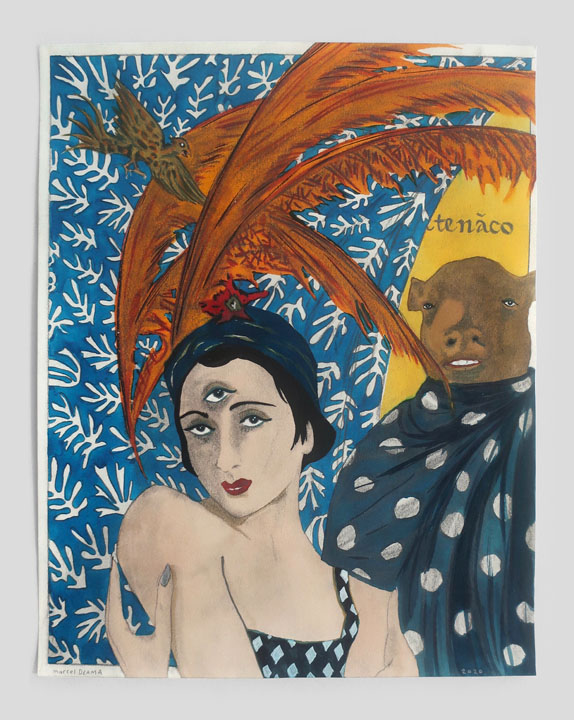 With his travel, like everyone else's, now on hold, Dzama is currently working from home. Although his studio is just six blocks away from his house, he has not been there since the shutdown began (due mainly, he says, to the demands of parenting with schools closed). He is no stranger to cabin fever, thanks to his upbringing in a place where it was often too cold to leave the house. Even so, the intense isolation of social distancing is changing not just his work habits, but the mood of the art itself. "I have found that my work is less sinister," he says of the pandemic's disruptions. "I think my drawings are trying to convey the hope that we can get out of this."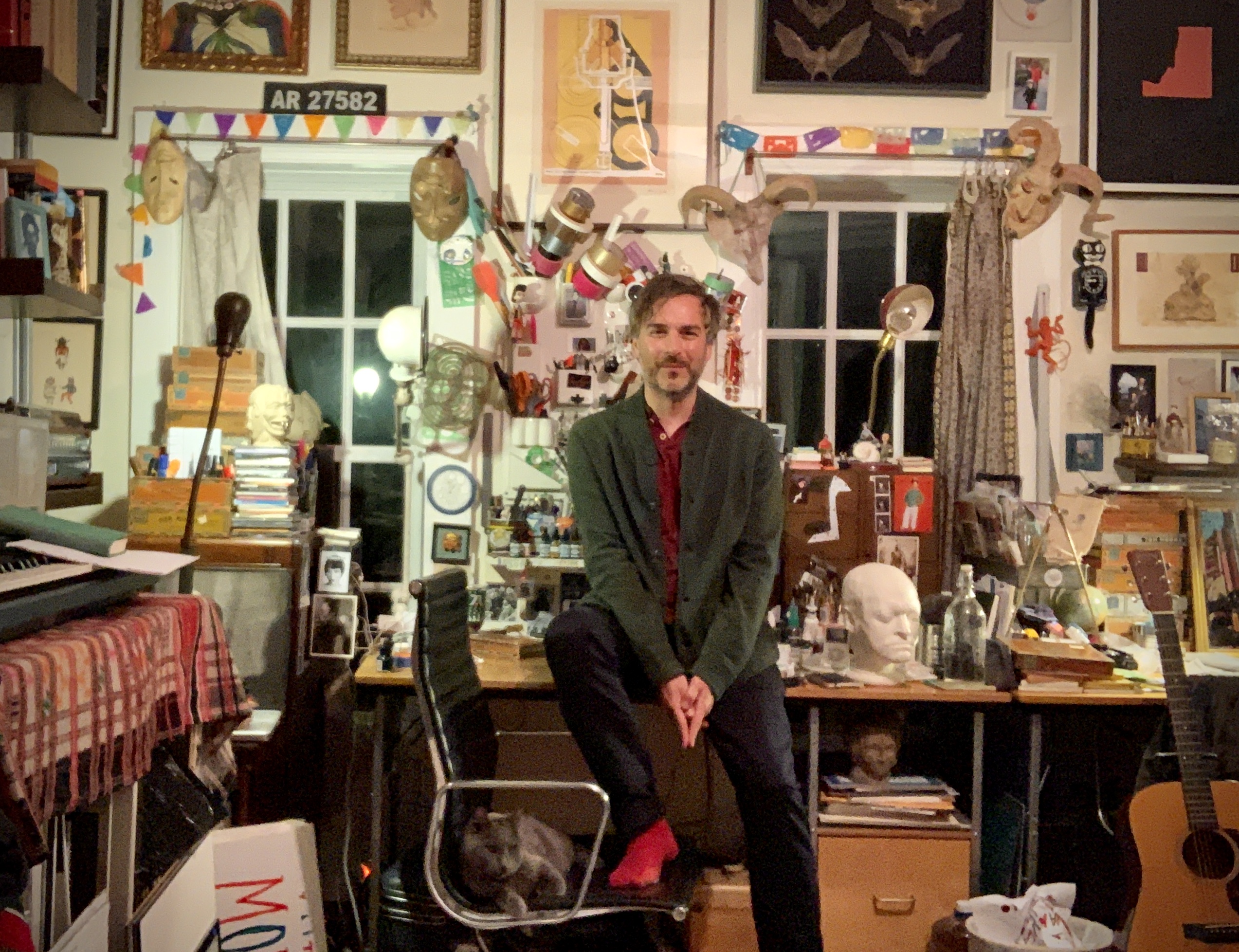 Captions: Marcel Dzama, Goats on argan trees eating, on the road from Essaouira to Agafay, 2018 © Marcel Dzama Courtesy the artist and David Zwirner; Marcel Dzama, Lady near the beach, 2018 © Marcel Dzama Courtesy the artist and David Zwirner; Marcel Dzama, My son petting a cat, 2018 © Marcel Dzama Courtesy the artist and David Zwirner;  Marcel Dzama, I am her minotaur and she is my matador, 2020 © Marcel Dzama Courtesy the artist and David Zwirner;  Portrait of Marcel Dzama, 2020 Courtesy the artist and David Zwirner. For a slideshow including additional images please see below.