Over two decades of making exuberant and assertive paintings, collages, and installations, the artist Mickalene Thomas has been celebrating the strength and independence of Black women who are close to her. Now, she is making an unusual move that highlights these qualities in her own life and career—embarking on a "global tour" of four exhibitions on three continents with the gallery Lévy Gorvy, all without joining the gallery's roster.
The New York exhibition, which opened in early September, finds Thomas reworking pin-ups from calendars issued by Jet magazine (a weekly publication that chronicled Black American life from 1951 to 2008 and is soon to be relaunched) into large-scale paintings with a complex, layered eroticism. A related body of work, titled "Jet Blue," will be on view in London (opening September 30), while the Paris exhibition (from October 7, in collaboration with Galerie Nathalie Obadia) will focus on works from the series "Resist," which make use of archival imagery of protests from the civil rights era to the present. The final show, in Hong Kong (opening October 15), responds directly to abstracted female figures by Picasso and Matisse. In December, Thomas is also debuting a lavish new monograph from Phaidon, with essays by Roxane Gay and Kellie Jones.
The sequence of shows, collectively titled "Mickalene Thomas: Beyond the Pleasure Principle," can be seen as a sign of structural changes in the art world. It arrives just as the gallery itself has been making headlines for a merger of its principals Dominique Lévy and Brett Gorvy with two other dealers, Amalia Dayan and Jeanne Greenberg Rohatyn. It offers up, in lieu of a single destination show, a series tailored to different markets. Most of all, it sends a signal to other artists that the long-established model of gallery representation may be up for review.
In a recent conversation from her Brooklyn studio, Thomas spoke to Artful's Editorial Director Karen Rosenberg about finding herself in Jet magazine, controlling images of her work in the age of the NFT, and why artists need to recognize their own importance within the art world's power structures.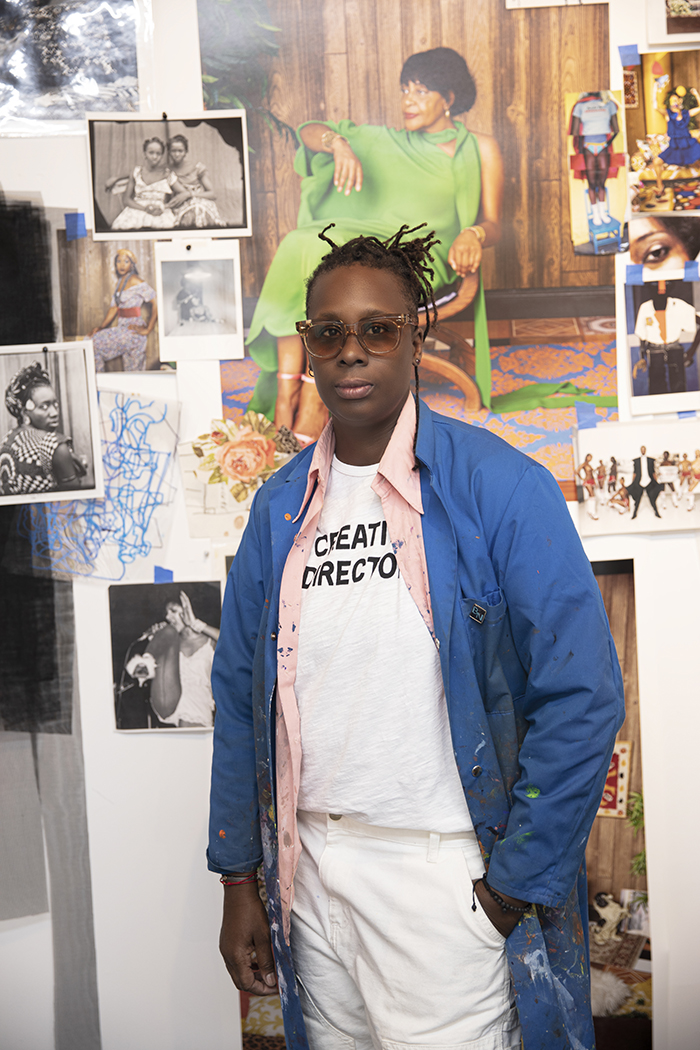 Karen Rosenberg: What role has Jet magazine played in your life over the years? It seems like something you have come back to in different ways, at different points in your career.
Mickalene Thomas: It made a huge impact on how I viewed myself in the world, because it was some of the first printed matter images where I saw people that looked like myself and women in my life. It bestowed a kind of validation on me at a young age, because it was invigorating to see someone like Cicely Tyson in the magazine with her braids or cornrows, or someone with their Afro or natural hair. Even just seeing the "Beauty of the Week," and immediately turning to those pages before reading anything else, really allowed me over the years to just think about my own notions of beauty and sensuality.
It was also about the storytelling—depicting African American culture, life, and history, and celebrating people and their accomplishments. Jet also highlighted some of the violence that was happening. It was one of the first magazines to put Emmett Till on the cover, which brought huge awareness to that particular crime and brutality. That's why you had hundreds and hundreds of people going to the funeral to see his open casket.
So Jet magazine defined what was acceptable and what was not. You could go into almost any Black person's home in America, and they would have Jet or Ebony on their coffee table or nightstand. It's not the only thing we read—there was literary reading, Toni Morrison and Alice Walker and so forth. But when you went to the grocery store, you saw it at the end of the checkout and you could just say, "Mommy, can I have it?" It provided a particular access that otherwise I think would not have been possible for many young girls like myself—girls who lived in an urban community, not very wealthy, not poor but not taking things for granted.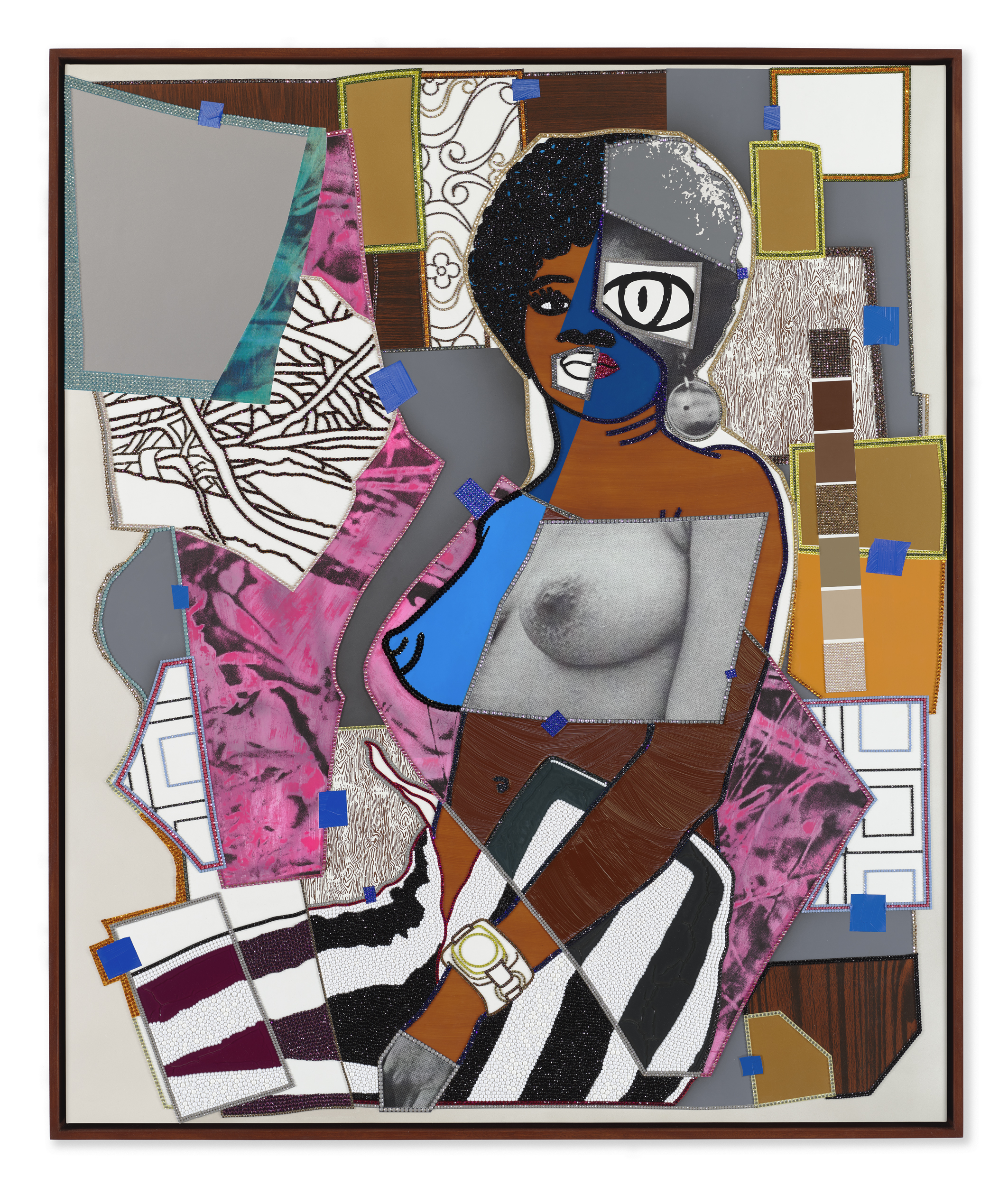 How did images from Jet start to filter into your work?
When I got to Yale for my MFA I started taking classes with Kellie Jones, about the Black body and performance. That's when these images started to come into my work. One of the first works I created was a portrait of myself as a "Beauty of the Week," where I wore my mother's tiger-striped bathing suit. I had just turned thirty, and she had worn it at that age. I was thinking about how young girls dress in their mothers' clothes to identify their own selves as they grow into womanhood. I thought of my mother at thirty, and who she might have been at that time.
While I was turning thirty my mother was turning fifty, and it was around her fiftieth birthday when I went home and started photographing her. That's where I got the title Happy Birthday to a Beautiful Woman, which became the title to the documentary I made about her. My mother had an incredible sisterhood around her, but she didn't want any of her friends to make or give her a birthday cake. She wanted to get it for herself. The baker asked her what to put on the cake and she said, "I want you to write 'Happy Birthday to a Beautiful Woman.'" That's the confidence my mother was always presenting. I started working with her as well as looking at myself and trying to understand my own sexuality and sense of self—as her daughter, and as a Black woman in the world.
My mother also had a lot of Jet magazines at her house. After she died, when I was going through her things, I took some of them. But I didn't really create a body of work around the Jet images until recently. So we're talking about almost twenty years of collecting magazines and images and thinking about them but not really feeling like it was the right moment to make this work. Had I not been exposed to Jet magazine, though, I don't think I would have made the work I made over that time span. It allowed me over the course of my career to put forth and celebrate the women in my life, because there were women in the magazines who looked like them and were beautiful like them.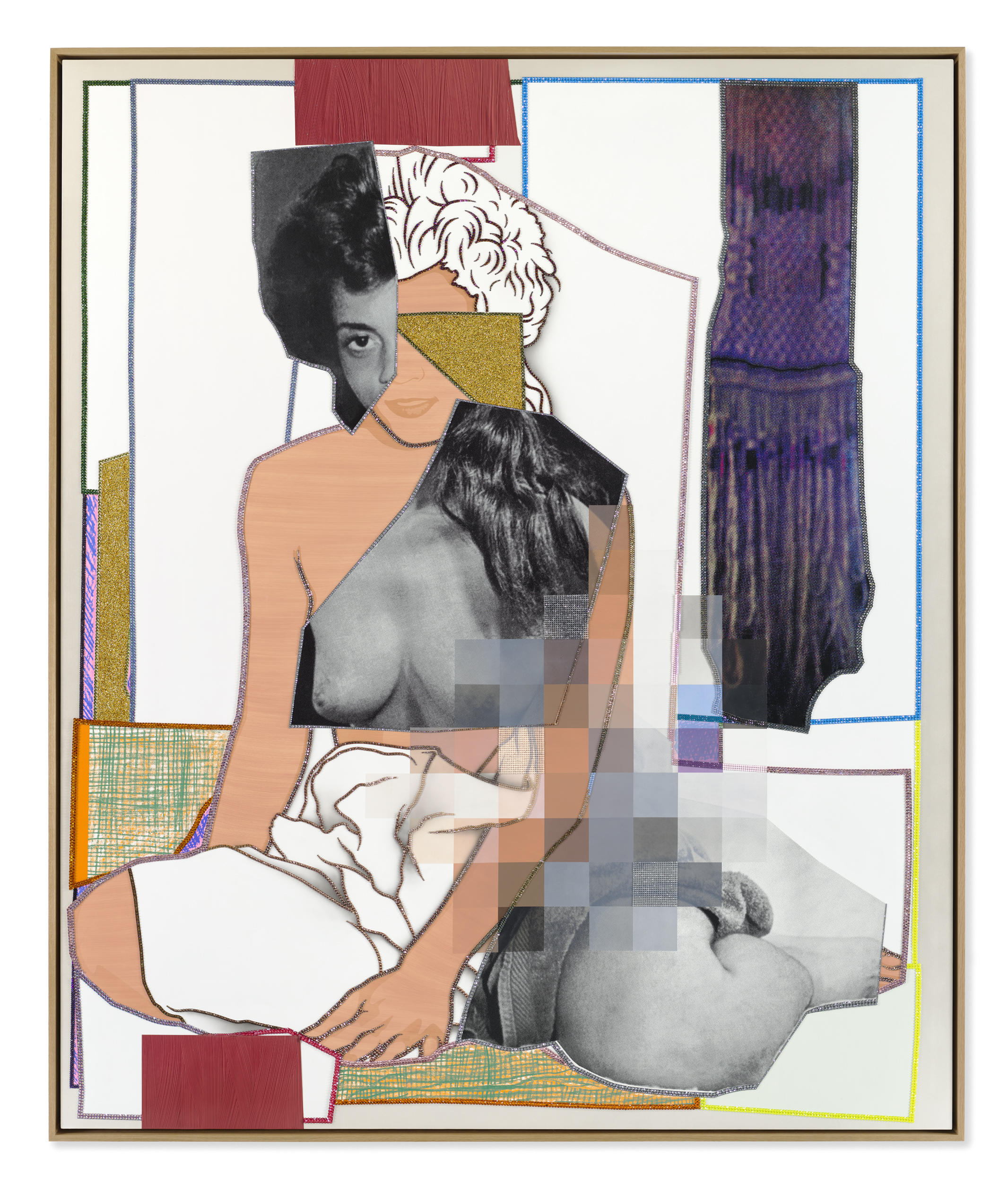 For a long time you were primarily working with the women in your life, as you say—family members, lovers, and friends. In these new works you're exploring women who were featured in Jet Magazine Calendars, where they were presented as anonymous beauties. When you don't have that personal connection to a subject, where do you start?
I start with trying to understand and relate to the woman in the photograph. I imagine that she is not just this image, in the same way that Mona Lisa is not just Mona Lisa. There's a story, a narrative, a person there. There's some context, some nuance, that led her to that point of the photograph. Everyone has a story, you know?
As I'm working, I'm thinking about the narrative of her walking up to the place to be photographed. What was she wearing? How was she carrying her purse? What was she thinking? How was she walking? What color were her shoes? I'm seeing her walk through the studio. She's someone real, whether we know her name or not.
In the New York show, you have also surrounded these women with sculptural and design elements—pixellated wallpaper, clusters of plants, stacks of books by Black authors.
I'm always interested in bringing some context to my work—the things I'm reading and thinking about, the resources and inspiration for what I'm making. So when the viewer is thinking about the show they see the long history of what Brown and Black bodies have had to navigate— consciously and unconsciously, physically and spiritually. I'm hoping that all of this representation I'm presenting is challenging and empowering and celebrating Black women's bodies.
I use the plants as a signifier for femininity and sexuality, based on the props that were used in the Jet photographs and how they were using them. In the pinups they use plants a lot, to cover the woman's vagina. They just put it right in front. It's like, we're not going to show you that, but we're going to imply. And I use mirrors so that the viewer is reflected, seen, and validated. It's this performative aspect, where the viewer becomes a participant. In the same way, when I'm making my work I'm thinking about how the viewer is engaging with the work. I like having the viewer engage not only with my material but also with how things are made and painted.
The wallpaper shows enlarged images of the interiors from Johnson Publishing Company in Chicago, where some of these women were photographed. If you were to take a photograph of the gallery space, what you would see are the paintings within this interior. But I'm preventing you from photographing it—aside from press, we are asking people not to photograph the show. I just think people are doing weird things with other people's work when they photograph it, using hi-res images to create other things. It's been happening more and more, especially with NFT's. People are able to just document other people's work and claim it as their own. I remember seeing someone's NFT that they created based on going to an auction, where they were videotaping these works at the auction and they created an NFT from it. That just seems kind of strange. We have to really take control of our copyright, because in some ways that's all we have left after we sell the work. We only own the image.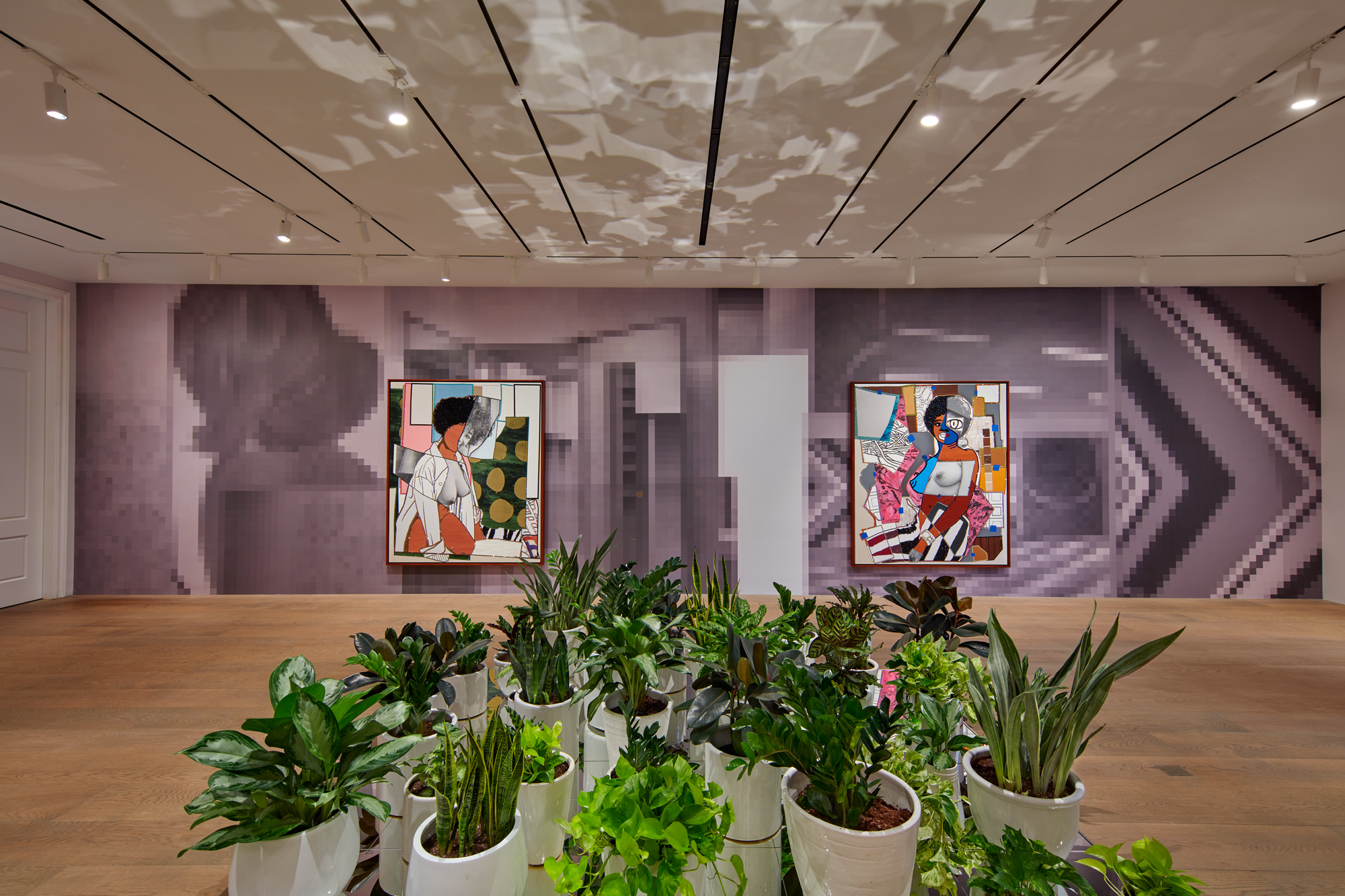 That's really interesting, and reminds me of something you said in the video on the Lévy Gorvy website: "Artists are really understanding their own power." Can you unpack that a little bit? Power over dealers? Power over collectors? Power over their images, as you were just saying?
Power over their own decisions. Many artists have this romantic notion of how we should engage with collectors or galleries. Often, we get so excited for exposure that we really don't think about making the right decisions. Because we want to have the visibility, we're easily taken advantage of. We need to recognize that there's no art market without artists making art. We are part of the equation, but we act like we are outside of it.
It's not exactly that galleries need us as much as we need them—it's that we have been acting like we need the galleries. I came to see that I'm also an important part of the puzzle. Once I reclaimed that ownership for myself, things changed. How I dealt with collectors, how I engaged with curators, was different. We have to recognize our power as artists, that we're very important to the growth of this huge market that's unregulated.
Some of us get it, but many of us don't. It took me a long time to understand it. A gallerist told me, "You're the top of the pyramid. Let me know what you need." He kept saying that, and I was like, "What does he really mean by that? Is that true?" And then I started to create my own pyramid.
One way in which you're owning that power now is refusing gallery representation, at least with this sequence of shows at Lévy Gorvy.
I don't want people to be misled that I'm against gallery representation, because I'm not. I think gallery representation is great, because you can learn how to network and develop your work. You build a collector base. So I'm for gallery representation. But I'm for a type of representation that understands that I'm a partner, not just an artist. Because I am a partner. I'm making stuff happen as well, and we're partnering in this growth of my artistic development. It's not just one person claiming that they're doing something for the other, when it's not true.
I'm recognizing that and want to work with galleries long-term without this claiming of ownership. In the same way that galleries work with different artists, artists should be able to work with different galleries.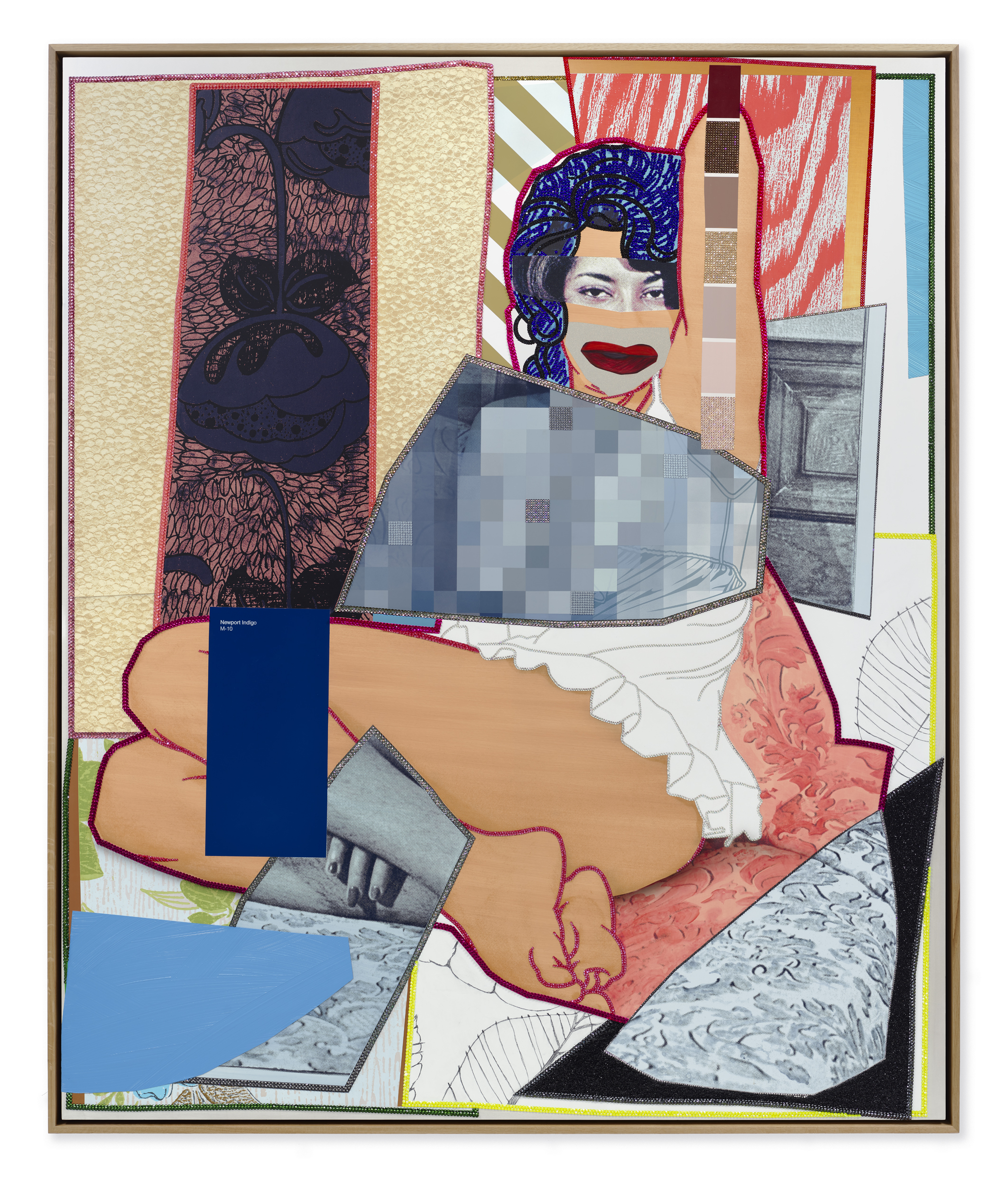 There are a couple of famous precedents for this kind of move. You have Damien Hirst holding his own auction; you also have David Hammons refusing to be represented—
That's what I have in my notes—a David Hammons model. It's so respected. And why do only men have to do it? Why are we adhering to these unspoken rules that aren't even rules? Like this notion of artists getting 50 percent—who determined that? And everyone just follows suit without questioning it. Even galleries who aren't even investing in you, that you're just doing a one-off group show with, say, "hey, that's what people are doing."
The word "patron" means "to serve." When that 50-50 model was established, patrons were supporting artists 100 percent. They were paying for their studios, they were doing all of this stuff that the artist didn't have to worry about. Therefore when they sold the work, they got 50 percent back. But if galleries aren't doing that, if they're not establishing those kinds of practices with artists, then there's really no need for us to divide 50-50. If we're going to be partners on a project or a situation, then we can negotiate what those percentages are. But if we're not, then the artist can negotiate what they want to give to the gallery.
In the video, you also said "galleries are there for you as a support system, but they're not the only system." What are some other systems that can support artists?
Relationships with collectors. For a long time, galleries wanted to keep artists separate from collectors. But when artists build relationships with collectors who have been supporting their work, that's a great support system. You go on a journey with them, and it's part of your financial growth. So you need to cultivate those relationships.
Building relationships with curators and writers, who can create understanding and discourse around the work, is another tool of support. For this global show I'm doing a magazine collaboration with As If, and all the writers are people I've built relationships with over the past ten to twenty years, people who believe in my work.
Often, emerging artists and even some renowned artists put everything in one bag with one gallery. It's worked for some people, but that's not where I'm at. I'm really interested in establishing and building foundations with different people, because there are so many different levels of the art world that I'm just beginning to understand. It's all just starting to unfold for me and my own practice. I mean, there are people who have bought work of mine from this collaboration I'm doing with Lévy Gorvy that are new collectors for me. They are of a different tier, one that I've never had access to before—important collectors who have known about the work for a long time and, for the first time, are now considering it. That's what happens when you allow yourself to be accessible and you are willing to work and build relationships.
To me, it's all about relationships—that's what the art world is. If people you're working with want to prevent you from building relationships, that's not what you want to be involved with. You can't have your stalk be cut off but have theirs grow. Often, galleries want to put you in a box and treat you as you were.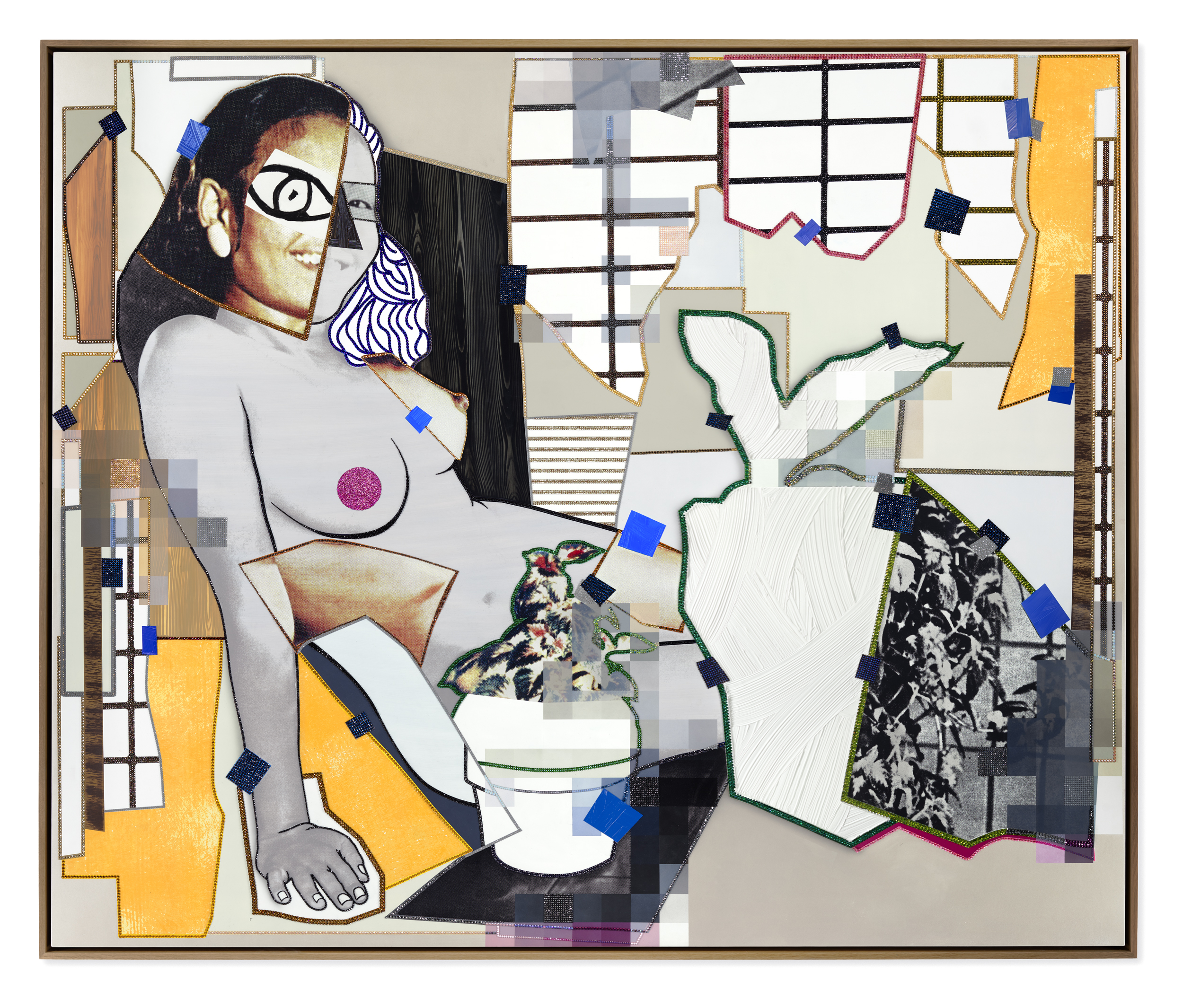 Speaking of relationships, you've been a very powerful champion of the Black and female body, as well as the queer body, since a time when these bodies were not so visible in the art world. As such you've been a role model for other artists who want to do this kind of work. What does that mean to you?

It means a lot. I want to be not just a role model but a support system. I try to be accessible when these artists need advice, and I include them in exhibitions I curate or propose like "Better Nights" at the Bass Museum, or "A Moment's Pleasure" at the Baltimore Museum of Art. Often, people say, "I'm going to do these things when I'm at a certain point." I don't believe that. There's no need for me to wait until I have hundreds of pots of gold behind me to give back or support. Figure out what you can do from where you are, even if it's just extending a hand out and saying, "You ok? You're good? Great. Take care." Sometimes that's all that's needed.
Who are some emerging artists who are inspiring you right now?
Sadie Barnette is an artist who I not only collect but also support on many levels. The photographer John Edmonds is really incredible. Leilah Babirye uses everyday objects and materials to address issues around ethnicity, sexuality, and human rights. I just love her sculptures and think she's phenomenal. Tschabalala Self has this incredible foresight of what she's doing and where she wants to go, and it shows in her practice. Every time I see her work it gets stronger and stronger.
To maintain an awareness and a youthful spirit you have to stay tapped into the generations that are coming up. You can't close the door to new ideas and new ways of thinking. I learn a lot from emerging artists. That's why I enjoy teaching as well.
Being in the art world, we've got a good life! I'm doing exactly what I want to be doing; I'm exactly where I want to be.