Among the many extremely well-traveled people in the art world, some of the most seasoned have held the post of Artistic Director of the Venice Biennale. In normal times the preparation for this broadly international festival, known informally as the "Art Olympics," requires a two-year sprint around the globe.
These are, of course, not normal times; the next Biennale, originally scheduled for this summer, had to be moved to 2022, and its director, the New York-based Italian curator Cecilia Alemani, has had to scout out artists via an endless stream of videoconferences from her East Village apartment. Over the past year she has also seen the city's High Line elevated park, where she oversees a sophisticated program of public art, transform from a magnet for international tourists to a quiet local hangout.
As part of a new series of travel-focused interviews, Artful's Editorial Director Karen Rosenberg caught up with Alemani over Zoom. 
Karen Rosenberg: What was a typical year of travel like for you before the pandemic?
Cecilia Alemani: Before the pandemic I would probably travel once a month, with more extended periods between June and September. My job at the High Line is still my main job, but even before the Biennale appointment I would try and follow the mainstream art circuit—taking me to art fairs, major exhibitions, and biennials, and also doing some more specific research trips. For instance I remember going to Colombia and Brazil, trips that were unconnected to any major events.
KR: What was the most recent trip you were able to take?
CA: My very first research trip for Venice, before the pandemic exploded, was going to L.A. where I usually go either in November or in February—I went for Frieze. My second research trip was to Norway and Sweden, but I had to cut it short because it was mid-March, in the midst of the explosion of the pandemic. That was an interesting trip because I'd never been to Scandinavia and it wasn't for a specific exhibition or biennial—I just went to do studio visits and see the local scene. I was also supposed to go to Denmark but I couldn't go.
After that I was able to go to Europe in September of this year, which was amazing. I went to Venice first and then Germany—Berlin for the Berlin Biennale, Dusseldorf to see artists, Frankfurt, and somewhere else I'm not remembering right now. That was a very exciting trip because it was a window of time in which we had the hope that the world was taking a better turn, at least in Europe. Everything felt very normal, and people were not necessarily wearing masks outside. In Italy it was a bit more cautious but very optimistic. I haven't been able to take any trips since then.
KR: Was there anything in particular from these trips that made an impression on you?
CA: Everything on the Scandinavia trip was incredible because I had never been in that part of Europe. But I have to say that in Norway I went to a city called Tromsø, in Sami territory. I met a few Sami artists and activists, and it was quite exciting to see the local art scene in a place that usually is where people go to see the Northern Lights. That trip combined a tourist destination with a window onto a group of artists and practices that are extremely relevant and have been overlooked for so many years.
KR: Are there destinations that you find yourself going to again and again, either for work or pleasure?
CA: Every year I always go once to Los Angeles, once to London, once to Switzerland for Basel. I try to go to a new place once a year although it's always hard because the art agenda gets more and more full. I also try to go to Asia quite a bit. I went to Shanghai in 2019, for a Maurizio Cattelan show.
I did a big project in Argentina in 2018, so for a year and a half I went to Buenos Aires every other month. I had been there before, but working there really allowed me to know the city. I was curating the first exhibition of a project Art Basel spearheaded, called Art Basel Cities. It was a partnership between Art Basel and cities around the world with an idea of creating a cultural event within the city itself that would attract people who normally don't go to the scene without an art fair. What I did was organize a large-scale public art project throughout the city, really using the city as an inspiration.
KR: Speaking of public art, I wanted to talk about your work with the High Line here at home and how that has changed in the past year. The park, which is known for being a packed tourist destination, was closed for four months during the initial pandemic shutdown and reopened with a timed reservation system. How has all of this affected your work there?
CA: For anyone running a cultural institution, it's been quite a shock. The High Line is a public park—we are never, ever, ever closed unless there is a huge snowstorm or a lot of wind. We are open Christmas Day, we are open every day. So being closed for months was kind of shocking. For us, thinking about the change from the usual number of visitors that we would have in a year, which is about 8 million people, to really small numbers—sometimes not even 1,000 people in one day, where in the summer normally we get 50,000—required a lot of un-learning what we knew about crowd control. We had had issues with crowding before so we knew how to deal with it, but then we had to reverse that and learn to deal with very few people. Now we are actually open without reservations.
What happened to the High Line happened, I think, to many other places. You spend months trying to brainstorm about how you manage crowds and handle the line of people outside, and then nobody really comes because people are too scared. We were ready for the masses, like every museum, and then nobody came.
Now we are in a good place, but it is a different High Line. It is probably like what it used to be during the very first few days. The vegetation went wild for months without anyone pruning or cutting, and it really feels lush and untamed. And it's very unusual to see the path completely empty. New Yorkers love to complain about the High Line being crowded, and it's really not crowded anymore! More than half of the people who normally come to the park are tourists, national and international, and those are completely gone, so right now it's just New Yorkers. People are starting to use it in a very functional way—jogging, and meditating, and praying, and power-walking.
This week we're installing the plinth maquettes, proposals for future commissions for the High Line Plinth. So we keep going. I think that's the power of public art. It relies on the encounter between art and people, so as long as there are people, even if it's a fraction of what used to be, I think that encounter might be even more meaningful for those that can have it. I hope that the global crisis will mean a new attention to public art moving forward, and an understanding of the importance of offering open-air encounters and experiences that are way beyond the four walls of the museum.
KR: With your work for the High Line, and especially with your preparations for the Venice Biennale, how have you adjusted to "remote curating"? What is gained or lost when you have to research artists from afar?
CA: I was appointed to Venice exactly a year ago, in January. Normally, the director uses the first few months to travel and do research on different geographical areas. Beyond the trips I mentioned earlier, I have been unable to do that—I had to switch gears and go completely remote, like all of us. I've been conducting I don't know how many hundreds of studio visits since January, which is not the same as walking into an artist's studio and looking at art in person. The good thing is that my show got postponed so I have a little bit more time. I can imagine that this summer I'll be able to travel, but who knows.
But I have to say it's been surprisingly efficient, and I've actually been able to have very thoughtful conversations with artists. Maybe it's a bit less daunting to speak at the camera instead of having a stranger in your studio—it's been very intimate in a way. I feel like I've been having conversations that I wouldn't have had necessarily in person, about how the pandemic has affected not just the logistics of living and making art but also the way we think about art-making. Meaning, are we going to witness a turn or evolution in the art-making field, not just because of logistical constraints but also because we're entering a new chapter of our life? I don't have an answer—I think we're still in the midst of it.
The thing I miss most is seeing exhibitions—there is nothing that you would convince me can substitute for being present in front of a sculpture or a painting in a museum. I tried. I visited things virtually, I went to virtual tours, but it's nothing like going to a museum. And I miss the connection between a museum and a city and a community, that magic intersection.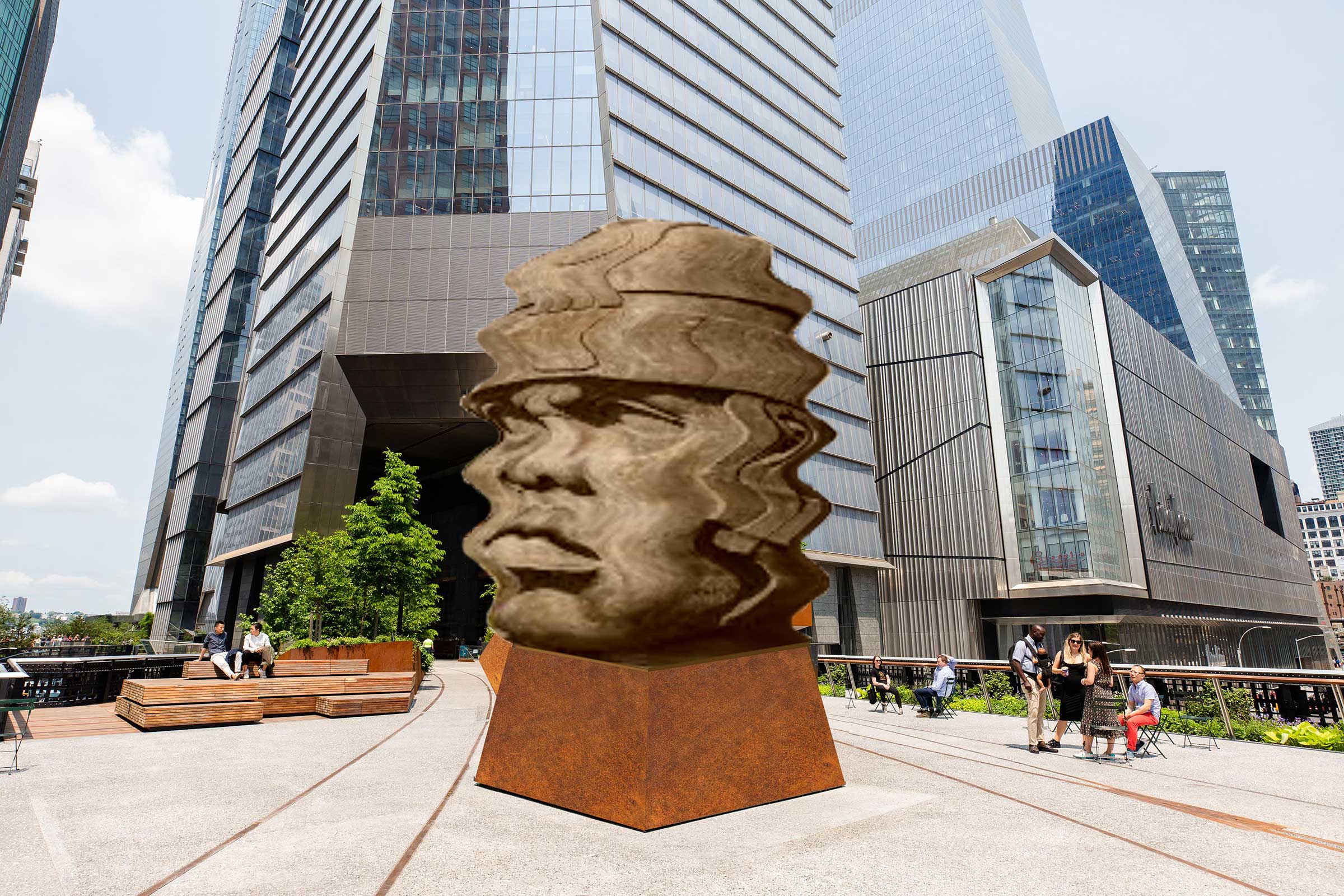 KR: I'm curious to know more about what you mean by changes in art-making.
CA: It's hard to define. One of the hardest parts for me, but also for artists, is having lost a sense of temporality. One day I feel like tomorrow is going to be normal, and then there are other days where I'm convinced that this situation will last for years and years. There is this complete uncertainty about the future. It's really intense psychologically for artists—after a while you just get exhausted from your show getting postponed. And so I wonder what will come out of it. That's what my job will be in the next few months, to try to capture that.
KR:  It sometimes seems like there's only one topic of conversation right now, and it's the pandemic. How has that affected the art you are seeing, or your approach to the Biennale?
CA: It's a fascinating topic, but at the same time it can be very illustrative. I can see that there is a lot of art that tries to talk about the pandemic in a very didactic way, which is not what I'm interested in. I think it's the same thing that happens when you think about an exhibition about climate change and the environment. People want to talk about it because we want to inform, we want to spread the word, for art to have a role in changing this, but very often art doesn't.
I think some artists do it better than others, and I think it's going to be an atmosphere and a mood but I would be careful not to think too much about artists who just want to talk about the pandemic. Also, it's not the first pandemic. We had a full generation of artists that dealt with the AIDS crisis.
KR: As someone who speaks to lots of artists—how are they doing? How are they holding up through all of this, in addition to the loss of temporality you mentioned earlier?
CA: It's hard for the up and coming young artists, but it's also hard for the more established artists. The idea that an artist can keep going and making their own art—yes, this is true, but most artists feel accomplished when they bring their artworks to the people, and when that doesn't happen because museums are closed or shows are canceled, biennials are postponed, it's really sad and depressing. It might be generative of new ideas and new approaches, but not if this thing keeps going for five years. And there are practical sides: not selling the work, not getting paid, losing your studio, having to move out of New York City. That's extremely depressing and also shows the fragility of this system that does not necessarily support younger artists.
I'm talking maybe about New York City—many artists will have to move out, because things are too expensive and New York doesn't seem to be worth it. I've seen lots of artists moving upstate, or to Philadelphia, to Chicago. I hope the support that some foundations have shown for Covid relief will continue, creating a safety net for artists. I just keep thinking of artists who have just spent $100,000 on the fancy Master's degree you come to New York for, and then all of a sudden there's no one that cares about your work because everyone is just  trying to survive. It's a very complex ecosystem and as soon as one gear is stuck, everything gets broken.
KR: How will the gears start moving again? Do you think the return of travel and the associated art circuit will be a slow process, or a mad dash for the airports?
CA: I wish for the second scenario, but unfortunately I think it's going to be the first. What is going to change dramatically is the idea that you can take a plane and go to London for a day and back, which I know so many of us have done, and I think that is going to be a permanent change—technology will help us not have to go to London just to give a talk.
I wanted to go to Gwangju in February or March to see the biennial, but the idea that I have to stay two weeks in a hotel room to quarantine makes me want to reevaluate. It turns a short trip into a much longer period. So you're going to start thinking, is it worth going to Europe for a few days? Maybe I should just go for a month and work from there.
KR: One aspect of the art world that seems especially precarious even post-Covid is the art fair system.
CA: The art fairs will suffer and are suffering the most, because museums can still do programming. Maybe they'll slow down, maybe they'll change the nature of the program, but they still have an audience. An art fair is a snapshot of the world, and because of the physical restrictions of the corridors and booths, the nature of the space, it's going to be very hard for them. I actually have complete faith that big fairs will come up with some alternative layouts. They're so smart. But we will see a big change there, or a pause.
KR: Once travel is possible again, and all the work of the Venice Biennale is behind you, where would you like to go?
CA: I would go anywhere! If the virus had turned around I would have gone to North Africa—Dakar, Bamako. I want to go back to Japan, where I went many years ago but just for a short time. I also just want to go back to Italy. I've been living here for eighteen years, and this is the first time I haven't been back for Christmas. I don't think there will be an explosion of trips—it will probably be more meaningful. But I definitely want to get out and travel as soon as we can.