During his short life, the sculptor Michael Richards (1963-2001) made art that linked the experiences of Black people across a wide swath of American history. One subject of his art was the Tuskegee Airmen, the group of African-American World War II military pilots who were celebrated for their heroism in the air and yet discriminated against when they returned to the ground. Another was Rodney King, whose brutal beating in 1991 by Los Angeles policemen who were subsequently acquitted received national media attention at the time Richards was working and still resonates as a horrifying example of racial violence and injustice.
In Richards's figurative sculptures, these episodes are invoked with extraordinary sensitivity, empathy, and complexity. He explores the pilots, for instance—sometimes depicted with casts of the artist's own body and sometimes hinted at with wings or feathers—with regard for the historic nature of their experiences, while also invoking his own ascent in a sometimes hostile art world and the spiritual associations of flight. In one of his best-known works, Tar Baby Vs. St. Sebastian (1999), a gold-painted figure of the artist in an airman's uniform is pierced by multiple small airplanes—linking a figure from Southern folklore and a Christian martyr, as the title suggests, as well as the story of the Tuskegee Airmen and the artist's own Afro-Caribbean identity.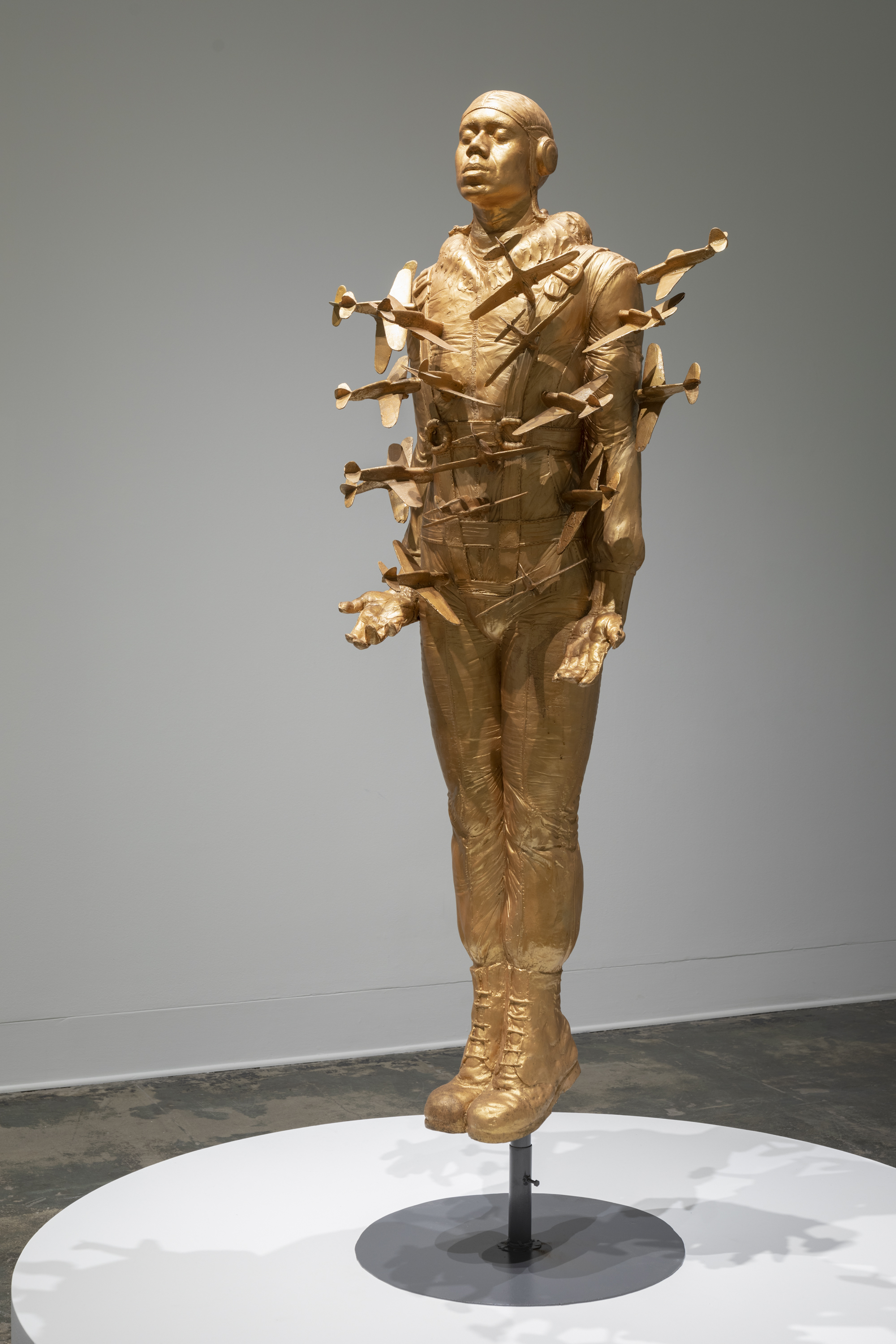 "The idea of flight relates to my use of pilots and planes," he said, "but it also references the black church, the idea of being lifted up, enraptured, or taken up to a safe place—to a better world."
Richards, who died in the 9/11 attacks—he had been working in an artist residency studio on the 92nd floor of the World Trade Center's Tower One—did not live to see the Black Lives Matter movement, or the attention now being paid to structural and systemic racism. But his work is clearly in sync with them, as is evident in his first museum retrospective.
"Michael Richards: Are You Down?," at the Museum of Contemporary Art North Miami until October 10, is the most thorough look yet at Richards and a clear articulation of his legacy. It has been organized by the independent curators Alex Fialho and Melissa Levin, who have been working steadily to bring Richards's art to a wider audience following a smaller survey exhibition they presented at Governors Island and the Stanford Art Gallery. They are also working on the artist's first monograph, slated for publication in the spring of 2022.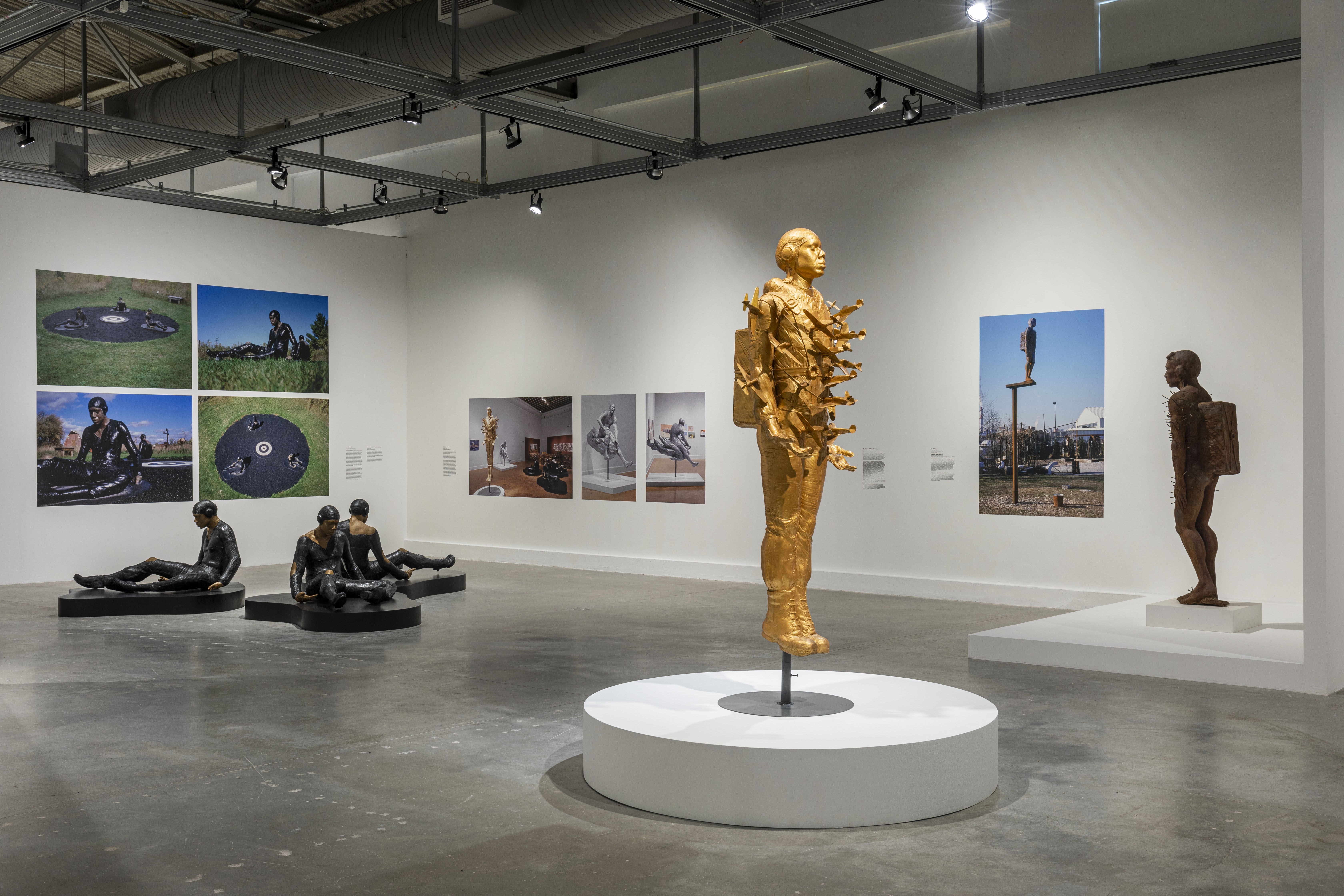 Their show presents Richards's entire output as comprehensively as possible, with recently conserved sculptures that have never been shown before, rarely-seen drawings, and extensive documentation of other works that no longer exist. It also includes statements from the artist and remembrances from those who knew him and championed his art, including the curators Franklin Sirmans and Lowery Stokes Sims, Richards's cousin Dawn Dale who is now the steward of his estate, and the artists Dread Scott and William Cordova.
"Because Michael's passing preceded the internet presence of artists living and working today, our entire research process was very analog," Levin says. Along with conducting interviews, she and Fialho combed through the artist files at the small institutions that had supported Richards: "He relied on nonprofit institutions and artist-centered museums, rather than going through a commercial gallery system." Among them were the Studio Museum in Harlem, the Bronx Museum of the Arts, and the ArtCenter/South Florida (now Oolite Arts), where Richards had a three-year residency and developed strong ties to the Miami art scene.
The show, which takes its title from one of Richards's works about the Tuskegee Airmen, looks closely at the various associations of flight in his art. "He's pointing to the ways in which the Tuskegee Airmen or Black Americans at that moment were able to be included in a military context, but then had segregated barracks and had to fly twice as many missions as their white counterparts," says Fialho. "There's a lot of conversation right now around representation and museum inclusion, and he was thinking through those questions in his time." 
Levin adds, "There's a literal relationship and also a metaphorical one, and a lot in between. In a literal way he grew up on airplanes flying between Brooklyn and Kingston. He was also interested in the duality of flight, being able to release gravity in the air and then having the pull of gravity bring you back to the ground. And the myth of Icarus recurs in the work, in birdlike wings and feathers."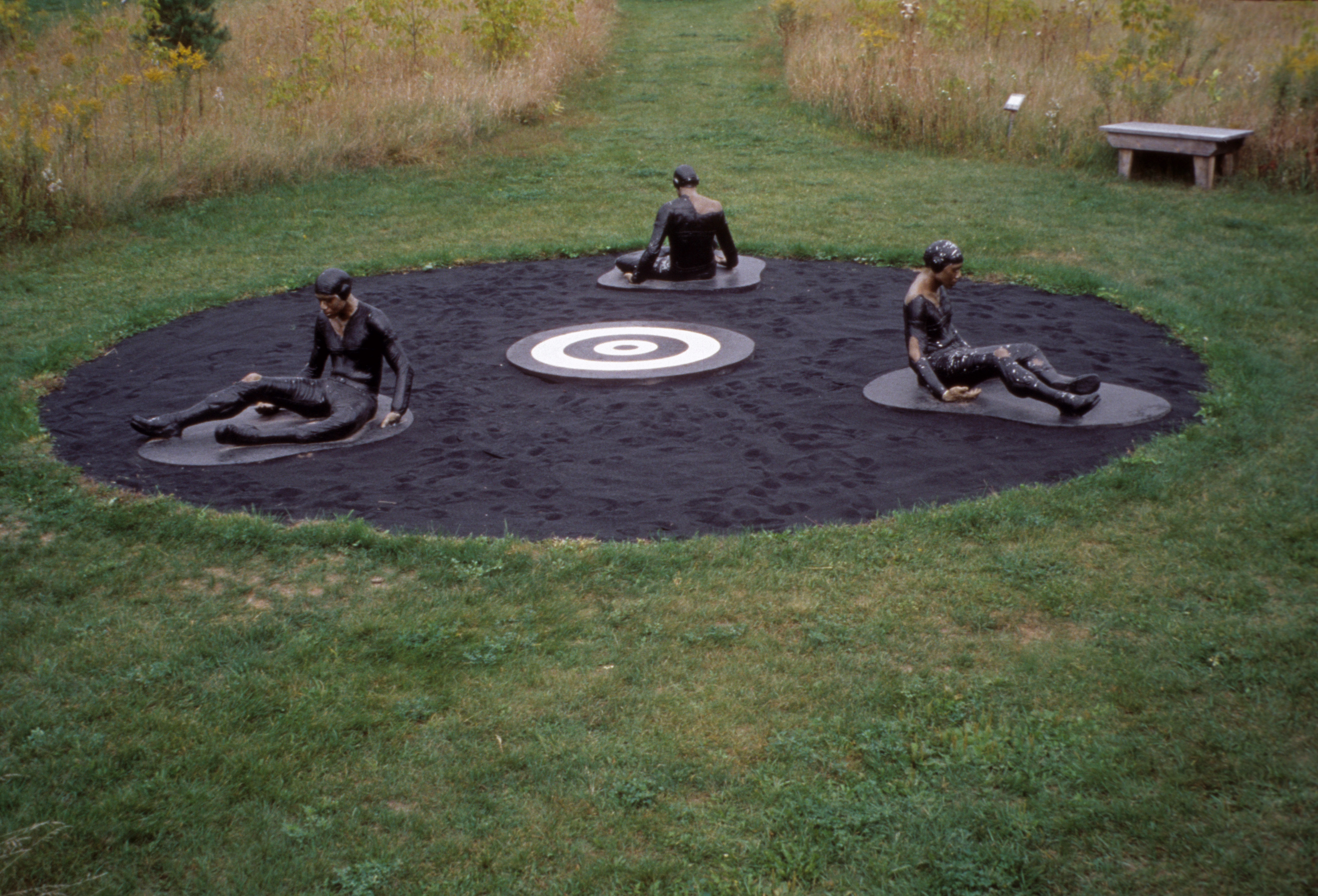 The public sculpture Are You Down?, permanently installed at Franconia Sculpture Park in Minnesota and represented at MOCA NoMi with photographs and related sculptural elements, exemplifies this complex symbolism. It shows three figures of uniformed Tuskegee Airmen—cast from Richards's body—who appear to be sitting in pools of tar. "They had been flying, but they have been downed or grounded," says Levin.
This work and others also reflect Richards's ambivalence about monuments, a topic that feels particularly urgent today as many public sculptures seen as embodiments of racism and injustice come under new scrutiny. His sculpture The Great Black Airmen (Tuskegee) takes the form of a bronze male nude figure that appears to have been broken into pieces, with only the feet remaining attached to a pedestal emblazoned with the word "Tuskegee."  
"He refers to that work as a neglected monument, which feels so resonant with the conversation around toppling monuments today," says Levin. "He had the personal and sociopolitical understanding to create a work like this in 1996." As Fialho adds, Richards also hints in this work at other episodes in Tuskegee's history: "The triumph and the heroism and the glory of the Tuskegee Airmen, but also the state-sanctioned medical violence of the Tuskegee Syphilis Experiments," he says. "It's a complicated history, and it's almost in that sense a critique of the ways monuments tell a one-sided history of the victor."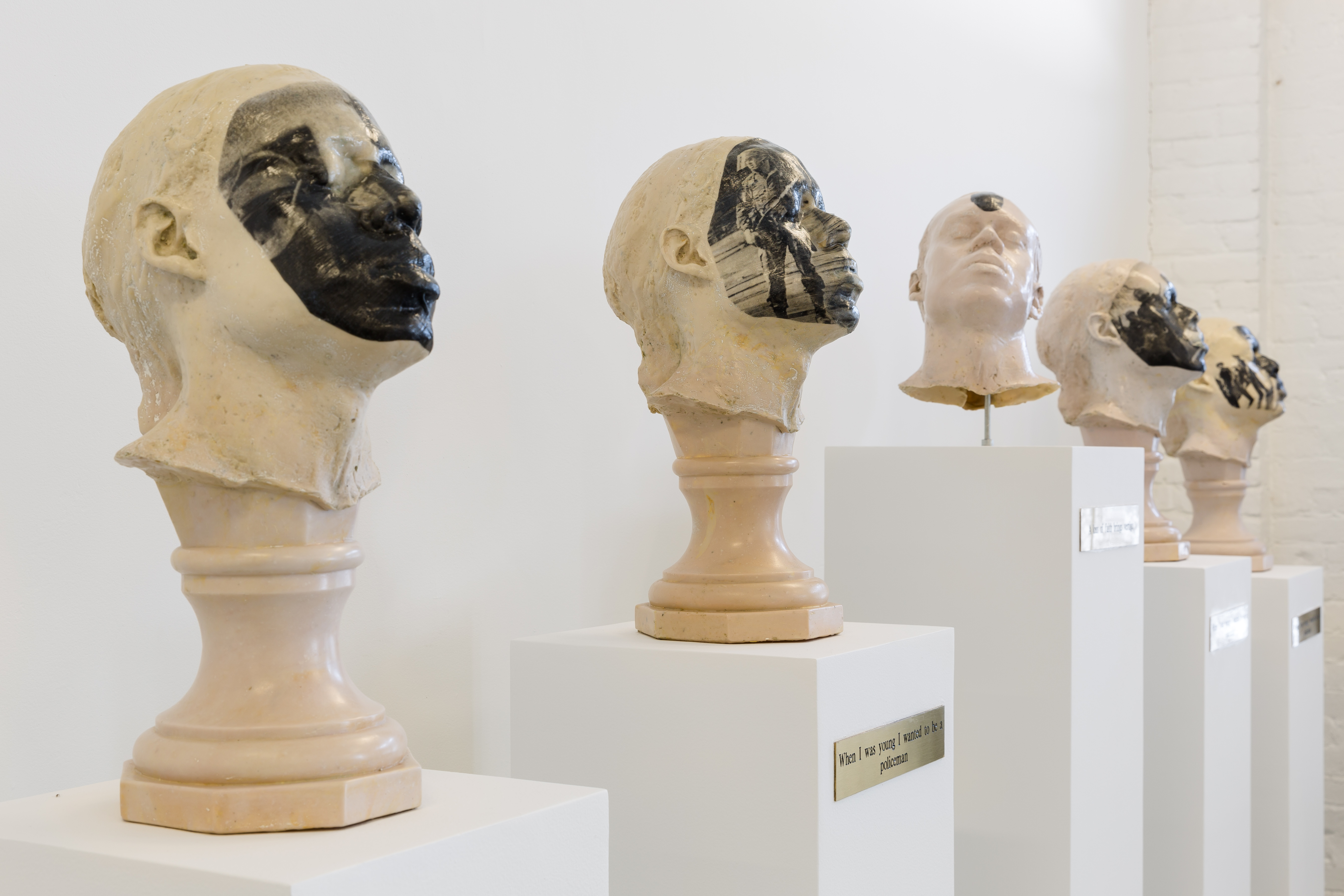 Pedestals with text also figure powerfully in A Loss of Faith Brings Vertigo, one of the first works visitors will encounter in the exhibition. In this sculptural installation from 1994, made two years after the Rodney King verdict, Richards photo-transferred media images of police brutality against Black men and a portrait of King onto busts of his own face. The busts showing the assaults rest on pedestals that read, "When I was young, I wanted to be a policeman." The one featuring King has a different label, which echoes the work's title: "A loss of faith brings vertigo." This bust also rotates, powered by a motor, suggesting an artist—and a society—physically and spiritually shaken in the aftermath of a profound failure of justice.
In this work and others, says Fialho, Richards "speaks to a wide range of historical issues, specifically around anti-black violence, that continue to be relevant." There is a powerful sense, in his art, of history as something living and ongoing. As Levin says, "He's reaching into history to identify something in the present that we now, in the future, are continuing to identify. Every time the work is displayed, it just feels like it is speaking urgently—that he is speaking urgently—to whatever is happening in the world."
Or as Richards himself put it in a 1997 interview for the Bronx Museum of the Arts: "I think history has always been important to me because if you examine the past you can also read the symptoms of what is prevalent now in terms of racial associations and the relationships of power present in our society today."