"I know there is something larger than the memory of a dispossessed people. We have seen it," the acclaimed poet Joy Harjo writes in "Grace."  That evocative bit of free verse has inspired the title of a new survey of contemporary Indigenous North American artists—"Larger Than Memory," at the Heard Museum in Phoenix—in which reflecting on the past goes hand in hand with commenting on the present. Everything in the show was made since 2000, and many of the show's twenty-four artists use their specific identities to address inequality and misrepresentation more broadly, taking on topics including police brutality and environmental racism.
"It's so important to show contemporary Indigenous works because a lack of that representation exacerbates the erasure of Indigenous people," says the show's co-curator (with Diana Pardue) Erin Joyce. "By only showing them in a more historical context like many other museums do, you're not allowing their survival and resiliency to be seen."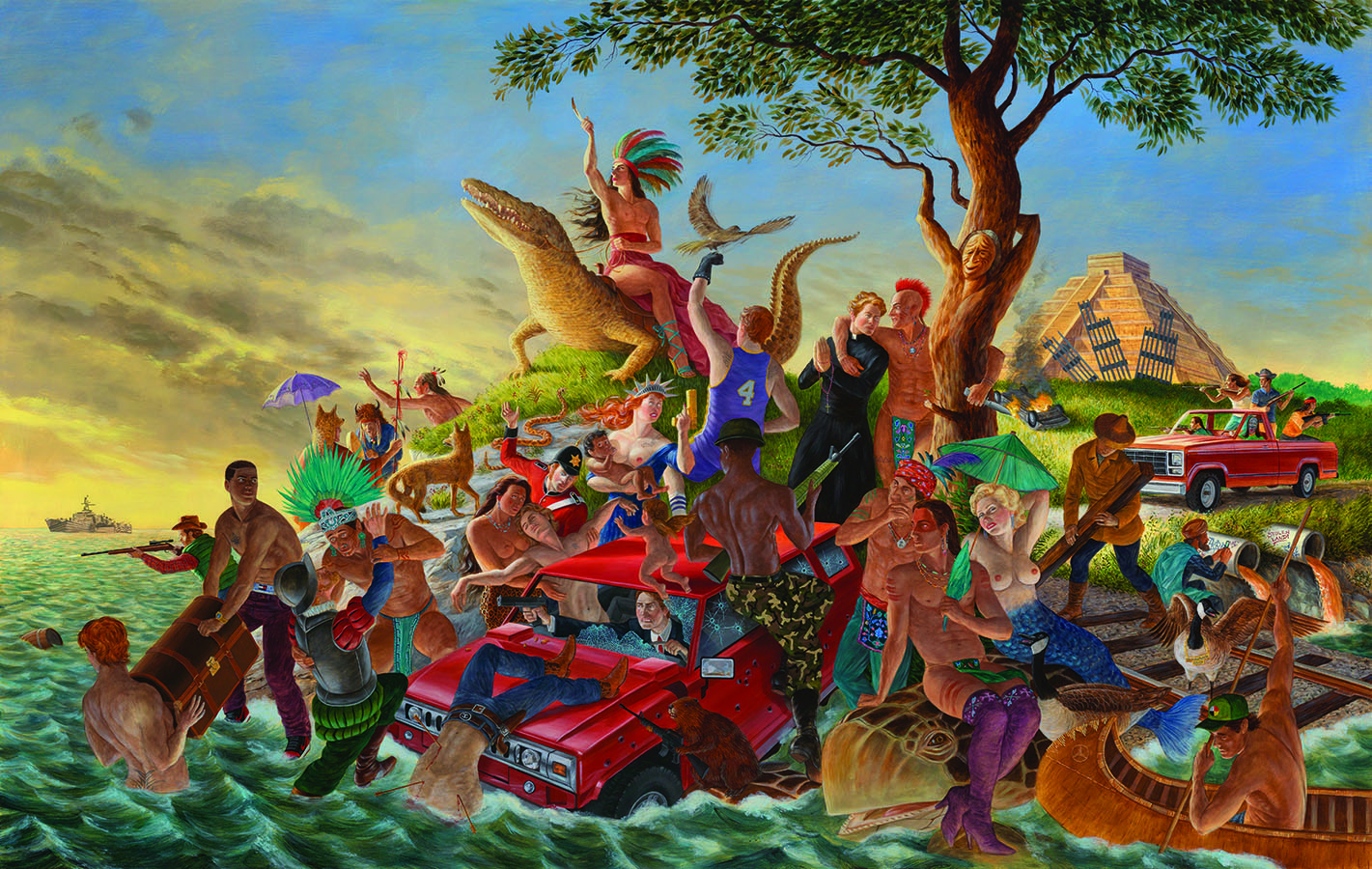 The Heard, as a museum of mainly Indigenous American art, has been thinking along these lines for a while; in 2007, it presented the group show "Remix: New Modernities in a Post-Indian World."  But major institutions are only just starting to catch on, including the Whitney Museum, which prominently featured Indigenous artists such as Jeffrey Gibson, Nicholas Galanin, and Laura Ortman in its 2019 Biennial, and the Metropolitan Museum of Art, which installed the Cree artist Kent Monkman's large-scale paintings incorporating his gender-fluid alter ego in its Great Hall last year. "The representation has been slow in coming but I think we're seeing it gain traction, and not just in a 'trend' or tokenizing way," Joyce says. "Time will tell."
Outside the museums, at least, a larger movement to recognize Indigenous Americans has been making significant progress, with developments including the recent Supreme Court decision affirming Native American rights in Oklahoma, the renaming of the Washington NFL team, and the removal of some well-known monuments that had depicted Indigenous people in offensive ways or celebrated figures who had oppressed them. As Joyce observes, "this exhibition and others that are centering narratives and voices are part of that bigger momentum that's happening right now in the cultural consciousness of North America."
Below, she discusses a couple of highlights from "Larger Than Memory," which opens on September 4 and runs through January 3.
Jaune Quick-to-See Smith and Neal Anuksois Ambrose Smith, Trade Canoe: Frybread, 2018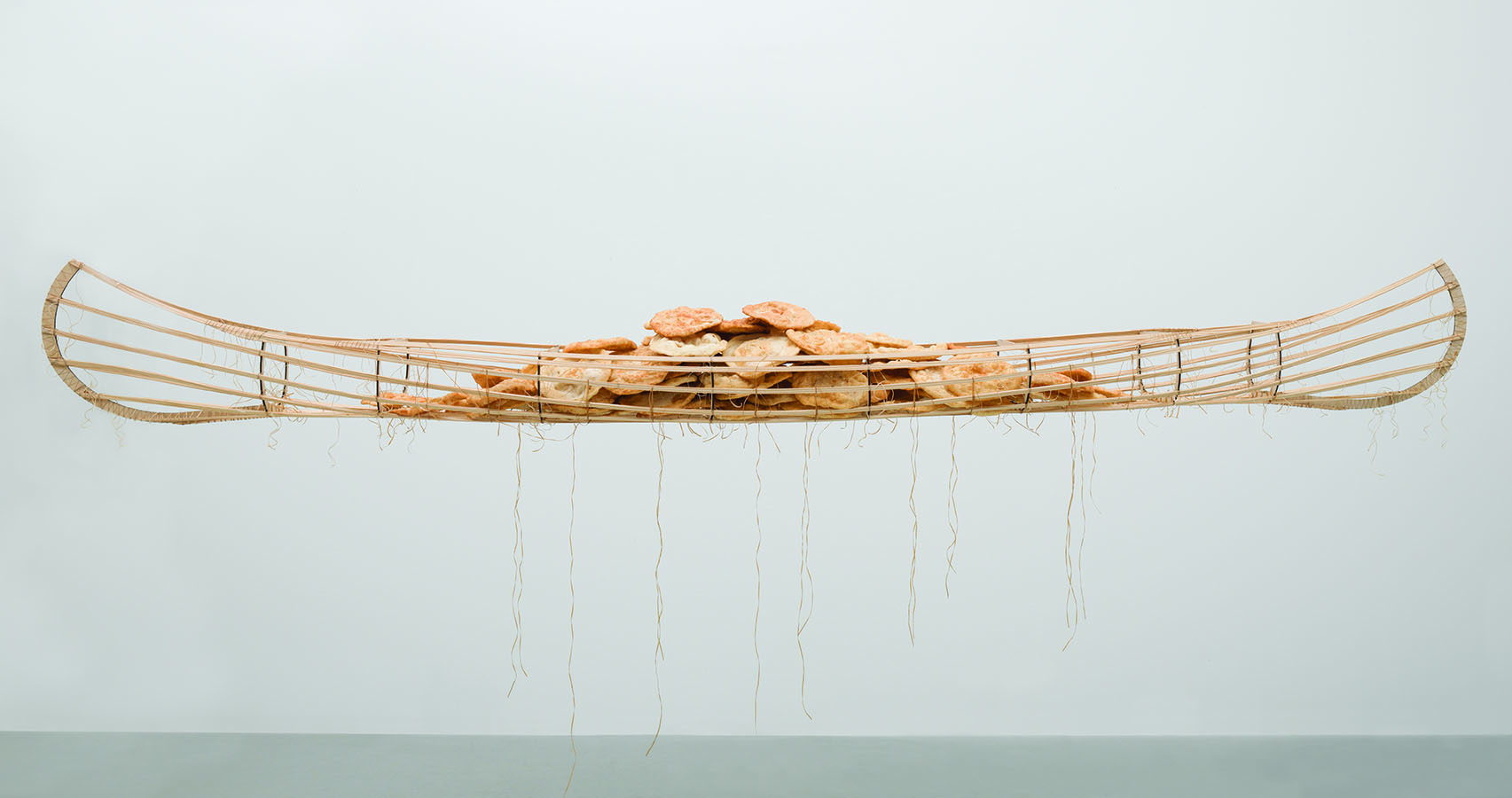 "This collaboration between Jaune and her son Neal looks at the idea of trade and the things that were traded to Indigenous people that were harmful to them—in this instance, government rations. The Indigenous people were ingenious about figuring out a way to use these rations to survive, with the invention of frybread, but these colonial diets have led to illness and diabetes in Indigenous communities. The piece is about these structural forms of racism that are so ensconced that people wouldn't even think about them at first. But once you start thinking about it, it's like pulling a thread and the whole sweater starts to unravel."
Eric-Paul Riege, jaatłoh4Ye'iitsoh no. 1-6, 2020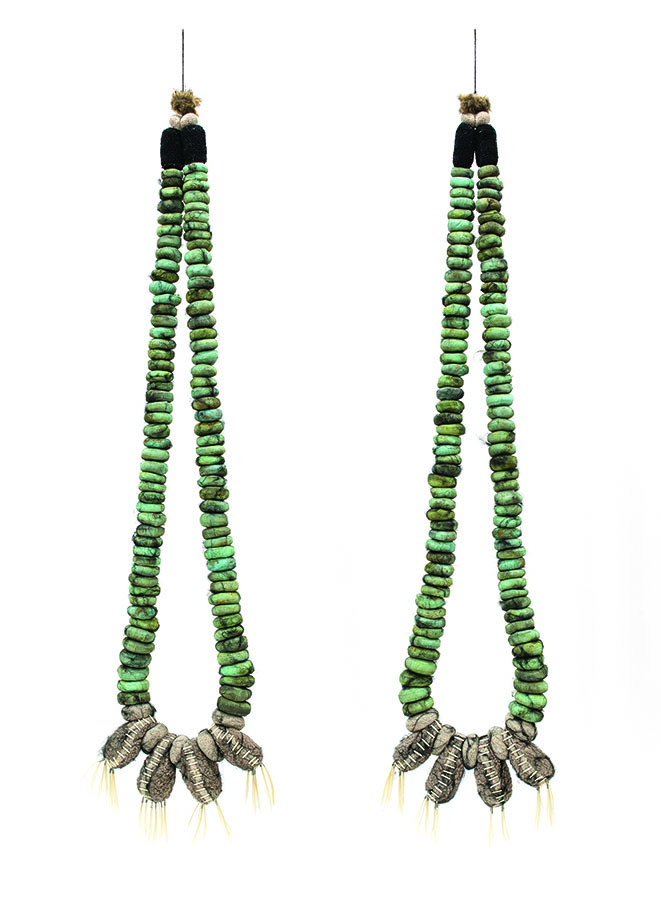 "Eric-Paul, who lives and works in Gallup, New Mexico, just had his first solo show at the ICA Miami last year. He has created these monumental soft sculptures of earrings, commenting on the fetishization of the Indigenous jewelry trade. When he's not working on his art he works at a restaurant where Indigenous jewelers go table to table selling their work to diners, and he's noticed that with the jewelers who can't afford the finer materials, their work isn't as valued. He's questioning why work made by a poor Indigenous artist is less valuable than work made by a wealthy one. He's also incorporated his own body into the work—some of the black hair that you see on the beads, in the veins of the turquoise, is the artist's own hair. They're very much part of him."
Kali Spitzer, Untitled No. 7, 2018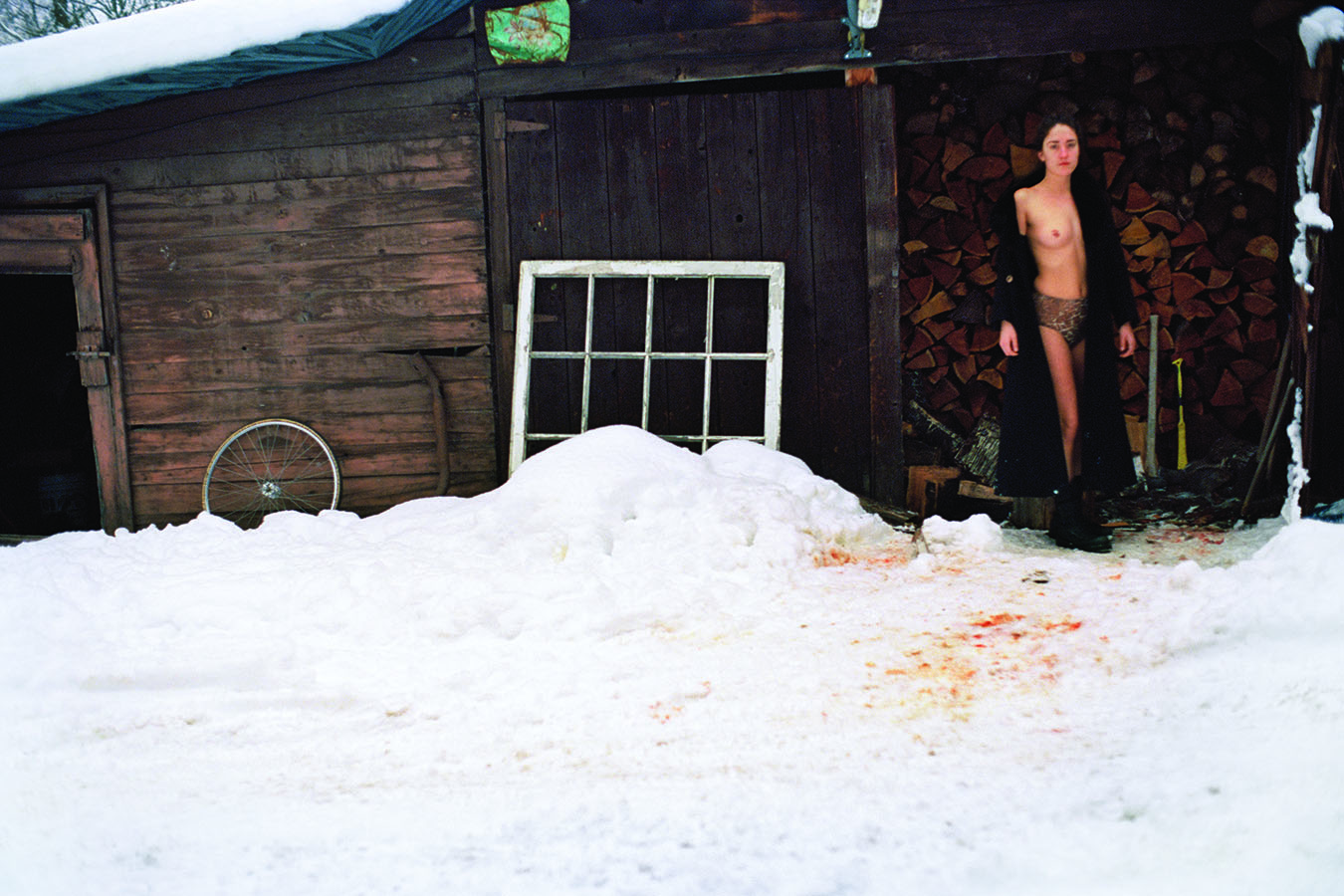 "Kali is a Kaska Dena/Jewish artist based in Vancouver. She made a series of self-portraits in which she appears naked in abandoned and forgotten spaces, about looking at the ongoing plague of violence against Indigenous women and the abandonment of their safety by dominant culture. Her work is bringing to light the reality that Indigenous women are the most likely of any ethnic group in the United States to experience sexual abuse or violence or rape."
Brian Jungen, Tombstone, 2019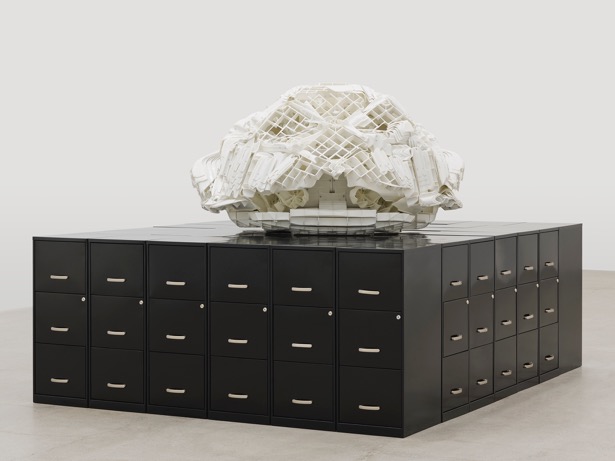 "This sculpture consists of thirty-two black metal filing cabinets that are all pushed together to make one big square in the gallery. Atop it is a large turtle-like shell made of melted down and reconstructed white plastic step stools. It's part of Brian's overall practice of taking these everyday, banal objects like a plastic chair or a sneaker and elevating them to this other plane but leaving clues to their original identity. These filing cabinets represent bureaucracy and treaties that have been violated, all of these promises made to Indigenous people that have never really been kept. And the turtle shell—many Indigenous tribes in North America refer to the continent as "turtle island," so it's about those histories sitting atop this pedestal of government lies and bureaucracy."
Captions: 
Kent Monkman (Cree, b. 1965), Miss America, 2012. Acrylic on canvas, 84 x 132 inches. Collection of Musée des Beaux-Artes de Montréal. Jaune Quick-to-See Smith and Neal Inuksois Ambrose-Smith (Confederated Salish and Kootenai Nation, b. 1940 and b. 1966), Trade Canoe: Fry Bread, 2018. Wood lath, artificial sinew, frybread, varnish.19 x 120 x 18 inches. Artwork and photograph courtesy of the artists and Garth Greenan Gallery, New York. Eric-Paul Riege (Diné, b. 1994), jaatłoh4Ye'iitsoh no. 1-6, 2020. Muslin, polyester fill, faux fur, synthetic hair 108 x 24 x 6 inches. Collection of the artist. Photograph: Heard Museum, Craig Smith. Kali Spitzer (Kaska Dena/Jewish, b. 1987), Untitled no. 7, 2016. Digital chromogenic print 16 x 24 inches. Collection of the artist. Brian Jungen (Dane-zaa, b. 1970), Tombstone, 2019. Rubbermaid step stools, filing cabinets. Courtesy of the artist and Catriona Jeffries, Vancouver