Over the past few months, a collector-driven art scene has emerged in the Hamptons. As the pandemic has disrupted the way galleries do business—no art fairs, no dinner parties, sparsely attended exhibitions, and a number of new logistical hurdles—some New York dealers have found a way forward by following the buyers who have fled the city for their vacation homes. There, they hope, convenience and sheer proximity will spur sales and cultivate relationships.
This developing cluster sometimes feels more like a spread-out, incremental fair than a gallery district; it's not unusual to see spaces that operate more like private viewing rooms or are exhibiting works that were originally intended for a booth at this year's canceled Art Basel fair. As at a fair, you'll find lots and lots of painting and, for the most part, minimal curation, but covetable objects abound.
An art fair's sense of transience is another hallmark of this new community, reflecting the vagaries of post-COVID life. Some dealers have only signed leases through the end of 2020, while others are committed to three years. (It should be noted that these new arrivals are joining a couple of galleries, notably Eric Firestone and Rental, who were out in the Hamptons long before the pandemic.) What they all have in common: everyone is improvising right now, and no one knows what the future holds.
Below is Artful's selective look at the current offerings and some upcoming ones, organized geographically from East to West. As everything is changing fast in the current climate, we recommend checking the websites and calling, emailing, or in some cases texting to confirm exhibition programs and viewing hours.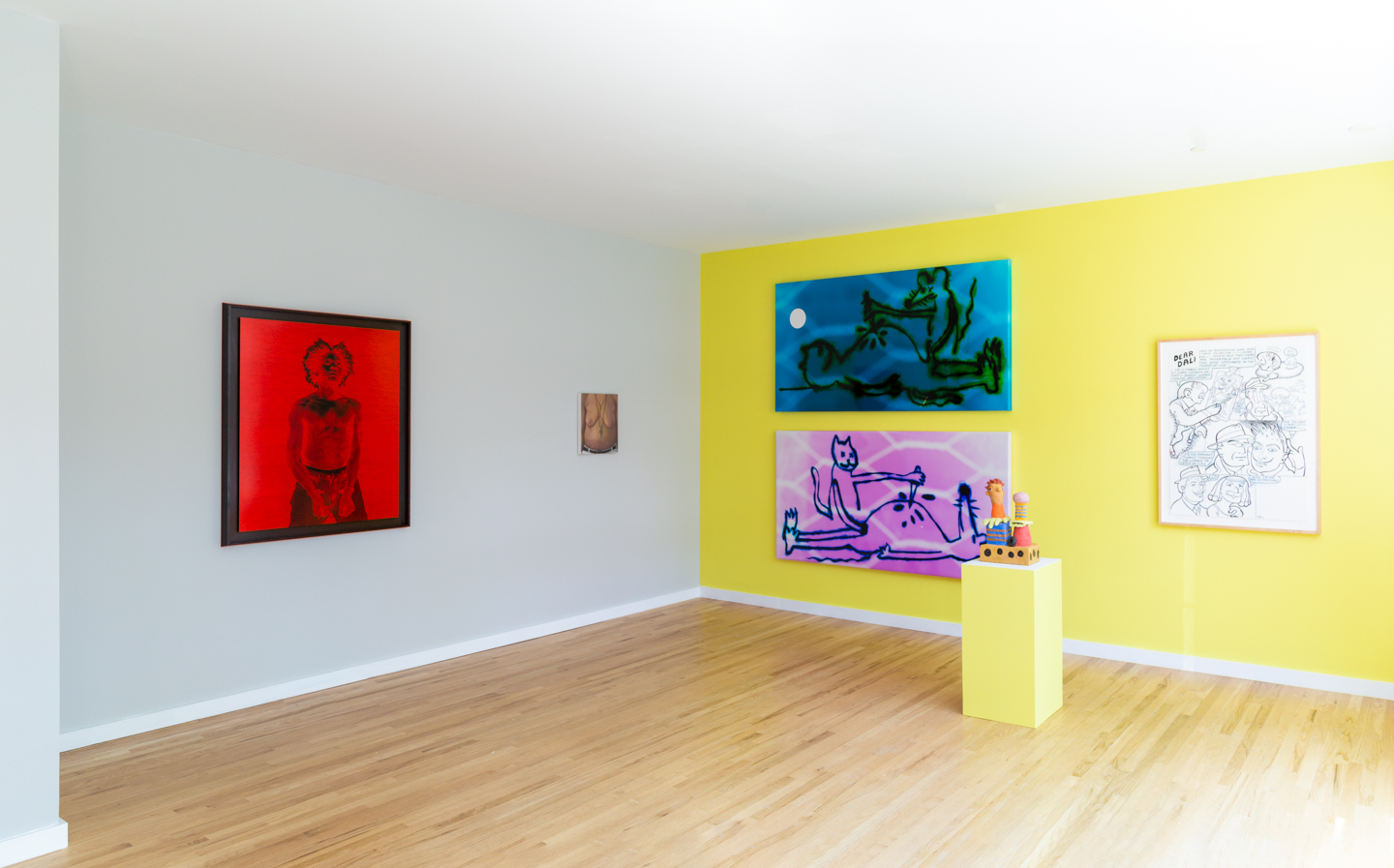 Montauk
Occupying a faux-tudor cottage just off of Main Street, South Etna stands out from the other Hamptons galleries with its comparatively funky architecture and sense of artistic bonhomie. The first team effort from husband and wife gallery owners Amalia Dayan and Adam Lindemann (of Luxembourg and Dayan and Venus Over Manhattan, respectively), it's currently hosting a lively group show organized by the independent curator Alison Gingeras. Titled "Painting is Painting's Favorite Food: Art History as Muse," it gathers artists working with what Gingeras calls "a hybrid metabolism of different references" going back centuries.
A canvas by Betty Tompkins, hanging in the front window, reinterprets Artemisia Gentileschi's 17th-century painting Susanna and the Elders by layering feminist text over the body of Susanna; a photograph of a Black man in handcuffs with an upturned gaze, by Lyle Ashton Harris, pays subtle homage to Caravaggio. The installation amplifies the creative feeding frenzy with clever pairings, of for instance Sam McKinnis's still life after Henri de Fantin-Latour and Karen Kilimnik's nod to another 19th-century painter, Franz Xaver Winterhalter. The whole concept of "Painting is Painting's Favorite Food" seems to acknowledge our pent-up desire, after months of isolation, to consume artworks in person; during a visit, Dayan told me that at the gallery's four-hour, appropriately masked opening reception on July 16,  "I really felt the hunger to look at art."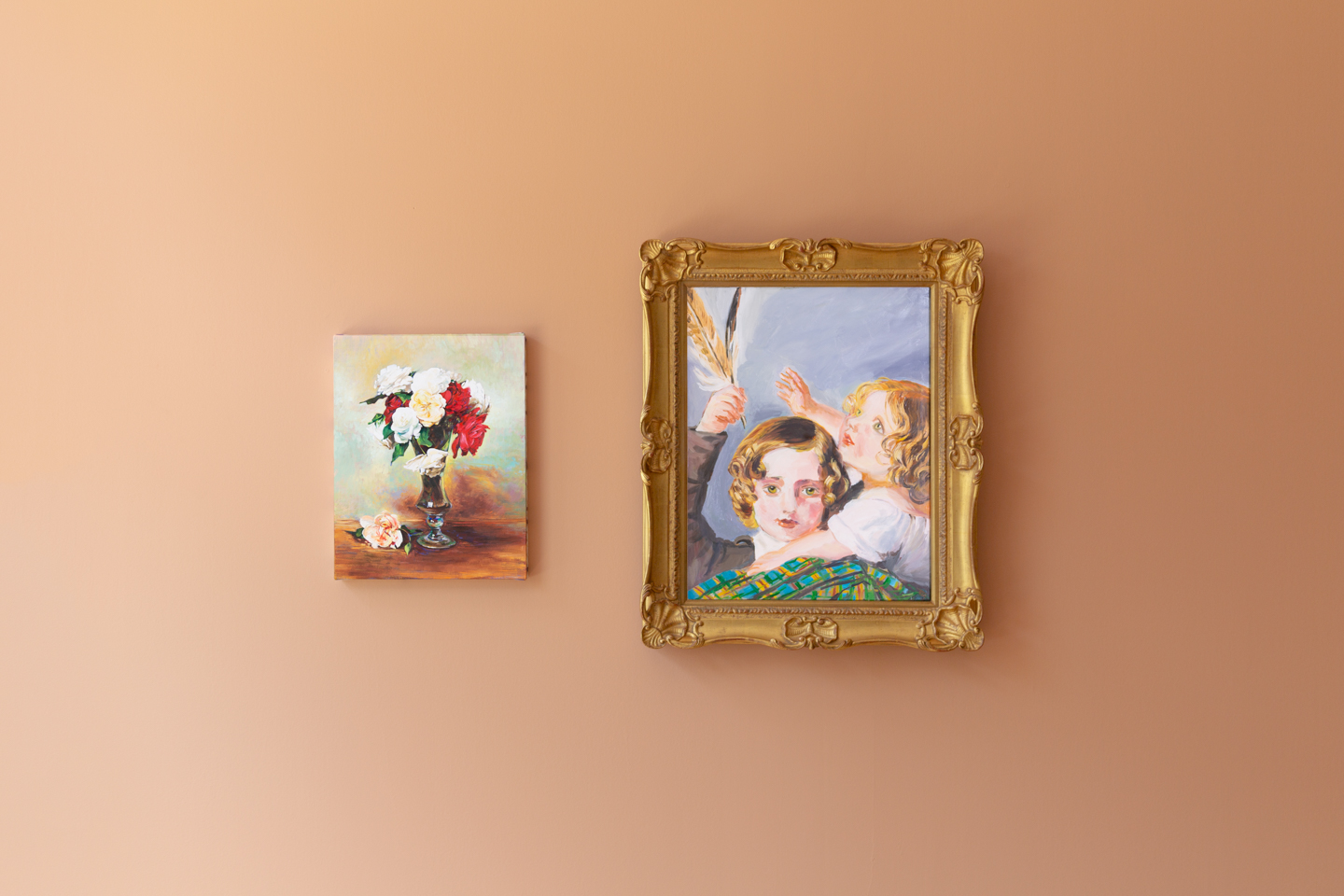 East Hampton
With an easily walkable cluster of galleries that for the most part don't require appointments, and a busy retail environment of outdoor dining and luxury beachwear boutiques to encourage strolling and browsing, this may be the closest approximation of a good old-fashioned gallery crawl that New York State has at the moment. A surprising range of ages, styles, and price points are represented, from the bluest of blue-chip trophy artists to younger names who normally show downtown and some figures from all over 20th-century art history.
Two provocateurs of 20th-century painting, Francis Picabia and Sigmar Polke, are in fine form at  Michael Werner; standouts include one of Picabia's layered "transparencies" from the early 1930s and Polke's untitled splash of silver chemicals on canvas from 1990. At Eric Firestone, where work from the 1960s and '70 is the specialty, vibrant paintings and collages—as well as works that seem to straddle those mediums—argue vociferously for more attention to lesser-known postwar artists such as Elaine Lustig Cohen, Charles DuBack, and Varnett Patricia Honeywood.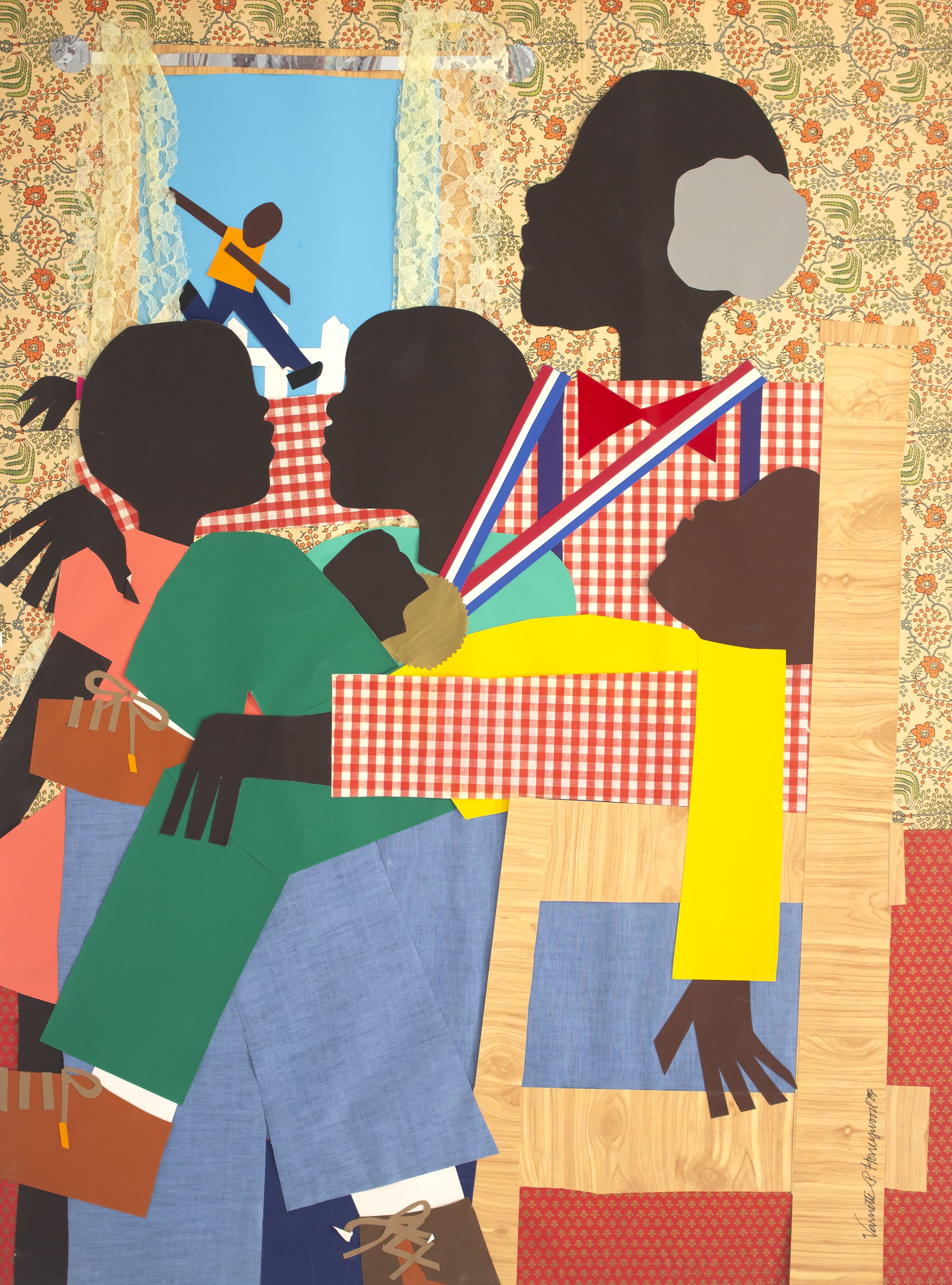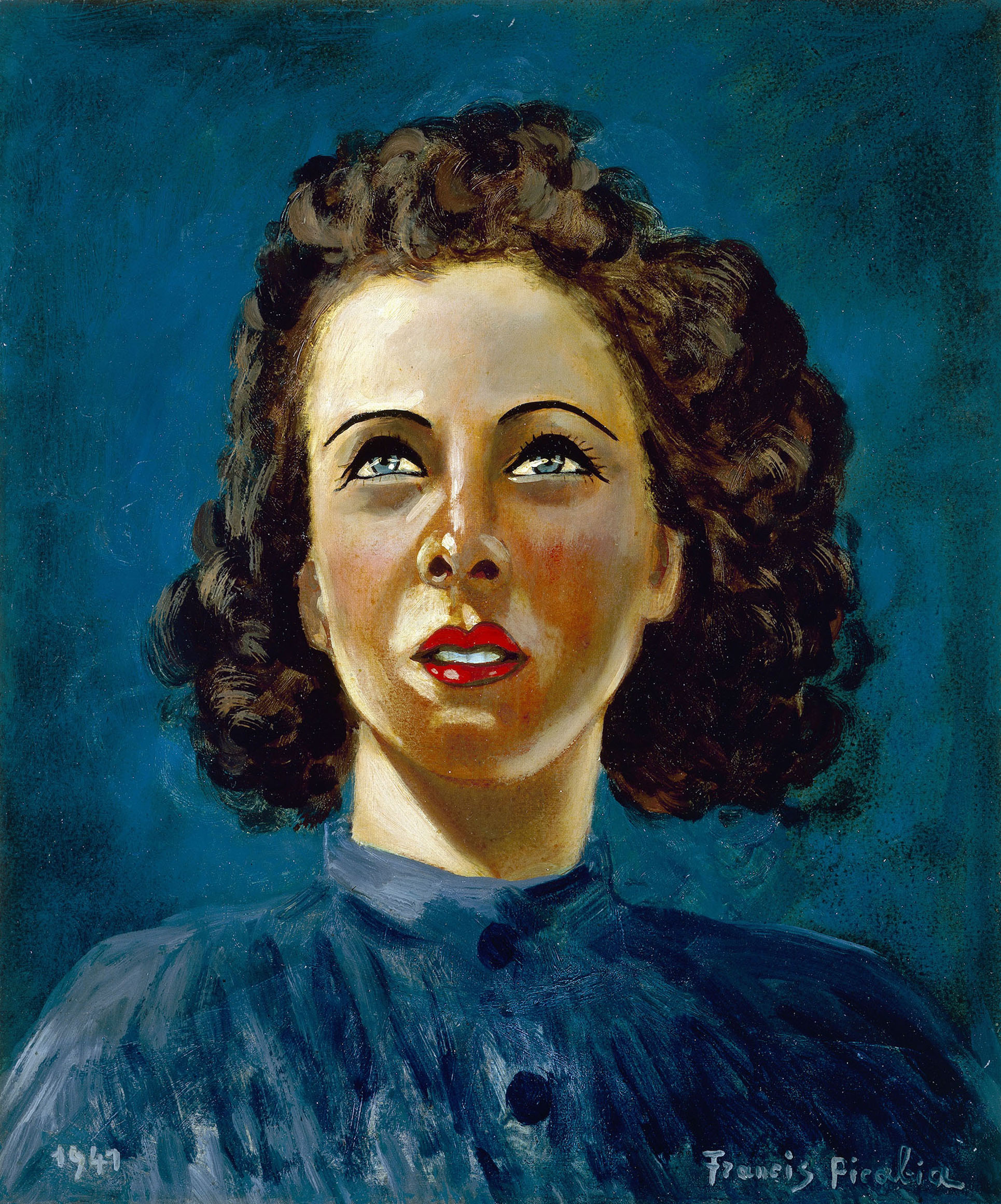 Rental, like Firestone, has been in East Hampton for some years now but has retained the spirit of its former home on the Lower East Side. The group show "Friend of Ours," curated by gallery owner Joel Mesler and the art advisor Benjamin Godsill, defines the gallery's extended circle of on-the-vanguard artists: Josh Kline, Anicka Yi, and Rashid Johnson among them. Speaking during a visit, Godsill also noted an unofficial theme of "things that looked as though they had been photoshopped, including sculpture," which is apparent from Kline's unsettling 3D-printed plaster reproduction of the head of a restaurant server on a tabletop and from Matt Johnson's clever sculpture, in polychromed wood, of art books slotted together like Jenga tiles.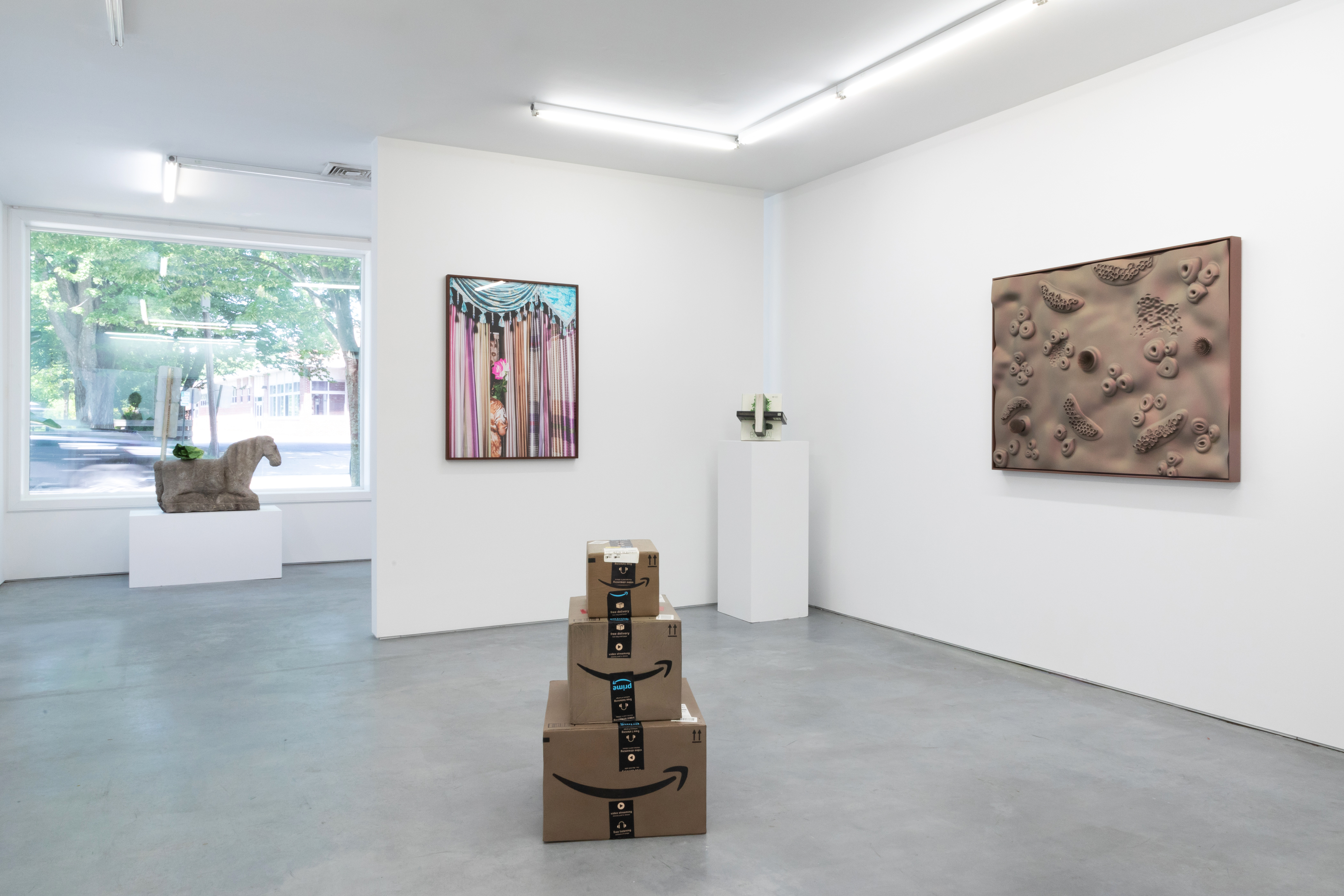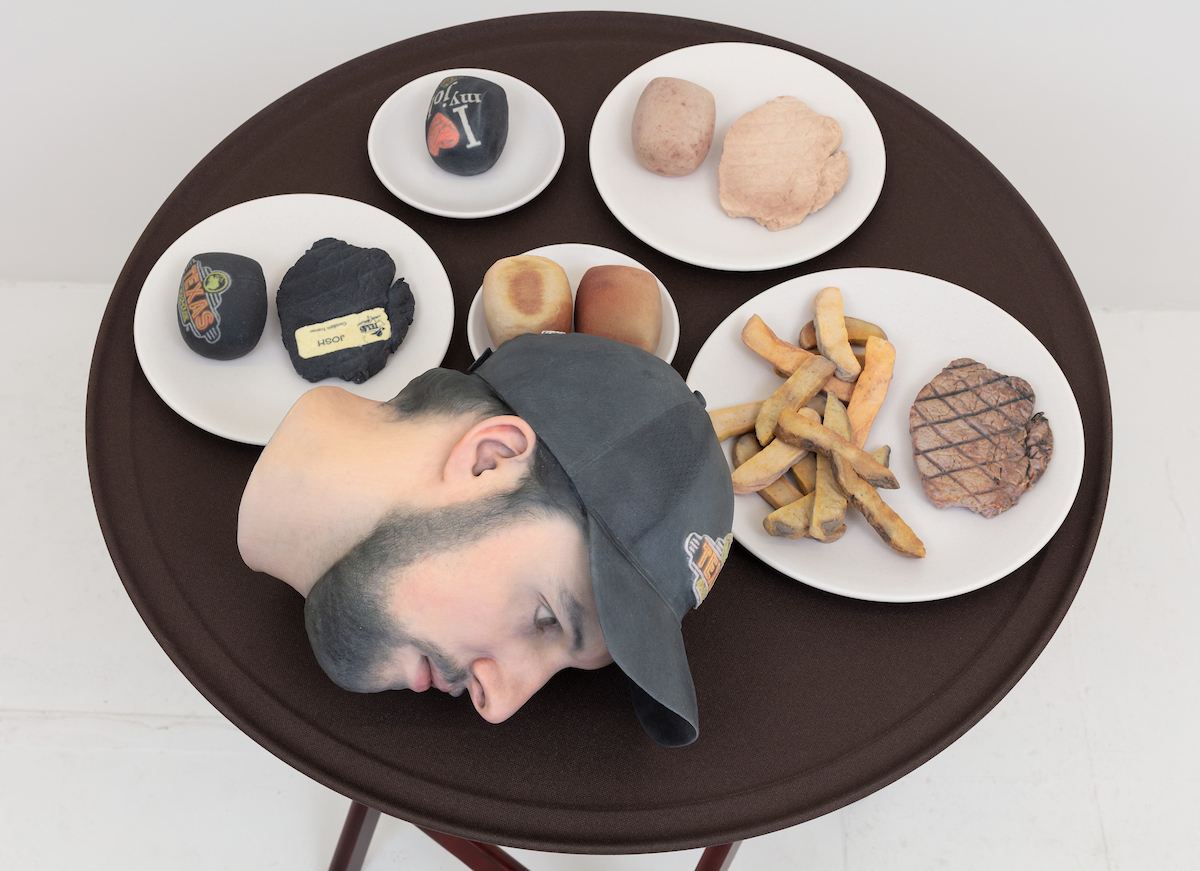 Anyone in search of emerging contemporary artists should also have a look just down the street at Halsey McKay, where a group show with James English Leary, Milena Muzquiz, Hilary Pecis, Ryan Steadman, and Johannes VanDerBeek opened on July 21. For those looking for artists at mid-career and beyond, the East Hampton branch of mega-gallery Pace has also just opened a group show that features some of its most celebrated names, including Tara Donovan, James Turrell, and Keith Sonnier. (Both exhibitions were not yet up when I visited.)
Meanwhile, a stretch of Newtown Road has quickly become secondary-market central, with the uptown powerhouses Skarstedt and Van de Weghe and an outpost of Sotheby's auction house appearing in quick succession. If your budget can accommodate Jean-Michel Basquiat or Ed Ruscha, start here. (And even if it can't, drop by to appreciate the engrossing Eric Fischl painting at Skarstedt, the small green Lucio Fontana slashed canvas at Van de Weghe, or the Henry Taylor portrait at Sotheby's.)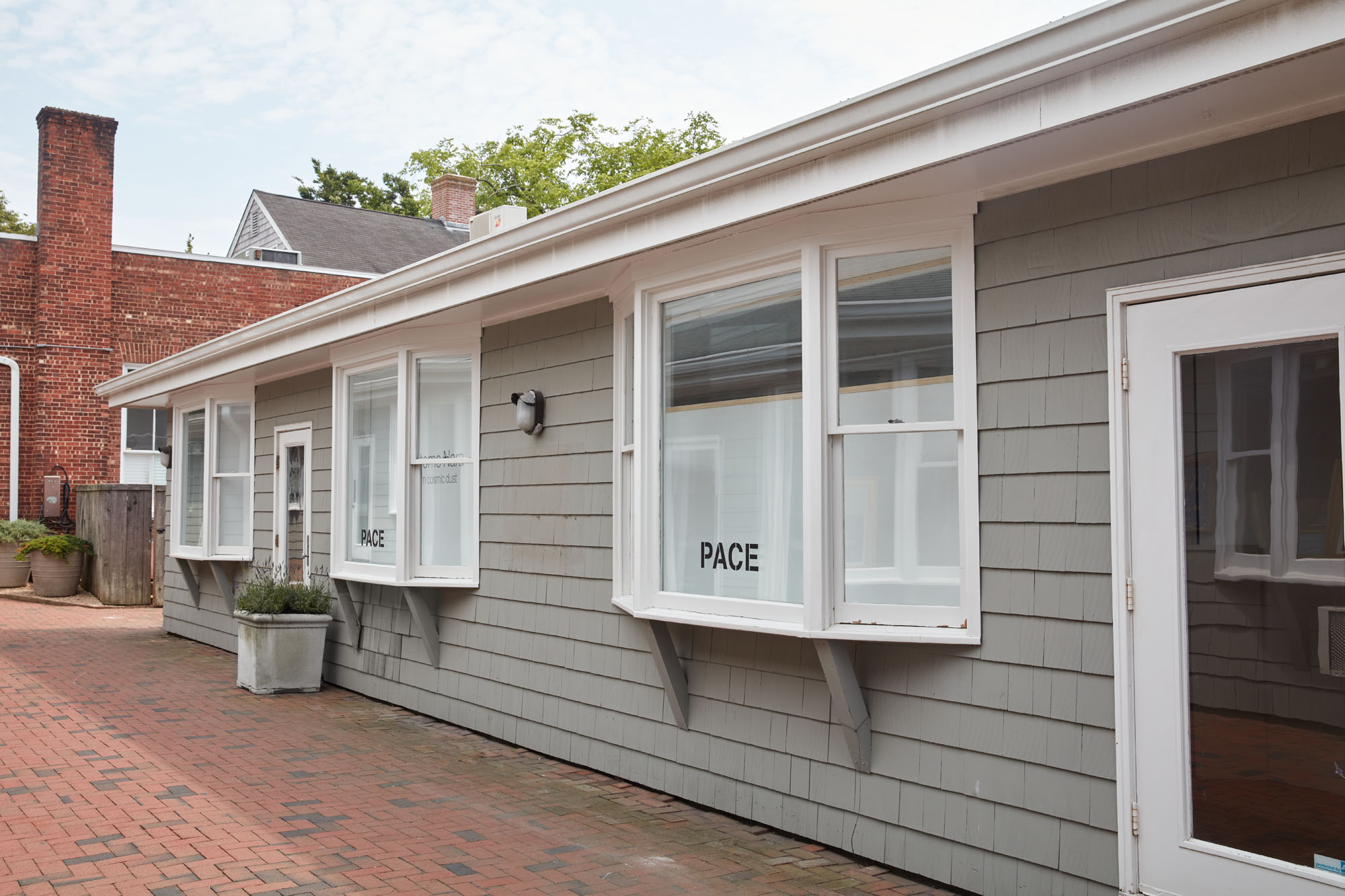 Wainscott
Most of the galleries I visited were taking the requisite COVID precautions, with mask requirements, prominently displayed hand sanitizer, and QR codes in lieu of printed checklists. But the eight-week experiment that is Alone Gallery (a collaboration of the dealers Max Levai and Tripoli Patterson, the collector Bob Rubin, and the design agency Bean.la) practices a more extreme version of social distancing; to visit, you must book an appointment online and receive a door code by text message, before donning blue plastic shoe covers.
It's all worth it to enter the quiet, high-ceilinged, plywood-lined warehouse and see the current exhibition of paintings by the Cuban artist Tomás Sánchez (through July 26). Showing tiny, yogic figures contemplating vast landscapes of mountains, jungles, and floating clouds, these works come across as a contemporary response to 19th-century sublime scenes by the likes of Caspar David Friedrich and John Martin. The mood of the exhibition also combines with the socially-distanced viewing experience to evoke more positive, meditative thoughts about isolation.
Bridgehampton
Any art tour of the area should include a stop at the Dia Art Foundation's Dan Flavin Art Institute. Along with its long-term installations of Flavin's fluorescent light works, displayed with magical intimacy in a shingle-style former firehouse, the Institute presents yearly exhibitions of artists who live or work on Long Island. A series of new work by the Conceptual artist Jill Magid, inspired by the history of Josef Albers's famous series of color studies "Homage to the Square," goes on view July 25.
Southampton
Also opening this weekend is a branch of the mega-gallery Hauser & Wirth, in the middle of Southampton. Conceived as a private viewing room, it's accessible by appointment only (although anyone can make one). With 5,000 square feet spread over two full floors, overlooking Main Street in the front and Southampton Arts Center in the back, it's considerably larger than the other Hamptons galleries (as befits a brand with a new 36,000 square-foot, Annabelle Selldorf-designed headquarters in Chelsea). "We didn't want to be in a cookie-cutter small space—we want to do our own thing," says Yuta Nakajima, a director at the gallery who gave me a tour during the final stages of the renovation. At the debut, expect to see works by gallery artists Mary Heilman, George Condo, and Rashid Johnson, who all have studios in the area.
Captions: Installation shot of "Painting is Painting's Favorite Food: Art History as Muse," at South Etna, Montauk, featuring (left to right) works by Lyle Ashton Harris, Clarity Haynes, Hadi Fallahpisheh, Sally Saul, and Peter Saul; Installation shot of "Painting is Painting's Favorite Food: Art History as Muse," at South Etna, Montauk, with paintings by Sam McKinnis (left) and Karen Kilimnik (right); Varnette Patricia Honeywood, Family Time, 1984, 30 x 30 in, collage on board, at Eric Firestone Gallery, East Hampton; Francis Picabia's Portrait de Suzanne, 1941 at Michael Werner, East Hampton; Installation shot of "Friend of Ours" at Rental, East Hampton, with works (left to right) by Tony Matelli, Farah Al Qasimi, Mungo Thomson, Matt Johnson, and Anicka Yi; Josh Kline, Keep the Change (Texas Roadhouse Waiter's Head with Cap), 2018, at Rental, East Hampton; Exterior of Pace Gallery, East Hampton, Photography by Jonathan Nesturek, courtesy Pace Gallery; Tomás Sánchez, Thought Cloud, 2017, at Alone Gallery, Wainscott; Installation shot of Tomás Sánchez at Alone Gallery, Wainscott.